Main astrological transits of March 2021
---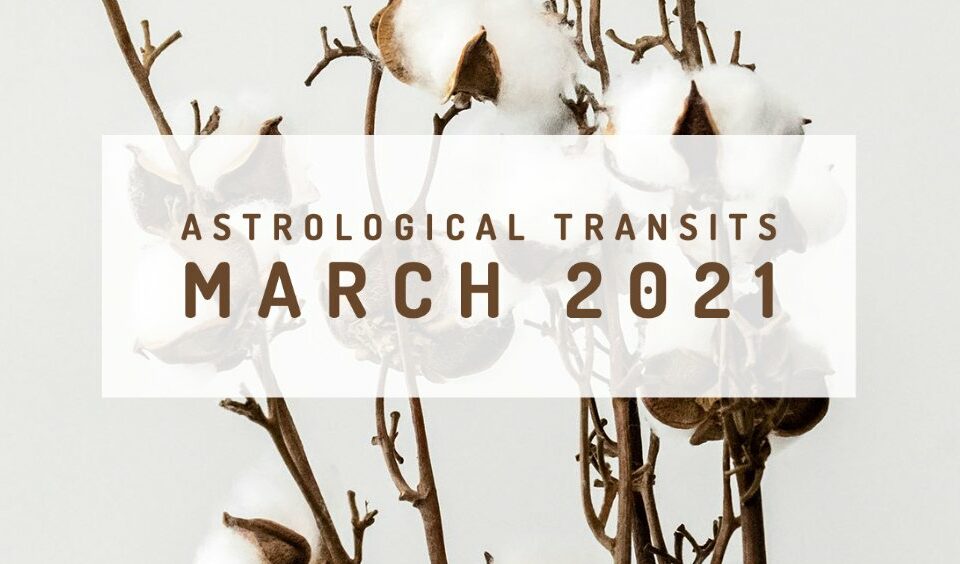 Do you want to everything about the main astrological transits of March 2021? March 2021 is a period characterized by the entry of Mars into Gemini; the entry of the Sun into Aries; the trine between Mars and Saturn; and the Venus Star Point in the sign of the Aries.
The entry of Mars in Gemini (03/03), points to the sharpness in the speech, and the interest in intellectual challenges; while the entrance of the star king in the sign of the Aries (03/20), invites us to assume leadership of personal and professional initiatives.
On the other hand, the trine between Mars in Gemini and Saturn in Aquarius (03/21), constitutes an impulse to increase productivity and optimize work systems; while the Venus Star Point in Aries (03/26), refers to not losing hope, despite the circumstances.
Astrological transits of March 2021
---
March 3: Mars enters Gemini
Restlessness. Irritability. Ease of speech. Interest in intellectual challenges. Versatility. Consistency and discipline must be cultivated.
March 10: Sun and Neptune in conjunction in Pisces
Secrets that come to light. Creative inspiration. Sensitivity. Empathy. Support for vulnerable groups. Connect with the divine, and the purpose of the soul.
March 15: Mercury enters Pisces
Cordiality. Sympathy. Modesty. Imagination. Cunning. There may be some scattering of ideas, or reduced ability to concentrate. Remember that "lies have short legs."
March 20: The Sun enters Aries
Spontaneity. Dynamism. Extroversion. Egocentrism. Ease of overcoming obstacles. Good time to lead/promote projects.
March 21: Venus enters Aries
Enthusiasm. Charisma. Entrepreneurial spirit. Passionate and demanding character. Love at first sight. Selfishness. The expression of sexuality and the enjoyment of intimate pleasures are especially important.
March 21: Mars in Gemini trine Saturn in Aquarius
Determination. Focus. Perseverance. Efficiency. Altruism. Resistance. Increase productivity, reorganizing work teams, according to the proposed goals. Don't make work an obsession.
March 23: Mercury in Pisces square Mars in Gemini
Imprudence. Controversy. Internal contradiction, which is externalized in the discourse. Be consistent, and avoid "dodgy" shortcuts on the road to success.
March 26: Venus Star Point in Aries
The Sun – Venus conjunction, known as Venus Star Point, will occur on March 26 in the sign of Aries. This event aims at personal affirmation, leadership, quick response, combative spirit, and confidence in one's intuition.

98.1% (1312)
What are the main astrological transits of March 2020?
---

March 3: Venus in Aries squared to Saturn in Capricorn
If optimism is not sincere, it will hardly help you to overcome difficulties.
March 4: Mercury retrograde enters Aquarius
Connecting with intuition can help solve situations, when logic is not on your side.
March 4: Venus enters the sign Taurus
Affability. Warmth Sensuality. Financial and emotional security as an objective. The search for comfort and stability take on special significance. Take advantage of this transit to listen to the desires of the soul, and nurture self-esteem.
March 8: The Sun and Neptune in conjunction under Pisces
Transcend beyond the physical. Artistic inspiration. Link with the spiritual. Restful rest. Easy to obtain information from the unconscious.
As much as possible, avoid making hasty decisions, since you may not have a clear (real) perspective on the landscape.
March 9: Mercury starts its direct trajectory in Aquarius
Fluid and unconventional communication. Freedom of though. Innovation. Original opinions. Assertiveness. Resolution of work disputes with colleagues, and technological teams.
Perseverance is key to achieving the proposed goals (new and old). Attention with episodes of bad mood, or stubbornness.
March 16: Mercury enters the sign Pisces
Cordiality. Empathy. Imagination. Intuition. Given the disorganization of thoughts, it is essential to organize your ideas (take note if necessary), to avoid confusion, or forgetfulness.
March 19: The Sun enters the sign Aries
Happy Spring / Autumn Equinox! Take stock of the state of your New Year's resolutions, and how to push yourself to the next level. Dynamism. Egocentrism. Easy to recover from setbacks. Self-expression as a quality to develop.
March 20: Mars and Jupiter in conjunction under Capricorn
Abundance. Law of attraction and manifestation. Confidence in the future. Enthusiasm. Value. If you want to start a new professional project, it is the right time.
March 21: Saturn enters the sign Aquarius
Originality with structure. Dreams and innovative ideas are analyzed with practicality and common sense. Creation of social ties.
This transit also emphasizes respect for personal and third party boundaries; the determination to achieve the objectives; the preservation of individuality; and the connection with intuition.
March 23: Mars and Pluto in conjunction under Capricorn
Caution: this astrological aspect can increase the irascibility and the tendency to hold a grudge, especially in situations where there is a strong abuse of power.
On the other hand, the impulse of inner transformation can produce unexpected confrontations, with people from the immediate surroundings, who are reluctant to change.
March 28: Venus in Taurus in trine to Jupiter in Capricorn
Good luck in the financial and professional field! Happiness shared with couple, friends or colleagues. Excellent day to conceptualize projects, in the long term.
March 30: Mars enters the sign Aquarius
Nonconformity. Idealism. Radical actions. Fight for freedom. Unconventional sense of humor. Participation in humanitarian activities. The main challenge is to be consistent.
March 31: Mars and Saturn in conjunction under Aquarius
The Mars – Saturn conjunction occurs once a year. On this occasion, with the influence of Aquarius, this astrological aspect reveals obstacles, which temporarily stop an initiative or proposal.
Frustration and impatience will not change the situation, therefore it is convenient to pause and take the opportunity to review the ideas as a whole.

98.1% (1312)
---