The Monkey in Chinese Horoscope. Characteristics and elements
---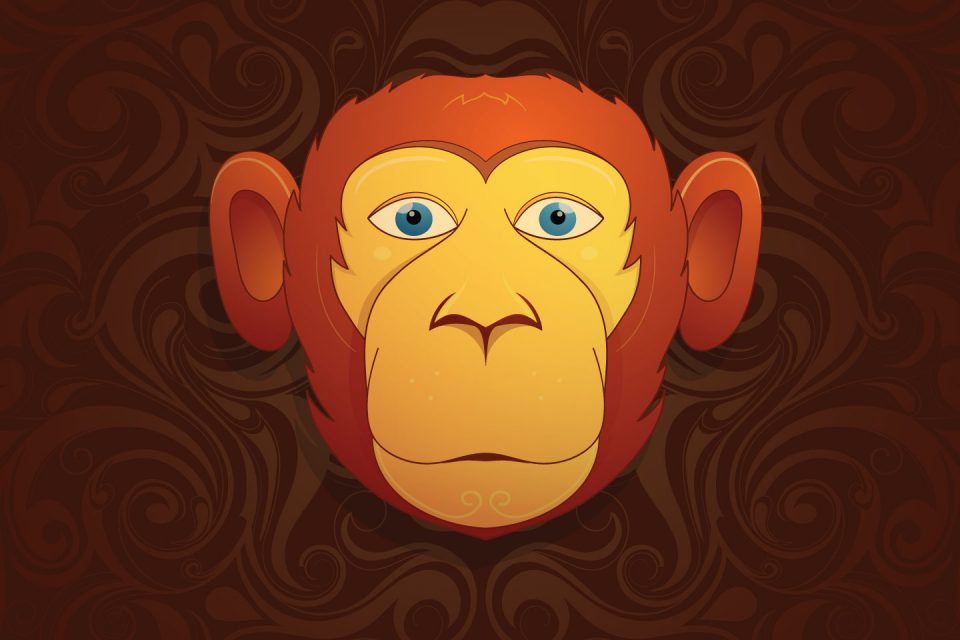 According to the legend, when Buddha reached enlightenment he invited all the animals to celebrate their joy. To that invitation, the Monkey plus another 11 animals came and got to be included in the Chinese zodiac.
Receive all our tips by email!
Love Astrology? Subscribe Now and Receive Exclusive Content!
How do I know if I am Monkey?
---
As we have indicated before, each animal 'governs' a specific year. The monkey is defined in the Chinese Horoscope by those born in the following years: 1908, 1920 1932, 1944, 1956, 1968, 1980, 1992, 2004, 2016… and so on, adding 12 years to the previous figure.
Essential features of the Monkey
In the Chinese Horoscope, the Monkey is curious, intelligent, energetic and very competitive. We could define the Monkey as the most active of all the signs of the Chinese Horoscope, always full of new ideas and projects.
They are very nimble mentally, which turns them into somehow manipulative when they want to achieve their goals. They are good leaders who know how to say the precise words at the right moment.
Characteristics of the Monkey
Sociable: those born under the sign of the Monkey in the Chinese Horoscope are sociable people who like to surround themselves with friends. They are fun and optimistic so it is not difficult for them to create new friendships.
Lovers of risk: the word impossible does not exist for those born in the year of the Monkey. They love to take on new challenges and the more difficult they are, the more effort they will put into their achievement.
Peaceful: Monkeys flee conflicts and quickly flee from situations that make them suspect that they will have problems.
The five types of Monkey
---
Water Monkey
When those born under the influence of the Monkey have the water element, they are a bit strange people who like mysterious and complicated plans. Without the necessary help, they can be tormented.
Wooden Monkey
The influence of the wooden element in this sign of the Chinese Horoscope makes them ingenious people, endowed with talent and creativity. At the same time they are friendly, very affectionate and tender beings.
Fire Monkey
Those born under the influence of fire element are the typical ones that should be distanced in the love plane. They are born conquerors but generally they are not satisfied with a single heart.
Earth Monkey
They are people with a great sense of humor and, sometimes, somewhat acid in their jokes.
Metal Monkey
The metal element turns people born in the year of the monkey into independent beings who hate to feel trapped in places, relationships or situations.
---
You may also like:
---