Future Unveiled: Baba Vanga's Prophecies for 2023
---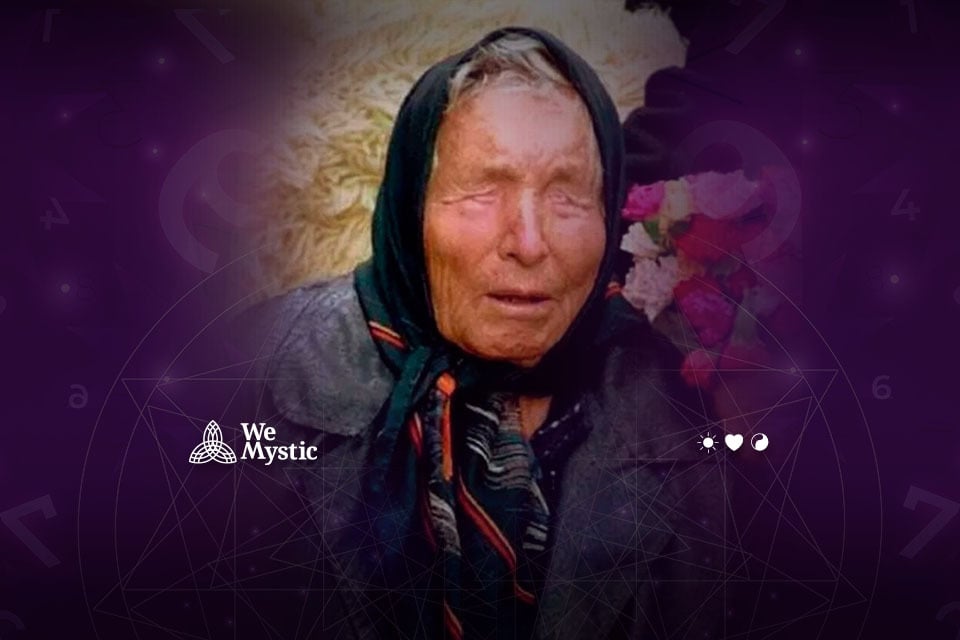 Baba Vanga, born Vangelia Pandeva Dimitrova, was a Bulgarian mystic, clairvoyant, and healer who gained worldwide recognition for her supposed ability to predict the future. Born on January 31, 1911, in Strumica, now part of North Macedonia, Baba Vanga became famous for her accurate prophecies and predictions, attracting followers from all over the world.
Throughout her life, she offered guidance and insights into various events, both personal and global, which earned her the nickname "Nostradamus of the Balkans." In this article, we will delve into Baba Vanga's life story and explore some of her remarkable predictions that have already come true.
Receive all our tips by email!
Love Astrology? Subscribe Now and Receive Exclusive Content!
Baba Vanga childhood and gift
Baba Vanga lost his sight at a very young age, during a tornado, when he was only 12 years old. According to his accounts, the trauma triggered his psychic abilities and opened the door to his prophetic visions. As time passed, her unique gift developed further, and people began to flock to her for advice and answers to their pressing questions about the future.

98.1% (1312)
Baba Vanga's predictions that came true
The blind psychic known for allegedly predicting the death of Princess Diana, the 9/11 attacks, Brexit, and the rise of the self-proclaimed Islamic State died in the 1990s at the age of 85, but she left predictions until 5079 and made hundreds of predictions during her 50 years of acting. Let's learn about some of them, and then draw your own conclusions!
The September 11 Attacks
One of Baba Vanga's most famous predictions is her supposed prediction of the September 11, 2001 terrorist attacks on the United States. She reportedly mentioned a "great horror" that would befall the land of the free, causing devastation and loss of life. Although the specific details may be subject to interpretation, many believe that her prophecy suggested the tragic events of 9/11.
Baba Vanga Prophecies – Chernobyl Disaster
Prior to the catastrophic Chernobyl nuclear accident in 1986, Baba Vanga is said to have warned of a "great disaster" that would affect the world and have lasting effects on the environment and human health. This prediction is often attributed to his remarkable ability to perceive impending disasters.
Tsunami in Southeast Asia
Baba Vanga is also believed to have predicted the devastating Indian Ocean earthquake and tsunami that occurred on December 26, 2004. Although he does not explicitly mention the event, his prophecy about a tidal wave that would engulf a "great coastline, covering people and cities" aligns very well with the tragic events that unfolded on that fateful day.
The Death of Princess Diana
One of Baba Vanga's most quoted predictions involves the tragic death of Princess Diana, which occurred on August 31, 1997. It is claimed that Vanga supposedly predicted the death of a prominent figure, described as "a lady with flowers," in a car accident.
The COVID-19 pandemic
Some believe that Baba Vanga predicted the emergence of a deadly virus that would sweep the world and cause widespread disease and death. Baba Vanga is also believed to have predicted a period of global isolation and quarantine, where people would be confined to their homes. However, it is important to approach these predictions with skepticism and recognize that they may be subject to interpretation and attribution after the fact.
Baba Vanga's Predictions for 2023
As we enter the year 2023, Baba Vanga's predictions continue to captivate the imagination of believers and skeptics alike. Here are some of the prophecies that have been attributed to her for this year:
Baba Vanga Prophecies – Nuclear Explosion
According to the prophetess, there is a possibility that a nuclear power plant will suffer a devastating explosion, resulting in the formation of toxic clouds that would spread as far as Asia. This prediction may also be related to Ukraine, as since 2022 Russia has taken control of the Zaporizhzhya nuclear power plant, and significant explosions have already been recorded in the vicinity of the site.
Change in Earth's orbit
According to Vanga, gravitational forces from other planets can cause a slight alteration in the Earth's path. The Earth's orbit relative to the Sun undergoes infinite changes over tens of thousands of years, but a more sudden change would result in devastating effects, such as accelerated global warming.
Russia as a world power
During a meeting with writer Valentin Sidorov in 1979, Baba Vanga made a prediction about the war in Ukraine. According to reports, the seer reportedly declared that "everyone will thaw, as if they were ice, except one who will remain intact. The glory of Vladimir, the glory of Russia."
Before her death, Vanga is reported to have stated that "no one could stop Russia" and that Putin would become "the lord of the world," according to The Mirror. In addition, Vanga predicted that Russia would become the world's only superpower and mentioned the use of nuclear weapons and a possible third world war.
Baba Vanga Prophecies – A new pandemic
According to her visions, climate change will play a crucial role in the emergence of a new pandemic. She predicted that a team of researchers in Siberia will discover a lethal virus that will be thawed as a result of climate change.
Baba Vanga's predictions suggest that melting permafrost in the Siberian region could expose pathogenic organisms long dormant. This accidental discovery would set off a series of events that would result in the emergence of a new and dangerous disease, with the potential to spread rapidly through the population.
Baba Vanga's life story and his alleged predictions have left an indelible mark on the world of mysticism and clairvoyance. While some remain skeptical of her abilities, others see her as a prophet who has accurately predicted significant global events. As we move into the year 2023, only time will reveal the extent to which Baba Vanga's purported predictions for this year will come true. However, his legacy continues to intrigue and inspire countless people who seek insight into the mysteries of the future.
You may also like:

98.1% (1312)
---