Tarot advice for Gemini in 2021
---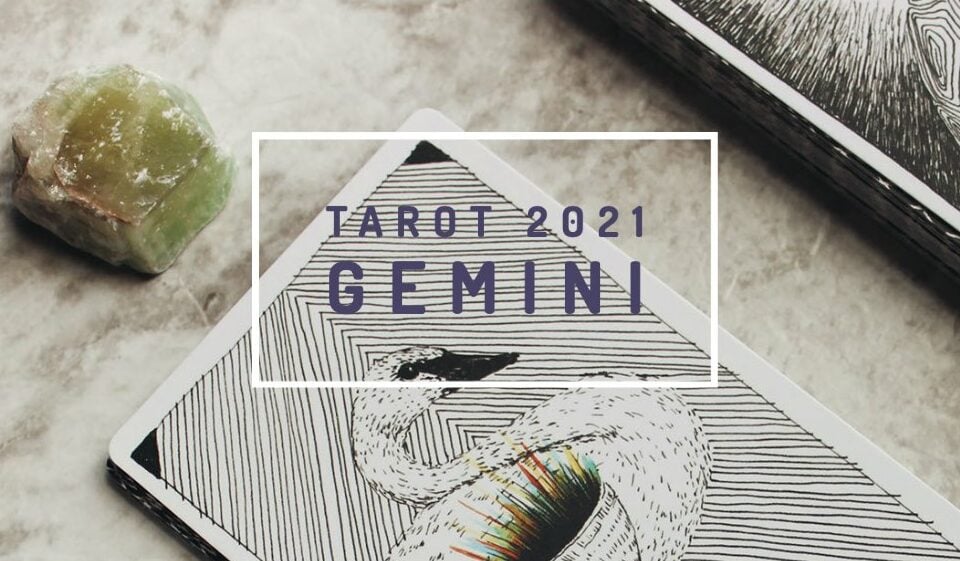 With the intention of obtaining the Tarot advice for Gemini 2021, considering the annual astrological climate, the Rider Waite Smith deck was used, and the version of the astrological reading, in which a card is selected for each of the houses or sectors, which make up the astral wheel.
In 2021, Mercury will be retrograde in the Gemini sign (from May 29 to June 22), so we are talking about a season dedicated to reflection; the analysis of the environment; cultivate positive communication, and stay away from backbiting and misinformation.
The fact that the annular eclipse of the Sun in Gemini occurs during the retrogradation of the communication planet in the sign of the twins (06/10), suggests that, despite the fact that the native will be impatient to take decisive action, they must gather patience and study the situation in depth before deciding.
2024 predictions are out
Discover the stars predictions for new year!
Tarot advice for Gemini in 2021: the twelve cards
---

House I: self-affirmation, personality and its external manifestation
Arcane: 10 of Cups
Advice: Tranquility. Trust. Sympathy. Happiness. Sincerity in affections. Recognize the value of love and family support.
House II: resources, material possessions, and personal value
Arcane: 5 of Pentacles (Gold)
Advice: Manage your finances wisely, to avoid relevant budget shortfalls. Take responsibility for your successes and mistakes.
House III: communication, mobility and thought
Arcane: 3 of Wands (suits)
Advice: New ideas. Wise advisers. Cooperation. Good news. Connect with your long-term goals, and personal expansion plan. Prepare for the future. Don't be afraid to start promoting projects.
House IV: home, family and origins
Arcane: The Priestess
Advice: Respect the warnings of your intuition. Analyze in detail the conditions of transactions, which involve family assets.
House V: romance, creativity and children
Arcane: 6 of Cups
Advice: Nostalgia. Activities with friends from childhood/adolescence. A love from the past can return to your life. Relive the flames of passion.
House VI: health, work and service
Arcane: The Strength
Advice: Dedication at work. Fight for your interests. Use strategy to achieve career goals. Avoid excesses.
House VII: personal relationships, contracts and declared enemies
Arcane: The Moon
Advice: Suspicion. Anguish. Idealization of the object of affections. Insecurity regarding the feelings of the other. Take time to reflect, realistically, on what you expect from your partner and what you are willing to deliver. Beware of victimization.
House VIII: sexuality, transformation and shared goods
Arcane: 6 of Wands (suits)
Advice: Joy. Stability in romantic relationships. Enjoy the present moment. Be honest with your feelings. Financial success.
House IX: philosophy, higher studies and travel
Arcane: The Magician
Advice: Joy. Creativity. Unexpected opportunities. Determination to face situations. Dare to start publishing projects, university or language courses, web pages, or international operations.
House X: vocation, aspirations and public life
Arcane: Death
Advice: Introspection. Intention to transform professional reality, and create one's own path. Cut with the past, and the old concepts of success and improvement.
House XI: friendships, groups and social conscience
Arcane: 10 of Pentacles (Gold)
Advice: Recognition for your work, in groups and associations. Cheers with friends and colleagues. Share your life experience with those willing to listen.
House XII: mysticism, karma and hidden enemies
Arcane: 7 of Pentacles
Advice: Maturity. Internal balance. It is necessary to understand that each process has its own time, and it is not wise to rush it. Be nice to yourself, and your feelings.
---
You may also like:
---