Gua Sha: a magical stone to your skin
---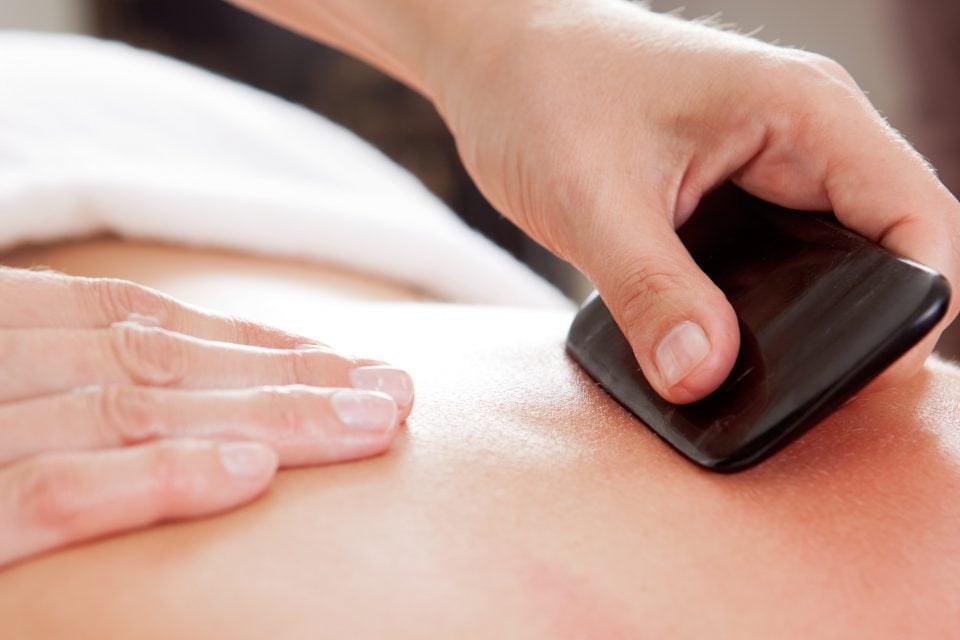 If you are familiar with traditional Chinese medicine techniques such as acupuncture, you have probably heard of Gua Sha. Cited in clinical books since 220 AD, the technique seeks to perform an internal "cleaning" of the patient by scraping the skin.
For facial massage it has revolutionized the market for skin care tools. If you are one of those people whose skin shows everything (stress, poor diet, sleep deprivation), Gua Sha may be the solution for you.
If you have tried everything to relieve swelling and improve the appearance of your skin, from placing a spoon in the freezer, using specific eye creams or eliminating dairy products from your food, for example; if you've even tried the jade roll and it didn't work, then get ready to try and fall in love with Gua Sha.
Are you curious to know more? Know the benefits and the functioning of this treatment.
Receive all our tips by email!
Love Astrology? Subscribe Now and Receive Exclusive Content!
What is it and how does Gua Sha work?
---
The term contains two words, where Gua means to scrape, brush or scratch, and Sha has a composite meaning for sand and infirmity. So when you are sick or suffer from any other health problem, the technique uses skin scraping to find "sand grains" – or crystallized energy blocks – to be swept away.
Its complexity can be described as a form of acupuncture without needles, hands-free massage and bloodless bleeding. Gua Sha is a complete and targeted treatment that consists of massaging certain regions of the body by combining the scraping of a specific object on the area in question.
We say specific object because there are several materials used to perform this scraping. Some of the most common objects are a buffalo horn, jade stone, saucer, wood, coin, porcelain spoon, among others. The choice is not random, and considers the therapeutic purpose at the time, and this scaling may be deeper or subtle.
Through the chosen object, the technique aims to stimulate the surface of the skin, mobilizing Qi (vital energy) and Xue (energy of the blood), eliminating bad energy and accumulated toxins. All this complexity brings numerous benefits.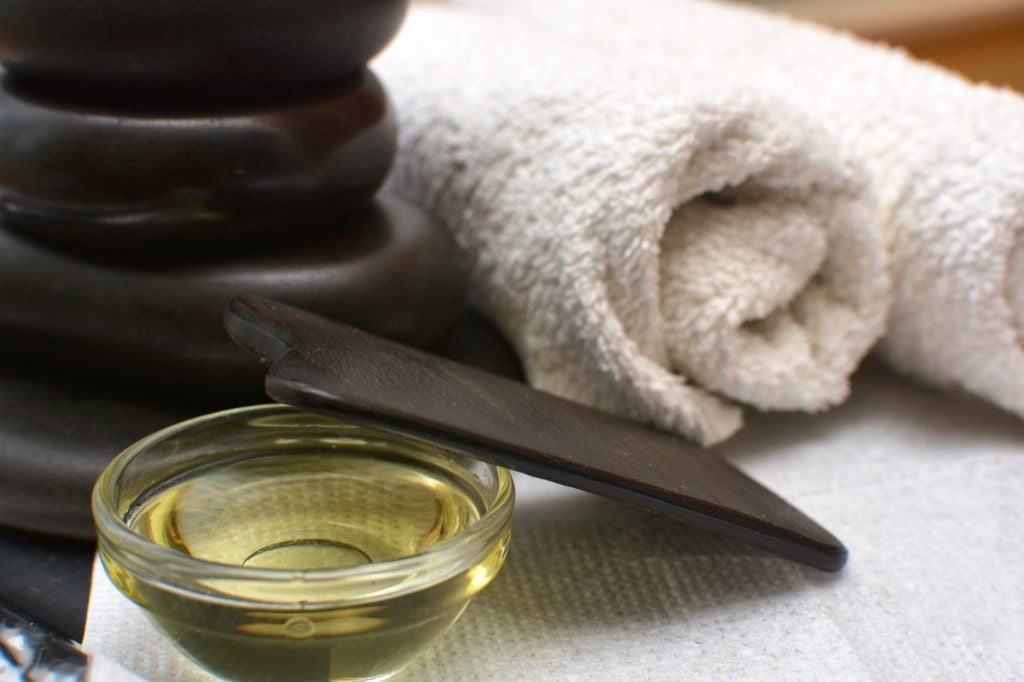 6 Benefits of Gua Sha
1. Improves circulation
Gua Sha is the tool of choice if you want to increase blood flow to your face. Improving circulation itself has many benefits, such as reducing inflammation, giving your skin a brighter appearance and achieving anti-aging effects.
2. Aid in lymphatic drainage
Do you see that accumulation of fluids on your face? Gua Sha can help fight this. Lymphatic fluid is basically the fluid from your lymph nodes that has not returned to the cardiovascular system. Massaging the skin helps to drain the liquid from your face and this is the best tool to achieve this.
3. Relieves muscle tension
As Gua Sha passes over your skin, you will instantly feel your face relaxing. The massage movement that makes this tool breaks the muscle tissue, called fascia, which brings circulation and makes the muscles relax more. If you are under a lot of stress and can feel it on your face, this is a super easy way to bring some relief. And did you know that it also helps to have less headaches?
4. Helps to improve dry skin
Gua Sha can help dry skin, even in winter. Once again, when you push all of these toxins out of your face, your skin starts to get more natural moisture, since it is no longer so heavy.
5. Reduces wrinkles and helps fight skin aging
Yes, Gua Sha is basically a miracle worker in this area. All the accumulation of liquids on your face is waiting to be drained, as it can lead to the appearance of acne and even leave your skin dull and lifeless. The massage gives the skin elasticity and shine. Using firmer pressure can even help you deal with fine lines and wrinkles on your skin.
6. Adds facial contours
If you need to redefine your facial contours, forget about expensive treatments. Gua Sha will help you. As you massage your face with gua-sha, you'll start to notice the facial contours that you didn't even remember you had. Although this slimming effect is only temporary, over time, making the blood circulate and move with lymphatic drainage, can only help and may even make your face thinner.
How to use Gua Sha to massage your skin face?
You can massage with Gua Sha after applying the serum, moisturizer or oil you use daily. Or you can even use it after applying all the products on your skin, as it helps the stone to slide, without straining the skin.
Each Gua Sha is a tool with a different shape and, therefore, you must find the side that works best for the different contours of your face.
Before starting with the face, and because it will direct toxins to the neck, you must decongest the neck. Use on clean skin, daily, for 3 to 5 minutes. Repeat each exercise at least five times per workout and on each side of the face separately, for maximum benefits.
Neck: divide the neck into four areas and pass each area from bottom to top, moving the gua-sha five times in each;
Jaw and chin: slide the tool up from the center of your chin to the earlobe to the outline of the jaw;
Forehead: start at the center of the forehead, divide the forehead into three sections and slide the tool out. Pass once, then go down and pass again;
Cheeks: start at the nose and work upwards in one movement, dipping down the cheeks and cheekbones, up to the ears. Swipe once, then go down and swipe again. Move a little more to the center of the chin and pass again;
Under the eyes: start at the inner corner of the eyes and slide out towards the corner to drain the eye bags. Be super careful in this area;
Eyebrows: slide upwards along the brow bone, going from the inside to the outside;
Lips: slide your lips back and forth 5 to 7 times.
While you're massaging, don't be afraid to add some firm pressure. Without hurting, but if any redness or small red spots appear, this is normal. The redness means that the Gua Sha is bringing blood to the surface and is doing its "work".
How is Gua Sha performed by therapists?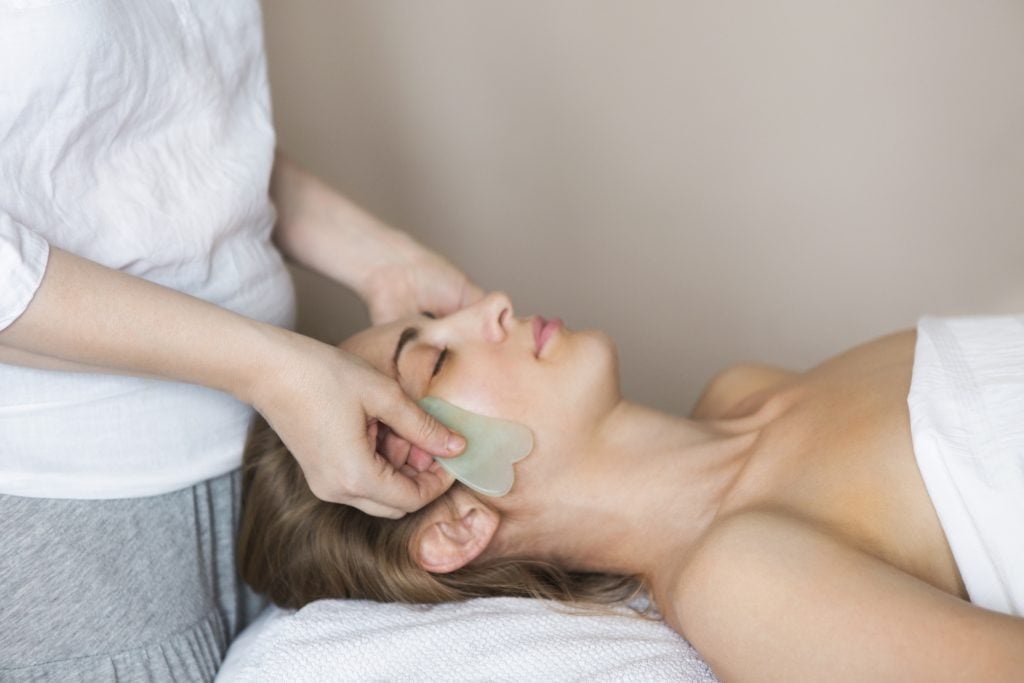 With the patient positioned optimally to cover the Meridians corresponding to their problem, the therapist will first apply a special anti-inflammatory action oil to the area. Then, with the object in hand, the vasodilation is promoted by scraping, leading the skin to a state of slight redness.
In conjunction with scraping, the therapist performs a massage on the patient as a way of assisting the action of the object that they use on the area. Some practitioners perform a massage before they even begin scraping, but this is an optional process that is not usually practiced in China.
Are there any contraindications?
Gua Sha specialists indicate this treatment for almost all types of patients. However, there are some conditions which receive warnings. Do not treat people with:
Open or non-fully healed wounds;
Tumors;
Recent burns;
Varicose veins;
Acute inflammation.
Pregnant women can benefit from Gua Sha only after authorization from an obstetrician and evaluation of the professional specialized in this technique.
---