Mental Puja: an act of appreciation
---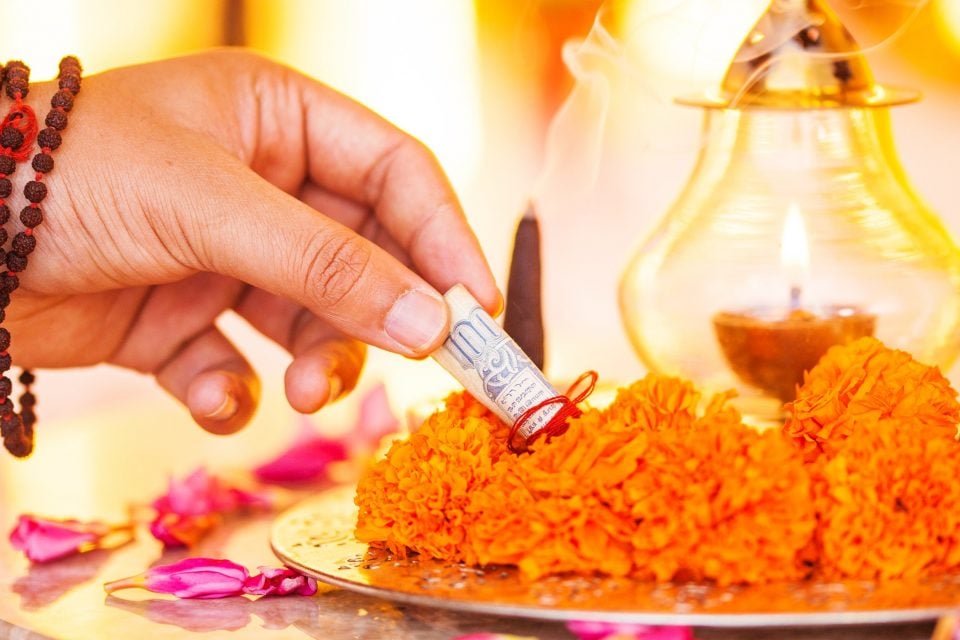 Mental Puja or Puja is a religious custom performed by the Hindus as a method for offering images of appreciation to divinities, distinguished people, or extraordinary visitors.
This is done on an range of events and settings, from beginning a new endeavor, to sanctuary functions and enormous celebrations.
Puja is displayed on giving a blessing or offering to a divinity or notable individual and making it possible to get their blessing. The two primary territories where puja is held are houses and sanctuaries. There are numerous types of offerings, and the intricacy of the ceremony.
They also held Puja at occasions, festivals or religious ceremonies. During the ceremony, Pujari (priest) symbolically invokes the inner deity so that they worship her externally and then invited back to her inner abode.
Mental puja is a mean of connection with the universe and a practice which deepens the relationship between the individual and the whole. It comes from India, where is daily held by people from different beliefs. The spread of indian philosophies turned it into a more common habit between people that are not hindus or any other indian religions followers.
Understanding mental puja comes easily if we understand the whole concept of puja. Therefore we start explaining the concept of puja, before moving on to mental puja. Keep reading and find all about it!
Receive all our tips by email!
Love Astrology? Subscribe Now and Receive Exclusive Content!
What is Mental Puja?
---
Summarizing, puja can be described as religious hindu rituals of thanks to deities which can happen in different formats, changing from region to region. Usually there is a shrine with one or more than one deity, to whom incense, flowers, food, water are offered accompanied by lamp and a bell. It can be performed in temples, in the houses and sometimes in the streets.
In some forms of pujas there are also chants, the mantras that can become really strong and hypnotizing. One of the most famous places where is possible to watch pujas is Varanasi in India, existing also the belief that only by being present observing a puja will already turn into good karma.
Extending the explanation into a more technical and traditional definition, the word puja, in Sanskrit, means literally worship. The person who does a puja, worships a specific representation of God. It's not a reverence of the symbol, but a reverence that points to the whole.
Mental puja can also be called Manasic Puja and is for many considered even more powerful than external puja. In a mental puja, the process is totally mental. People follow all the steps of an external practice, but in their mind. The seer visualizes the entire practice, the deity and the offerings and the mantras occur in the mind.
It's considered a powerful way to connect with God and spirituality and a higher way of worship (compared to the external practices). It is also a way of protecting the mind from all the numerous desires and attractions of external life, by working on the focus of the mind. The experience lived within the person, with time gets so strong, that it spreads to all the aspects of a person's life.
Although, as mentioned before, it is considered a hinduist practice, it's more and more common to find this practice being performed in people that do not considered themselves hindus.
Puja is not about worshiping a figure, a character, an image, is about creating a spiritual connection with the universe. Therefore, independently from the beliefs and self religious definitions, it can be a strong spiritual practice for everyone.

98.1% (1312)
The process of mental puja
---
The Mental Puja transmission is similar to the echo mechanism. When we emit a sound, it encounters an obstacle, hits and returns. The repetition of the sound we hear is the echo. Sometimes the sound is exactly the same, sometimes it has modifications made more pleasant or not to our ears. With Puja, the emission of energy is constant, through our thoughts, feelings and actions. These vibrations travel through space until they encounter an obstacle that will reverberate them back to ourselves. There is no concept of beneficial or evil vibrations, these are only the fruits of our perception and our resistance to what we perceive as pleasant or not to us.
The important thing is we know that the vibration is originally from ourselves. What is important, too, is to know that the simple fact of thanking and wanting positive and healthy things generates a favorable attitude for spiritual development.
Thank and accept are states of consciousness. They are sensations that are beyond the intellect. When the state of acceptance is reached, the heart is invaded by a state of contentment and happiness that is not shaken by the setbacks of circumstances. Full of happiness, all that remains is to let it go, as a need to share. Puja, in essence, is the purest translation of these states.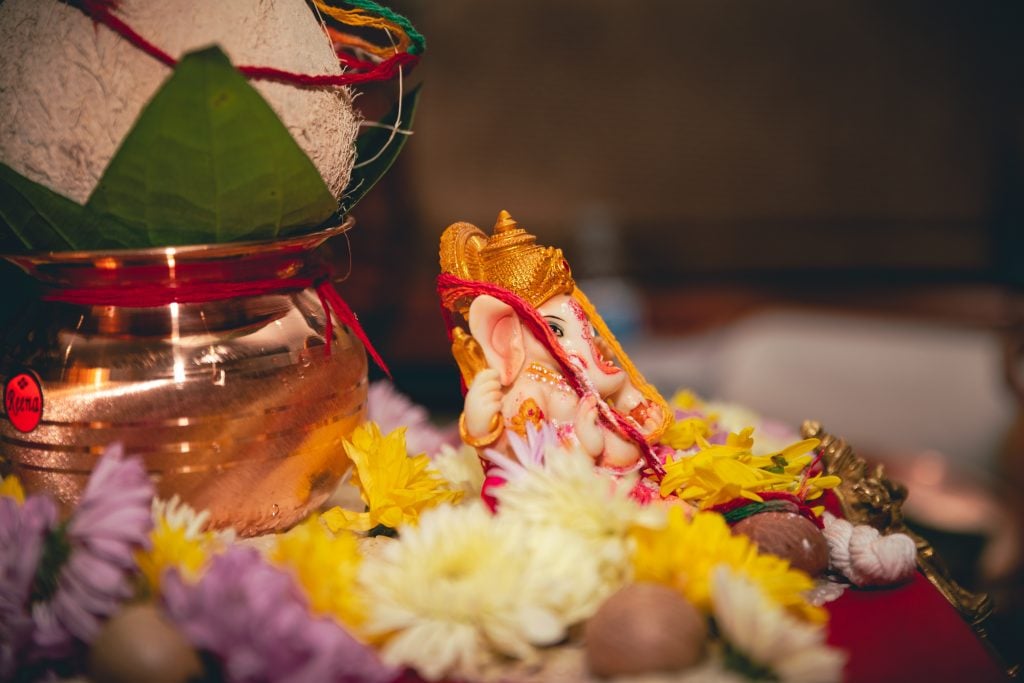 Puja ritual: main steps
There are sixteen steps for a complete ritual. The most important steps are:
Anulepana (or gandha). One perfumes the representation and one applies on his forehead the pottu (or tika), whose basic material varies according to the divinity (sandal paste, clay, etc.);
Pushpa. This is the offering of flowers and garlands, to choose here also according to the god or the goddess they are honoring;
Dhupa. They burne Incense in front of the representation;
Dipa (or arati). For this light offering, they usually rotate an oil lamp several times, in a clockwise direction, in front of the representation;
Naivedya. This is a food offering, which varies according to the deity and the time of day. For example, Gansh and Krishna prefer sweets, Durga, Kali, Mariamma … prefer "sour, bitter, pungent foods (lemons and peppers)" (according to Sarah Combe in her book One and Multiple).
---
You may also like:

98.1% (1312)
---