Sakya: all you need to know
---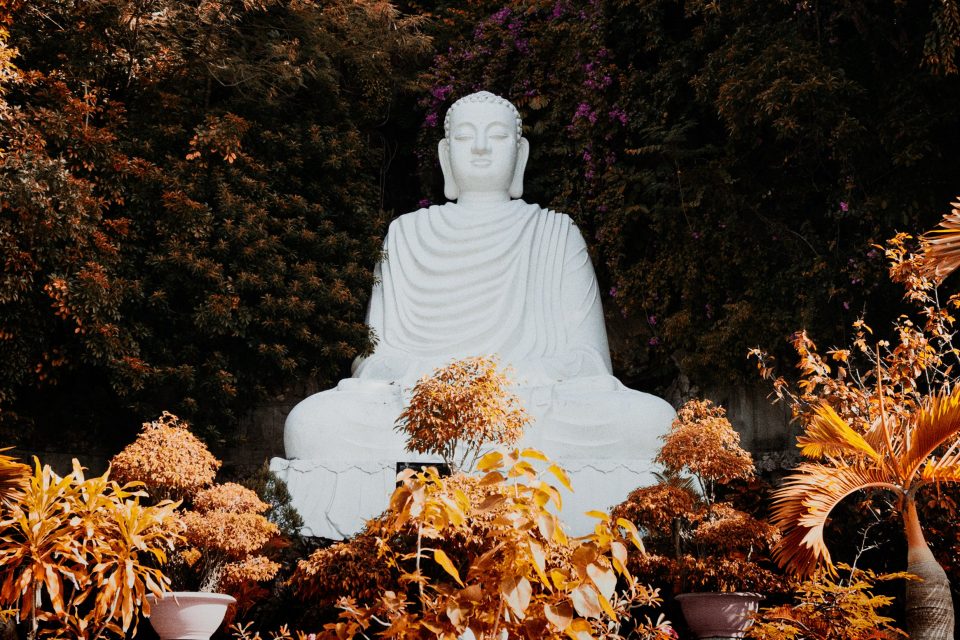 Sakya is one of the four main traditions of Tibetan Buddhism. Its name takes as reference the place where its first monastery was established, back in the year 1073, in Sakya, Tibet.
Sakya was founded by Khon Konchok Gyalpo (1034-1102). Sachen Kunga Nyingpo was the first of the five great masters who founded the Sakya Order of Tibetan Buddhism. He was born in Sakya, Tibet, in the year 1092, son of the historical founder of the Sakya Monastery in 1073, Khon Konchog Gyalpo.
Because all those who saw him were filled with joy, he was called Kunga Nyingpo, which means "Essence of Joy for All". He was also an emanation of Avalokiteshvara (the Buddha of Compassion) and born among many auspicious signs.
Receive all our tips by email!
Love Astrology? Subscribe Now and Receive Exclusive Content!
Sakya: the history
---
The history of Sakya begins centuries before Khon Konchok Gyalpo founded it. It began with a race of celestial beings that descended from the Clear Light heavens to live in the snow mountains of Tibet to help other living beings.
This happened ten generations before Guru Padmasambhava arrived. At the time, they were known as Lha Rig, also known as Khon. The Kohn family became for the next generations a central pillar in the community and a Khon son was one of the first seven monk translators of all of Tibet.
Sachen Kunga Nyingpo, son of Khon Konchok Gyalpo, was blessed with extraordinary intelligence, and at an early age, he learned to read, mathematics, astrology and elegant speech. He also studied in depth and dominated athletics, medicine, Sanskrit, poetry, composition, and other subjects, and became a recognized teacher of all these areas.
From his father, he received the initiation of Hevajra and many other teachings of the Dharma. When Sachen Kunga Nyingpo was eleven years old, his father, Khon Khonchog Gyalpo, died. Sachen Kunga Nyingpo was then too young to take the responsibility of leading the monastery, so his mother Machig Shangmo appointed as abbot of the Sakya Monastery the great translator Bari Lotsawa until Sachen Kunga Nyingpo was an adult.
That same day, Machig Shangmo also made preparations for laying the foundation stones of a new temple and for the funeral rites for Khon Khonchog Gyalpo to take place. That year, Bari Lotsawa recommended that Sachen Kunga Nyingpo make an extensive retreat on Mañjushri, the Buddha of Wisdom; although at that time he was only eleven years old, as a future holder of the throne he would need to develop great wisdom.
At the beginning of the retreat, there were several obstacles that were overcome by the practice of Arya Achala. Gradually, all obstacles were pacified, and Sachen Kunga Nyingpo developed a great meditative realization. After six months of meditation, Sachen Kunga Nyingpo perceived that Mañjushri himself appeared in his meditation cabin.
Mañjushri gave him a text of four verses that Sachen Kunga Nyingpo immediately realized was a summary of the complete Mahayana path to Enlightenment. This profound teaching would come to be known as "Separate from the Four Attachments."
"With attachment to this life – there is no Dharma student;
Attachment to the Three Realms – no renunciation;
Attachment to self-purpose – no Enlightenment Thought;
If grasping arises – there is no view."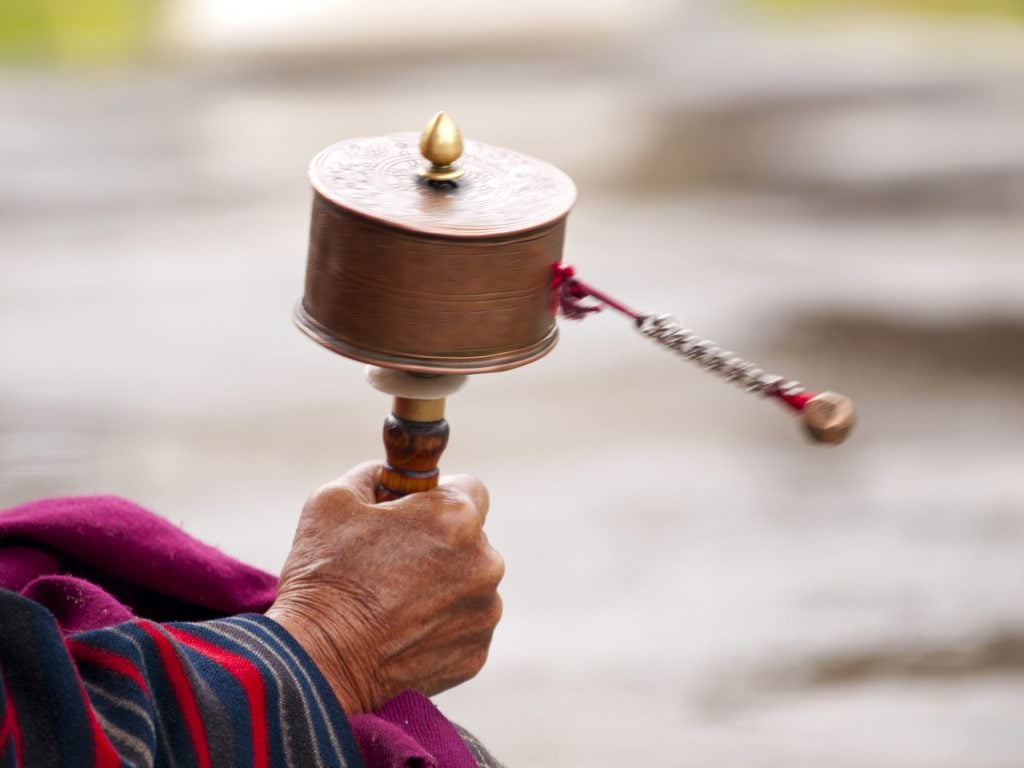 Mañjushri, the Buddha of Wisdom
At the same time, Manjushri blessed Sachen Kunga Nyingpo with a prophetic vision: seven wisdom swords emanated from the heart of Mañjushri and were absorbed into the heart of Sachen Kunga Nyingpo, symbolizing that seven successive emanations of Mañjushri would appear among the descendants of Sachen Kunga Nyingpo , and that his lineage would always be blessed by this deity of wisdom.
Through the blessing of this vision, Sachen Kunga Nyingpo developed great wisdom and became able to understand without effort all phenomena. Sachen Kunga Nyingpo continued with his extensive training. When he was twelve years old, his teachers decided that he should go to study Abhidharma [Buddhist psychology and metaphysics] with Trangti Darma Nyingpo, the most famous teacher on the subject of the time.
When Sachen Kunga Nyingpo arrived at the monastery of Trangti there was no room for him in the monks' apartments because there were already many students studying there. In the courtyard, Sachen Kunga Nyingpo made a simple shelter with a curtain.
Another monk who lived in the vicinity contracted smallpox and became seriously ill without anyone taking care of him. Moved by great compassion, Sachen Kunga Nyingpo took care of him until he had recovered, which resulted in him contracting smallpox, becoming seriously ill.
His mother visited him to comfort and encourage him and gradually recovered. Finally, Sachen Kunga Nyingpo received the teaching of the Abhidharmakosha of Trangti Darma Nyingpo. After listening only once, he completely memorized the words and understood their meaning in full. Everyone was amazed by this skill. After this, Sachen Kunga Nyingpo began the study of logic.
Sachen Kunga Nyingpo
At that time, the leaders of the Sakya Monastery encouraged Sachen Kunga Nyingpo to temporarily put aside the study of logic and return to the Sakya Monastery to receive teachings and transmissions from the great translator Bari Lotsawa, who had become very advanced in age.
Bari Lotsawa gave Sachen Kunga Nyingpo many teachings on the sutras, including the Treatise on Paramitas, The Noble Jeweled Wall, and the Many Buddhas Sutra. Bari Lotsawa also gave him many teachings from the tantras, including around two hundred segments of kriya tantra; Yamantaka and Mahakroda Vinajaya of the charya tantra; five texts of the Tantra of Guhyasamaja root and its explanation of tantra yoga; Tantric comments written by Nagarjuna; and many other teachings.
Bari Lotsawa handed Sachen Kunga Nyingpo a stone statue of Mahakala known as the Jewel that Wishes. This sacred statue is one of the four transmission lines through which the teachings of Mahakala converged in the Sakya tradition. Later, Bari Lotsawa transferred the throne of the Sakya Monastery to Sachen Kunga Nyingpo and died shortly afterwards.
Sachen Kunga Nyingpo continued to receive many teachings and initiations from other renowned teachers. Although he had previously received teachings on the three tantras of Hevajra from his father, he also received an extensive version of these teachings from Khon Jechuwa Dralhabar, as well as additional commentaries, complementary teachings, essential teachings, and others, quickly mastering each of these teachings.
Sachen Kunga Nyingpo was the most intelligent among the eighty disciples of Khon Jechuwa Drlhabar and understood the meaning of all the texts.
---
You may also like:

98.1% (1312)
---