Utkatasana: how to sit in the Chair Pose and its benefits
---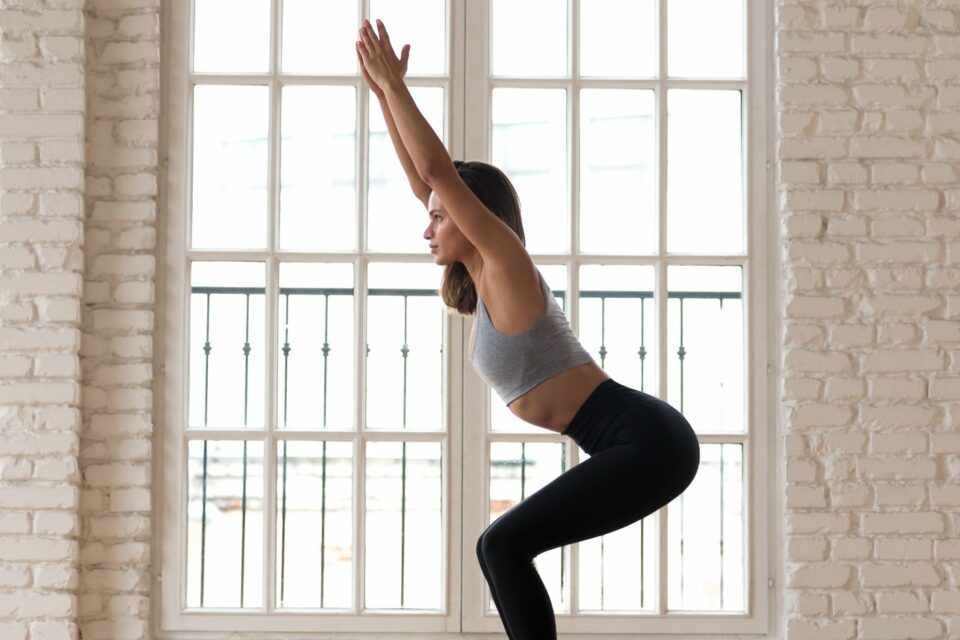 Utkatasana is a standing position, widely known as the Chair Pose. The simplicity its alignment shows doesn't represent the intensity of this pose, nor either the huge amount of benefits one can get from it.
Utkatasana is a powerful yoga pose, as its name tells us. From the Sanskrit, Utkatasana breaks in two words, Utkata and Asana. Utkata means intense or powerful, while asana means pose. Therefore, some schools adopt English names like fierce, or powerful pose.
Do you suffer from back pain? Do you want to strengthen your legs or need to work on your balance? Keep reading and find out all Utkatasana can do for you.
Receive all our tips by email!
Love Astrology? Subscribe Now and Receive Exclusive Content!
Utkatasana, sit and work on your strength
---
Usually, sitting is either connected to intellectual work or to rest, but never to bodywork. Of course, any of these options require a chair or a sofa, which we won't use in yoga practice. You'll never wish so much to get out of the chair, as while doing Utkatasana. 
Although it's a quite easy pose to build, let's take a closer look at each of its steps, with the warning that there are multiple possible ways of entering the Chair Pose.
Utkatasana, step by step
1. Start in Tadasana, the mountain pose, keep the feet together or separated hip distance, parallel to each other. 
2. Inhale as you raise your arms over your head. Keep the arms parallel, palms facing inward, or join the palms. The second option is stronger for the shoulders. In case you have shoulder problems, keep your hands apart and then bring your palms together in front of your heart.
3. Exhale, bend your knees deeply, like if you were actually sitting on a chair. The thighs must be as close to parallel to the floor as possible. Lean the torso slightly forward in a right angle with the tops of the thighs.
4. Stay grounded by moving some weight to your heels and if possible (considering your neck conditions) look in front or up, instead of looking to the floor.
5. Keep your spine straight, don't let your tailbone point up which will overarch the lumbar, either pointing too much to the floor. The idea is to keep a neutral position on your back, it will protect and strengthen it.
6. Hold the pose for some minutes.
7. Inhale and stand tall. Exhale and release your arms going back to the Mountain pose.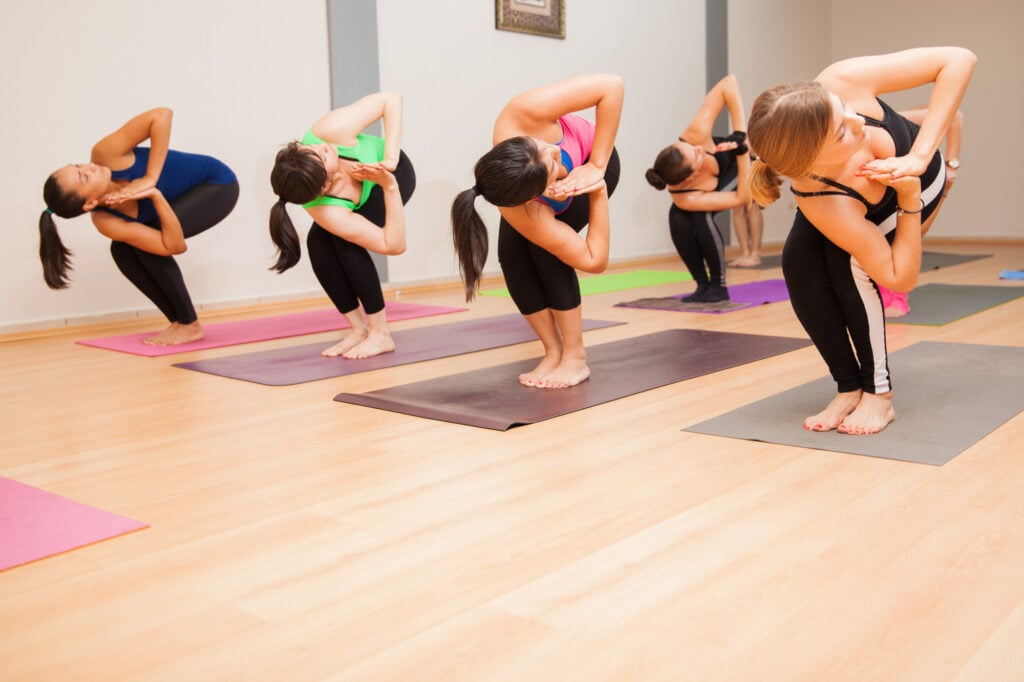 The benefits of Utkatasana
Utkatasana is part of Surya Namaskar B, therefore we can conclude, it's one of the basic and really important poses of yoga. It presents a set of benefits.
Strengthens the ankles, while it also improves its range of mobility;

Strengthens the thighs with the great consequence of also improving the well-being of those who constantly feel tired legs. It not only strengthens but also stretches and improves blood circulation;

Strengthens the back. This is probably one of its most important benefits. Utkatasana is highly recommended for those who need to work on their spine strengthen;

Strengthens the abdominal musculature;

Opens and stretches the chest and shoulders, also improving the mobility of shoulders and its strength;

Stimulates the vital organs;

Improves and corrects posture;

Stimulates ease and enjoyment;

Reduces flat feet.
Precautions in Chair pose
The Chair pose is a safe one, directed to all levels of practice. Even so, there are a few recommendations and conditions to which it's not the most indicated pose.
As previously referred, one of the most common mistakes is to overarch the lumbar spine. This can have the exact opposite effect on the body and result in back problems. It's really important to keep your spine neutral;

There are also a few health conditions to which Utkatasana is not good, namely arthritis, low blood pressure, insomnia or frequent headaches;

For those with joint or knee-related problems, although some teachers recommend not to do it at all, it's possible to adapt the pose. Try it for yourself to not go so deep in the pose and how it feels;

For those with shoulder-related problems, if it's too intense to keep your arms up, just lower them and place your hand together in front of your heart. Remember to keep your chest opened.
One of the most classic positions, Utkatasana is present in many yoga sequences and practices. Adapt it to your own body and enjoy all the benefits it has for you!
---
You may also like:
---