Waxing Moon in 2023: the time for action
---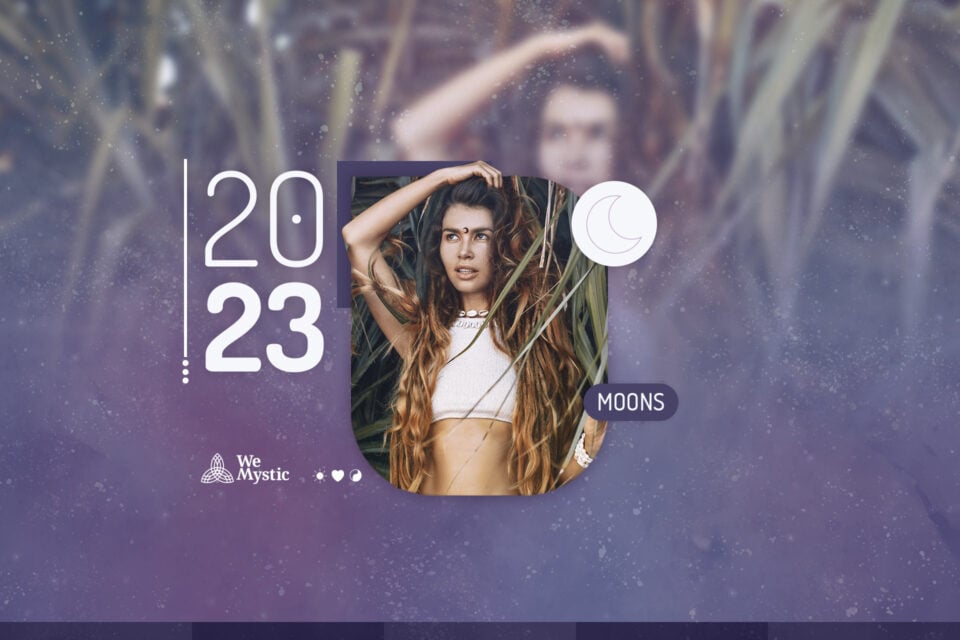 Washington TimeZone | USA (GMT -4)
Regardless of other astrological factors, such as the signs, the phases of the Moon have a very strong effect on our lives, and especially help in making decisions. All lunar cycles are equally important, and the Waxing Moon in 2023 promises to open doors and boost short and long-term projects. Let's see what it has to say?
Receive all our tips by email!
Love Astrology? Subscribe Now and Receive Exclusive Content!
Waxing Moon in 2023: cycles and concepts
While the New Moon is a period of individualism and "incubation" of ideas, the Waxing Moon in 2023 represents a phase of action, daring, and fighting for all those dreams that permeated your mind.
The characteristic is valid even for those people who are searching for meaning in their own lives. To find so many answers, you will need to support your ideals and go through trials.
During the weeks that the Waxing Moon is in the sky, it is important that you make firm decisions, commit yourself, and follow the plan you have laid out. Can you handle this dream? Then go for it!
A very important tip to take with you during this phase of the Moon is to keep your focus only on the seeds that are germinating. Try not to focus on those plans that have already started to go wrong, or that don't have as many chances to blossom.
During the Waxing Moon, the pattern that is predominant is the one that will progress throughout the lunar cycle. That is, if things are shaping up for success, they will be; but if you are facing many obstacles, they are likely to increase as the days go by.
The Waxing Moon in 2023 will act as an interim period until you reach the peak of your achievements. If you planned in the previous phase, now is the time to pick up speed. Clear up misunderstandings, structure your new projects, let go of certain situations, and finally kick-start your life plans.
For those who are adept at spells and rituals, the Waxing Moon is the ideal time to perform some of them aimed at love, prosperity, good luck, health (especially healing), and beauty.
Are you ready to live this phase intensely? Then check below the dates when the Waxing Moon will occur in 2023.
January 28th / February 27th / March 29th / April 27th / May 27th / June 26th / July 25th / August 24th / September 22nd / October 21st / November 20th / December 19th.

98.1% (1312)
Waxing Moon and career
A time of prosperity and hard work! The Waxing Moon is a period when sufficiently elaborate ideas and plans are executed in order to test their feasibility. Exhibiting even somewhat reckless behavior, you will feel more courageous to strive for success.
Driven out of your comfort zone, you will tend to work hard, increasing the pace so that your wishes finally come true. Obstacles may arise along the way, but just keep your focus and concentrate your efforts to do well.
High value acquisitions, such as buying a car or real estate are benefited during this lunar cycle. Your power of communication will also be favorable. It is a good time to collect debts, attract new customers, ask for a raise, or start in a new job.
From the 1/4 Crescent phase until the Full Moon arrives, you will have a very favorable window for investing in projects you have in mind, and for relationships in general, including professional ones. And don't forget: if you want to launch something, start a business, or get a reach in your sales or projections, reserve the third day before the Full Moon for that. It is success for sure!
Your health under the Waxing Moon
During the Waxing Moon, wisdom becomes a primary aspect – especially for women. Changes in lifestyle, diet, and even old habits are likely to happen during this phase.
If you have surgery or a more invasive process planned, plan for the intervention during the Waxing Moon. It favors not only healing, but rapid healing and recovery.
Immunity problems or treatments to raise deficient rates in the body also show excellent results during this lunar phase.
Learn to listen to your body so that natural rhythms flow with lightness. Only then will you allow yourself to rest and recharge in the proper way that you really need.
Body and beauty
More nutritious diets and weight gain are strengthened during the Waxing Moon. If you are in the gym looking for an increase in lean mass, now is the time to supplement and train with more dedication.
Hair transition processes and other beauty treatments work very well during this Moon. It is also a great time to cut your hair if you want it to grow faster.
Waxing Moon and love
Everything will be very magnetic and magical during the Waxing Moon – some of you may even be frightened by how direct the events will be. Singles will have a first meeting with suitors (a relationship that can be very long lasting), married couples may try to get pregnant, and a great deal of learning in life together will be inevitable.
A period has arrived where being and doing must go hand in hand. At the same time that your initiative will be in full swing, it will be important to establish a greater connection with your partner and with your own desires.
Whatever your relationship status, try to discover how your lives can fit harmoniously together. Got a problem stuck in your throat? Sit down, talk it over, and come clean! But if everything is going very well, know that marriages are highly encouraged at this time.
As with work, the period from the 1/4 Crescent phase until the arrival of the Full Moon, is also very favorable for investing in love. So if you are waiting for the right moment to propose, propose something more, or have a sincere conversation with your partner, now is the ideal time.
Lunar calendar 2023:
Below you will find the complete lunar calendar with all the appearances of the Waxing Moon in 2023, including the times when it will actually be in the sky.
| Moon Phase | Date | Hour |
| --- | --- | --- |
| Waxing Moon 🌘 | January 28th | 10:20 AM |
| Waxing Moon 🌘 | February 27th | 3:05 AM |
| Waxing Moon 🌘 | March 28th | 10:33 PM |
| Waxing Moon 🌘 | April 27th | 5:19 PM |
| Waxing Moon 🌘 | May 27th | 11:22 AM |
| Waxing Moon 🌘 | June 26th | 3:51 AM |
| Waxing Moon 🌘 | July 25th | 6:08 PM |
| Waxing Moon 🌘 | August 24th | 5:58 AM |
| Waxing Moon 🌘 | September 22nd | 3:32 PM |
| Waxing Moon 🌘 | October 21st | 11:30 PM |
| Waxing Moon 🌘 | November 20th | 6:50 AM |
| Waxing Moon 🌘 | December 19th | 1:40 PM |
You may also like:

98.1% (1312)
---