Tarot advice for Aquarius in 2021
---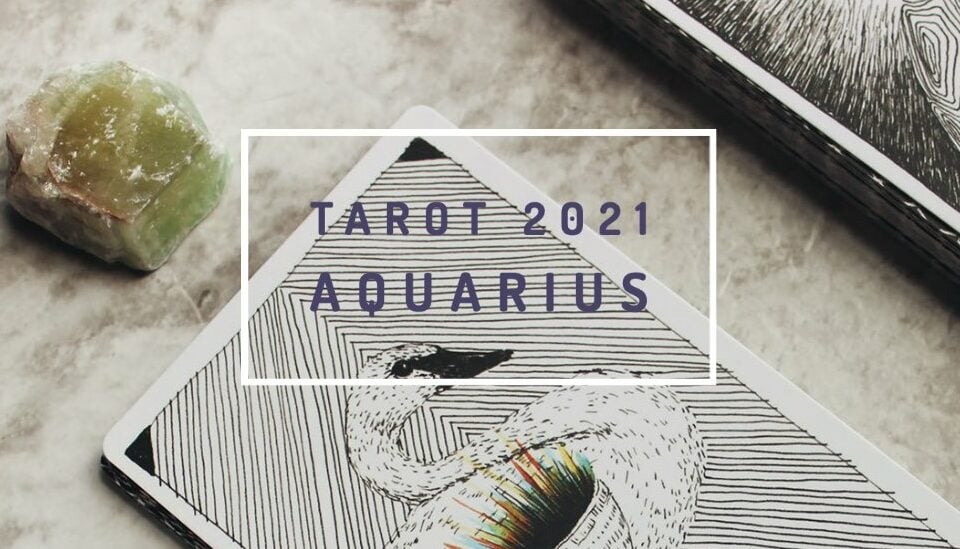 With the intention of obtaining the Tarot advice for Aquarius 2021, considering the annual astrological climate, the Rider Waite Smith deck was used, and the version of the astrological spread, in which a card is selected for each of the houses or sectors, which make up the astral wheel.
In 2021, Mercury will retrograde in Aquarius, from January 30 to February 20, translating into the opportunity to determine if your dreams (and plans) have real foundations. You can also rethink your position in groups and associations, and connect with old friends.
On the other hand, Jupiter will be transiting in Aquarius, from 12/19, 2020 to 05/13, 2021. Subsequently, it will return to the sign of the water carrier during its apparent retreat, on 07/28, where it will also begin direct phase (10/18), and will remain until December 29, 2021.
Jupiter (direct) in Aquarius talks about innovative ideas; potential for personal expansion; tolerance for diversity of thought; and support for humanitarian causes; however, in apparent regression, it may involve despotic and selfish attitudes.
Receive all our tips by email!
Love Astrology? Subscribe Now and Receive Exclusive Content!
Tarot advice for Aquarius in 2021: the twelve houses
---
House I: self-affirmation, personality and its external manifestation
Arcane: Ace of Spades
Advice: Strength. Freedom. Purpose. Stay determined, and you will achieve your goals.
House II: resources, material possessions, and personal value
Arcane: The Moon
Advice: Financial instability. Avoid superfluous expenses, risky investments, and new credit instruments. Plan your budget wisely and with attention to details.
House III: communication, mobility and thought
Arcane: Queen of Wands (suits)
Advice: Self-affirmation. Balance between personal goals and professional goals. Firmness. Success. Intuition leads the way.
House IV: home, family and origins
Arcane: Knight of Swords
Advice: Impatience. Unexpected events at home. Keeping your ideas clear will be the key to mediating family disagreements. Do not leave for tomorrow the conversations you can have today.
House V: romance, creativity and children
Arcane: 2 of Swords
Advice: Doubts. Conflict of interests. Indecision. You may have to choose between two people, or be true to your true feelings. Analyze the situation, logically, and you will find the answer.
House VI: health, work and service
Arcane: 9 of Pentacles (Gold)
Advice: Professional fulfillment. Promotions. Job proposals. Favorable climate for the presentation of new projects. Enjoy hard-earned achievements.
House VII: personal relationships, contracts and declared enemies
Arcane: 5 of Cups
Advice: Disappointment. Sadness. Accepting reality is the first step to overcome discomfort. Receive support from your loved ones.
House VIII: sexuality, transformation and shared goods
Arcane: Queen of Cups
Advice: Work on building an authentic relationship, and with values. Express your feelings.
House IX: philosophy, higher studies and travel
Arcane: 9 of Swords
Advice: Anxiety. Dejection. Lack of trust. Prejudices add additional burden to the events of the present. Free yourself from the past, and see events in perspective.
House X: vocation, aspirations and public life
Arcane: 8 of Pentacles
Advice: Effort. Dedication. Professional success. Balance work and family life. Don't lose focus on the essentials.
House XI: friendships, groups and social conscience
Arcane: 7 of Wands (suits)
Advice: Autonomy. Firmness. Competition. Your enthusiasm and motivation can create friction, between friends and colleagues. Listen to your counterpart, and practice empathy.
House XII: mysticism, karma and hidden enemies
Arcane: 6 of Wands (suits)
Advice: Satisfaction. Serenity. Trust. Power comes from within you.
---
You may also like:
---