Astrological Calendar 2023 – Transits and monthly forecasts
---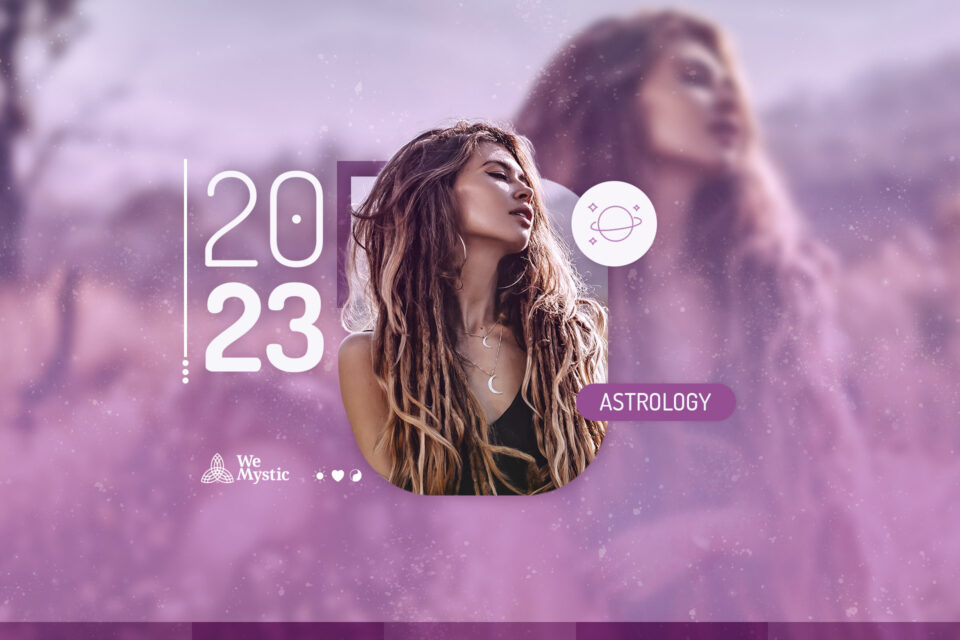 Washington TimeZone | USA (GMT -4)
The year 2023 carries a well-defined plot about the way the stars want to conduct our agenda. Taking advantage of the ancient wisdom of Astrology can be very advantageous and give you more opportunities than relying solely on the information in the Gregorian calendar that we use today. Far beyond dates and days of the week, you can literally hitch a ride with the stars to push your plans forward with more meaning and intention!
Receive all our tips by email!
Love Astrology? Subscribe Now and Receive Exclusive Content!
Astrological Calendar 2023 – BACK TO THE ORIGIN
The first calendars that appeared in antiquity (more than 2000 B.C.) were all structured based on solar and lunar movements, like the calendars from the Mesopotamian, Mayan, and Chinese peoples. The movements of the Moon and Sun were easy to observe with the naked eye and the effects on nature were very perceptible.
Today, thanks to the advance of Astronomy, we have the possibility to have easy access to all the movements of the sky in detail, and thanks to Astrology we can again connect with the wisdom that gives meaning to all this and helps us to use these directions in our daily lives, just as in the past. And this is very powerful, believe me!
How about taking a pen and paper and making some notes about what you are going to read here? I'm sure you'll find opportunities to adjust your personal schedule and ideas for new plans.
HAPPY NEW YEAR, BUT BREATHE
The first month of the year already asks for a lot of calm and patience, even though you are with all the energy and gas to make it happen, insisting too much on big deliveries as soon as the year starts can become a little more difficult. This is because the planet Mars – which is the planet of action – will be retrograde until January 12th. Uranus will also be retrograde until January 22nd, bringing some deceleration.
Besides this, we have the famous and well-known Mercury Retrograde participating in this "meeting" until January 18th, and this one you have certainly heard about. Of all of them, Mercury Retrograde is the one that affects us the most and the one we feel the most, inviting us to make revisions and reflections, not to mention the classic communication failures. I think that the proposal of the stars for us in this month of January has already become very clear, hasn't it?
So take advantage of this first month to review and better structure your agenda, your plans and goals for the year, already using the astrological information month by month, and start scheduling your most important appointments from February on, when the year will start to move a little faster. And of course, don't forget to take into consideration the events of Mercury Retrograde and also the dates of the Eclipses – which are always very powerful. So make a note of it:
Mercury Retrograde Periods in 2023
Eclipse Dates in 2023
April 19th – in the sign of Aries
May 05th – in Scorpio
October 14th – in Libra
October 28th – in Taurus

98.1% (1312)
Astrological calendar 2023
NOW LET'S GET STARTED!
In February you will feel that things start to flow much better, we will all have "survived" the effects of the planets that were retrograde, and from now on everything is also firmer and more certain. The Sun enters Pisces and Venus enters Aries asking us to take the plans out of the dream field and start acting. Think: sometimes all you need to start generating movement is just a first step. It all starts simple anyway! It can be anything from starting a new habit or organizing something you've been thinking about doing for a long time, to bigger things like changing the direction of your career or your look.
If by any chance, among these plans, you are going to therapy, practice yoga, meditation, or even make a retreat or an astrological consultation, be sure to start researching and make it happen. Now, if you haven't thought about it, I suggest you consider including something in your list that you feel can help you with your emotional balance and self-knowledge, because this will be very necessary throughout the year 2023, especially due to the entrance of Saturn in Pisces.
Therefore, I list below the months in which we will have a good dose of stimulus in the sky to access our emotional sensitivity, promote internalization and self-knowledge, connect with intuition, and promote internal healing. These are months in which we will have important aspects in the sky, especially in the signs of the water element:
MARCH
Our sensitivity will be "nudged" harder for the first time and we will be more emotionally sensitive and have more mood swings. It is a month that gives us a similar feeling to the end of the year, since astrologically it is in this period that the new year begins.
MAY
We will already be invited to carry out some process of inner renewal and to let go of some illusion. We will still experience this more intensely in November, but here we will already have a "spoiler" of things that we certainly need to change within ourselves and in our lives.
JULY
It's time to give in to your emotional side, allow yourself! Even if you prefer to release your emotions in a more tentative way, let the waters roll and don't stifle your feelings. Connect with your family and loved ones and allow love and empathy to awaken purely in your heart.
NOVEMBER
We reach the apex of the water movement, until then we have put our feet in the sea and even risked swimming a little in the waves, but in November we will dive into the depths of the sea, a place without waves and of much peace, but also of many discoveries that are not always visible and accessible to our conscious.
The stars will also give us great opportunities throughout the year to incorporate energy of impulse, courage, and motivation, which can be great periods to explore a new physical activity, do something different and challenging, study something new, or explore a place you have never been. This is because the energy and aspects in the fire signs favor us in these movements and remind us of our inner strength, so take advantage of it:
APRIL
A month that carries the power of the energy of the beginning in the astrological new year and a powerful New Moon in Aries, great for finally starting some of those personal goals you most likely haven't started yet, so activate the energy of the inner warrior and believe in yourself.
AUGUST
Here the potential to expand our self-confidence and activate our vanity is great, but at the same time it asks for the courage to look at the whole picture, we will be with a Leo lunation and Mars in Libra, which can be beneficial for relationships.
DECEMBER
When you think that the year is over and nothing more can happen, you can still enjoy the energy of expansion until the last days, of course with due care, because we will have a Mercury Retrograde happening too.
STRATEGIC PAUSES
Revising the plan is also part of the plan, after all, many unexpected things can happen, and in the face of what 2023 proposes, it will not be very difficult for things to change priority for you. The sky will wisely grant us very good moments to organize ideas, with great aspects to bring mental fluidity, creativity, and lightness. Periods that are very good to use for intellectual and social stimulation, such as reading books, meeting different people, meeting new points of view, writing down your feelings, and also to take care of yourself:
JUNE
A month that can already guarantee you good insights about yourself and your career, a great opportunity in the middle of the year to start making the adjustments you feel necessary.
SEPTEMBER
Here we take the opportunity to put a little order in the mess, a lot has already happened outside and inside of you, so let's clean out what no longer serves you. Drawers, closets, and closets are already symbolic cleansings, but with a renewing effect.
OCTOBER
If you took advantage of the energy of the previous month, enjoy this moment and include wellness and self-care practices, you deserve it! Even more so because it is a month that can bring you new things that are to your liking, so look your best for this encounter with the new.
The stars are at all times providing a multitude of opportunities, sensations, and internal and external movements, the truth is that even the challenging aspects carry opportunities, just as it happens in our lives. That's why I wish that your 2023 agenda is full of astrological strategies that will help you realize your dreams!
You may also like:

98.1% (1312)
---