Ritual to open paths in 2024: prosper and be happy!
---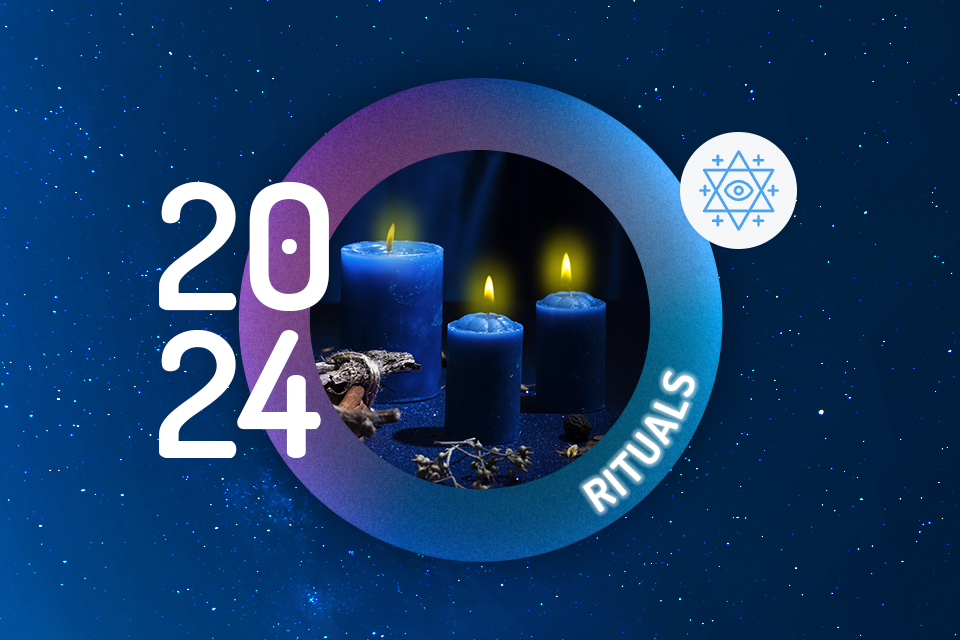 Negative energies are circulating all the time. Whether they come from the environment, from obsessors, or from people who wish you harm, they are capable of stagnating your life and closing the doors to prosperity. But as soon as you find the power of change within yourself, you can do a ritual to open paths in 2024, bringing happiness and fulfillment back into your life.
Receive all our tips by email!
Love Astrology? Subscribe Now and Receive Exclusive Content!
Ritual to open paths in 2024
Usually, people associate the opening of paths with financial life. However, it extends to all aspects: love, family, professional, spiritual, academic, and others.
When faced with energetic blockages, the chances of progress in certain sectors are drastically reduced, and in order for this pattern to be broken, it is necessary to intervene through faith, self-knowledge, and always believing in your own power to reverse the situation.
Whether by means of baths, sympathies, prayers, or smokings, among other possibilities, your ritual to open paths in 2024 must be performed seriously and with a lot of conviction about what is being proposed.
Everything is energy!
While people and situations can impose an energy barrier on your gains and achievements, you can also break them down with the force of your intentions. To open up paths in 2024, you especially need to believe that you will be able to overcome these blocks and prosper.
A good tip for channeling positive energies and getting in touch with your spiritual self is through meditation. If you've never tried meditation before, practice for a week before starting any rituals, baths, blessings, or prayers.
This process is fundamental for you to be able to connect to your own energy source, understanding the best way to direct it and open the paths. Once you are in communion with your faith and yourself, it's time to summon your allies: elements of nature, deities, and the energy of the Universe.
Remember that you don't need to use all the possibilities available. A tip is to choose the method you feel the most affinity with. Some people realize better results through herbal baths; others prefer to meditate among specific stones and crystals for the occasion. Do what your heart and intuition tells you.
WeMystic suggestions: path opening ritual 2024
If you don't know where to start, we list some suggestions for making your ritual to open paths in 2024.
Besides the already widespread properties of rock salt, when it is associated with herbs and aromas, we have the removal of negative energies, allowing the solution of problems and new opportunities for your life. Recommended for the last day of 2021, for this ritual you will need:
1 glass with rock salt;
1 liter of mineral water;
4 tablespoons of vinegar (of your preference);
1 handful of rue;
1 bay leaf;
4 drops of lavender essence;
1 container.
To begin, pour the water into the chosen container, mixing all the other ingredients. Let this content sit for about 7 hours, and then strain. Then take a hygienic bath and, after this, pour all the ritual liquid on your body – always from the neck down.
Give priority to the back and neck regions, as this is where most spiritual attacks happen. While calmly pouring the water over your body, mentalize that all the negative energies and blockages are going down the drain.
At the end, thank yourself for the moment of renewal, and you can dry off normally. There is no need to rinse, and whenever you feel "heavy" or facing obstacles in life, you can repeat the bath.
Smoking Pathfinder
You don't need to be sensitive to notice when an environment is charged and energies are no longer flowing through it as they should.
In these cases, smoking is ideal, since it allows you to move around the house, office, or even a single room in order to remove energetic blockages, bringing prosperity, self-control, self-confidence, and overcoming obstacles.
This is a product that does not need the help of a brazier to burn. Just put a little of the smoker in a heat-resistant container and light the powder with a match. Go around the rooms you wish to smoke, always circling the container in a clockwise direction and mentalizing the opening of the paths.
Beaked Crystal Pendant
Connected to the energetic power of the Earth, crystals represent an intense source of power for the most diverse vibrations. In the environment or close to the body, crystals are powerful instruments of purification and energization.
Quartz crystals, for example, can be programmed for the purpose of healing, purification, prosperity, protection, or love. In other words, if you are looking for a complete ritual to open paths in 2024, the crystal used in a pendant can be a constant source of strength and balance.
Far beyond opening paths, the use of the stone in contact with your body is capable of protecting you against future energetic attacks.
Salt of Bath Call of the Freguese
For many people, opening paths is especially related to financial life. If this is your case, you can make a specific ritual to attract prosperity in your business.
In a combination of rock salt, bay leaf, cloves, cinnamon, and chamomile, the bath brings good luck in business, both in terms of protection and abundance. To do this, dilute the salts in 5 liters of warm water and pour it slowly from the neck down, thinking about what you want to accomplish. No need to rinse.
Sympathy Powder Opens the Way
There are several ritualistic possibilities with the purpose of opening paths. One of them is in specific powders to dissolve negative energies that have been placed in a barrier. Besides being effective, they are very versatile and can be used alone or in other rituals with the same purpose.
Whenever you use the product, try to mentalize what you want, attracting positive energies to your ritual. It can be sprinkled on places, objects, candles, and even on people. Another possibility is to always carry a little bit of the powder in a bag and use it as a talisman.
Dark Green Candle Opens the Way
A relaxing color that for many is reminiscent of nature, the dark green candle is also closely related to money, abundance, and business in general. Other symbolisms also associate the color of the candle with the act of energizing, directing the thought, and acting rationally.
When used with the wrong intention, it can awaken feelings of envy, greed, and covetousness. So, as we said, it is necessary to use this candle rationally and without wishing harm to anyone. We recommend that you light it to make requests related to your health and stability (which can be financial, emotional, love, etc.).
The green candle, as you can see, is very powerful, and has various purposes in rituals to open paths and drive away negative forces that are thrown at you. Its energy helps to promote prosperity, fertility, success, as well as pure feelings such as generosity.
During the 7 days it is burning, say prayers, meditate, and reflect on the requests you directed to the ritual.
You may also like:
---