Libra and Aquarius Compatibility
---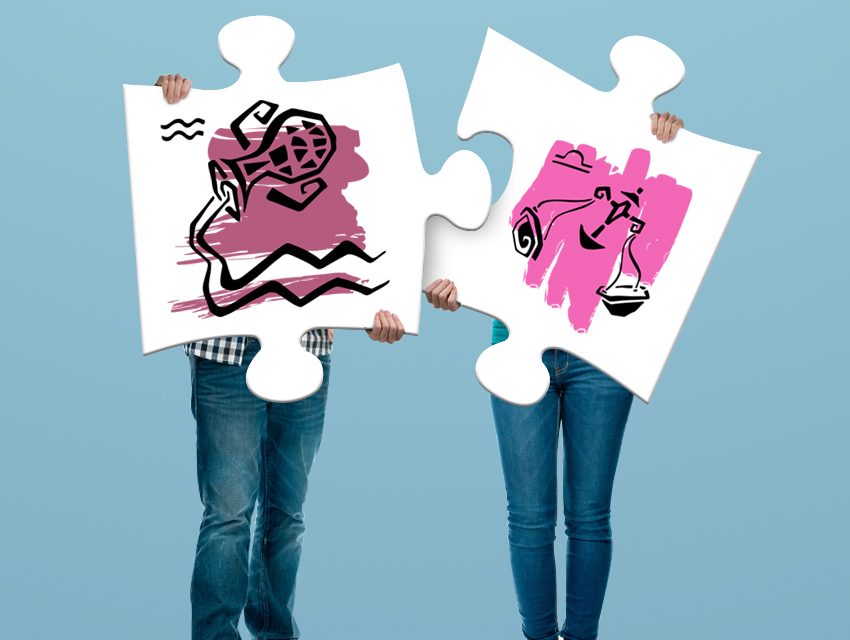 A couple formed by Libra and Aquarius has high chances of compatibility. But before checking the compatibility, learn a bit more about each of these signs.
These two signs of the zodiac have a high degree of compatibility, as both are of element air, and complement each other naturally. The couple formed by Libra and Aquarius can create and maintain a very happy and harmonious relationship.
Their relationship is based on mutual understanding and they complement each other because they are very sociable beings and also very friendly with the people around them. This type of couple enjoys a long relationship and both can be formalized at any time, as they respect their goals.
Receive all our tips by email!
Love Astrology? Subscribe Now and Receive Exclusive Content!
Libra and Aquarius Compatibility: how will the relationship work?
---
This harmonious couple has characteristics of Libra and Aquarius. The softness of Libra that knows how to take the free spirit of Aquarius into a union based on respect and understanding.
Many activities that fill the life of Aquarius, which is always in constant search for knowledge and investigate unknown aspects. For this reason, Aquarius needs a partner to help him discern very gently and kindly.
How do they communicate?
Libra has the ability to be very conciliatory, which will help his Aquarius partner to establish a more peaceful living. Libra's sense of justice takes Aquarius to develop his projects in a more balanced way.
This couple really complements each other and if the love affair comes to an end they can remain as affectionate friends. Libra's diplomacy will always help him to have a long relationship with Aquarius, as Libra has the ability to respect the space of the Aquarius partner.
This is a great virtue desperately sought by an Aquarius in whatever partner it comes to have. Aquarius intensely seeks a relationship that is based on respect for its independence and freedom.
What about sex?
Libra's temperament is more idealistic than Aquarius. The couple formed by Libra and Aquarius is willing to try out new ways to express their love. Although Libra wants more stability in the relationship than his Aquarius partner, maybe he will let himself get carried away by his Aquarius's frenzy.
The rebelliousness of Aquarius yields to the charisma of Libra. Fitting sexuality to the fullest will be the first to be established between the emotional ambitions of this couple. Both are have given themselves to the other without any condition, totally confident that they will be companions for life.
---
You may also like:
---