Libra and Libra Compatibility
---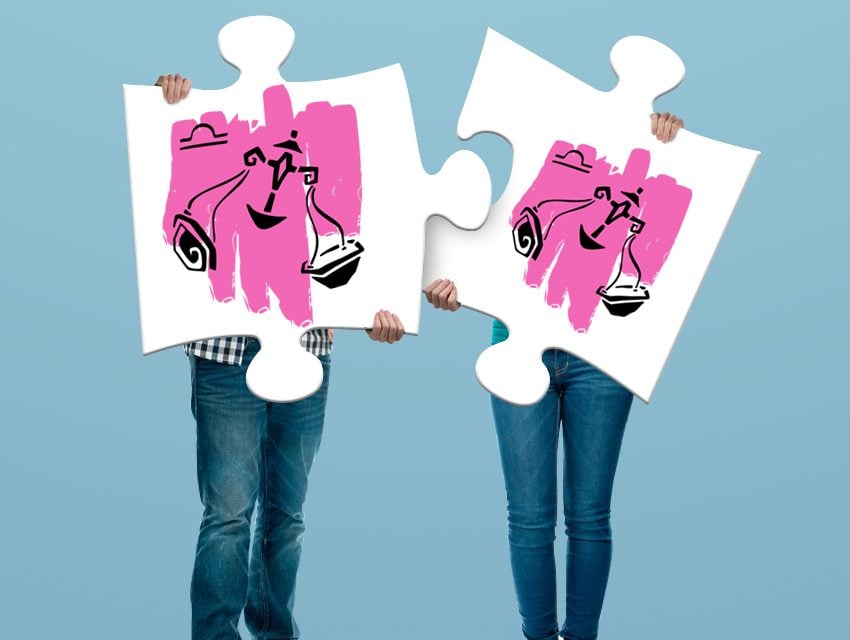 A couple formed by Libra and Libra has very high levels of compatibility. But before checking the compatibility, learn a bit more about each of these signs.
The Libra sign is characterized by the Air element, and the couple formed by Libra and Libra can have very high compatibility. The attraction between the two partners can actually be instant, as they share similar tastes.
The magic that the relationship between two signs of element air can have brings some challenges, but once they overcome them, both partners can enjoy a life full of romance.
Receive all our tips by email!
Love Astrology? Subscribe Now and Receive Exclusive Content!
Libra and Libra Compatibility: how will the relationship work?
---
Love is in the air when Libra and Libra can find their balance. In bed, they will surely be thrilling and full of passion, until it seems extravagant. Both partners from this Libra and Libra couple will be constantly revitalized. They just need to think about their beloved one that both of them can have the necessary stimulation to renew themselves with thoughtful attention.
Libra, who always wanted a partner characterized by having grace, who likes to speak and has similar tastes, should then seek a partner similar to himself.
The people of this sign will understand each other without problems, enjoying pleasant moments together. Something to consider is that sometimes Libra natives can become prone to almost paralyzing indecision.
In this sense, if both stagnate at the same time, they will do very little until they can get out of the situation. It is also important to keep in mind that there is an opposite tendency with people who have the same sign that Libra will sometimes have to turn the scale to take a posture opposite to that of his partner
How do they communicate?
Regardless of the point of view of a particular theme, people of this sign are able to see the position that a partner has, and in that sense, both will be willing to change their minds in many ways.
Moreover, in order for a Libra and Libra couple to defeat boredom, they must develop mutual interests and activities so that when a conflict arises the two will have a way to manage these conflicts and turn what could have been a fight into something positive.
What about sex?
Although Libra is considered a cardinal sign that likes to take care of many things, this is easier for him than for any other sign of the zodiac. This allows them to reach balance and leave enough room for them to take advantage of the benefits this couple has. The same thing happens in sexual terms, area where they won't face any issues as well.
---
You may also like:

98.1% (1312)
---