Numerology July 2023: ruled by the number 5, the boiling transformation
---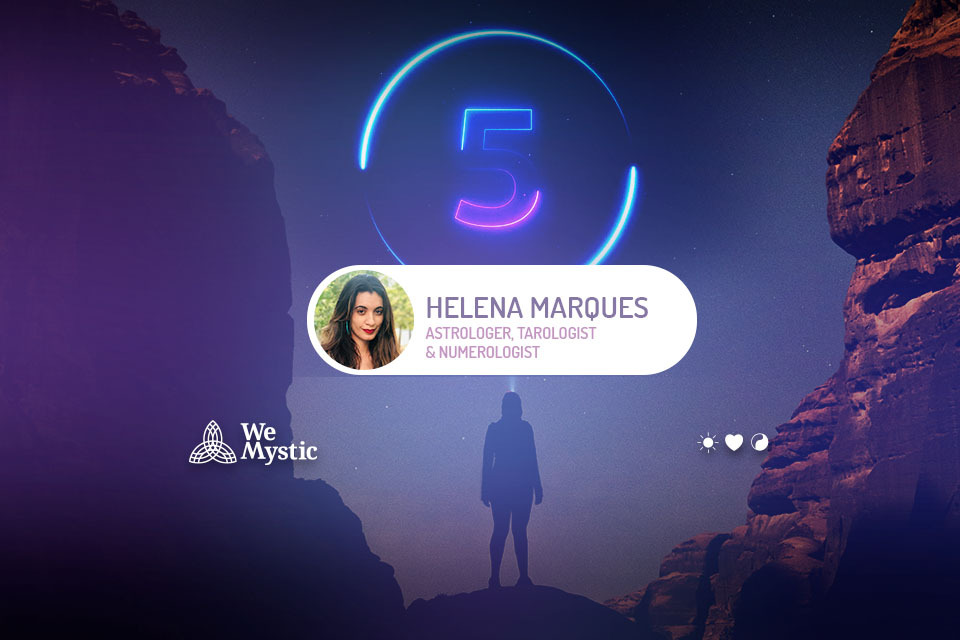 According to Numerology July 2023, is a month marked by the energy of the number 5 in numerology, as we are in month number 7 in a year 7, since 2023 = 2+2+3 = 7. Therefore, doing the math 7+7=14 = 1+4=5. The number 5 is known for bringing change, freedom and adventure. This month, astrologer, numerologist, and tarologist Helena Marques of Dom de Fluir explains that we can expect a period with events and situations that encourage growth, transformation, and the search for new experiences.
Receive all our tips by email!
Love Astrology? Subscribe Now and Receive Exclusive Content!
July 2023: energy of the number 5 and movement
For many people, this month can be characterized by a sense of movement and momentum. Unexpected opportunities may arise, inviting you to step out of your comfort zone and explore new paths. This is a favorable time for expanding horizons, whether through travel, study, personal adventures, or significant changes in various areas of life.
On the emotional side, the number 5 can bring a greater need for independence and freedom. People may feel a stronger urge to seek confidence, follow their own instincts, and express their individuality. This drive can lead to a greater sense of empowerment and self-confidence.
It is important to be open and receptive to the changes that present themselves during this month. Although some of them may seem challenging at first, they can bring growth and open doors to new opportunities. Be prepared to adapt to different situations and accept the fluidity that the number 5 brings with it.
However, it is necessary to balance this energy of change with a dose of caution. Number 5 can be quite agitated and impulsive. Therefore it is important to act responsibly and consider the consequences of our decisions.
5 tips to enjoy July 2023, the month ruled by the number 5 in numerology
Seek new experiences
In July 2023, allow yourself to get out of your routine and open yourself up to the unknown. Try activities that arouse your curiosity, such as travel, sports, or dance classes. Venture into unexplored territory and be open to learning from new experiences. The energy of the number 5 will protect your quest for freedom and adventure.
Numerology July – Broaden your knowledge
Take advantage of July to invest in your personal development. Look for courses, workshops, or lectures that will broaden your knowledge. Explore areas that fascinate you and dive into subjects that awaken your passion. This is the ideal moment to expand your skills and nurture your thirst for learning.
Be authentic
Let your authentic self shine through in July 2023. Break free from social expectations and be true to yourself. Honor your individual values, interests, and talents. By living according to your true essence, you will attract people and opportunities that tend to identify with who you really are.
Numerology July – Embrace change
The energy of the number 5 brings with it a need for transformation. Be prepared to embrace the changes that will come into your life. This is the time to leave behind what no longer serves you and adapt to the new circumstances. Remember that change is an opportunity for personal growth and renewal.
Cultivate meaningful relationships
In July 2023, focus on strengthening your social connections. Dedicate time to the people who are important to you: family, friends, and colleagues. Attend social events, community gatherings, or group activities. This is the perfect opportunity to expand your network, meet like-minded people, and build genuine relationships.
Helena Marques is a journalist with a degree from UFRJ and a master's student in philosophy at the same institution. Editor of the website Dom de Fluir, since childhood she has studied astrology and in 2015 broadened her horizons to tarot and numerology! She is currently an esotericism columnist for Ana Maria Magazine and Ibahia. Instagram: @domdefluir
---
You may also like: 
---