Pranayama progression: how to improve your breathing with yoga
---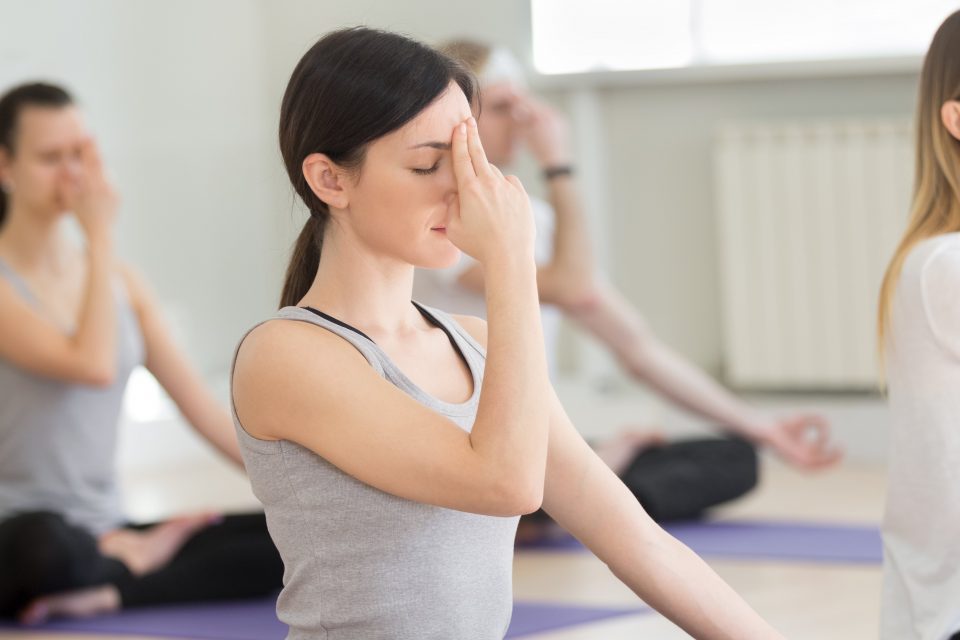 Why are we talking about pranayama progression and why is it important? Let's start from the beginning: do you know what pranayama is? It's a complicated question to answer, but, that being said, let's go with the simple version. Pranayama are the breathing techniques used in yoga that allow working our energy in a given direction: for example, Shitali has the intention to cool down the body.
But why is it so important to talk about pranayama? In the first place, because there are not enough people talking about it. It's hard to master, and more and more yoga schools are leaving these subject on the side. But also, because it plays such an important role! Learning more about your breathing is the key to meditation, to a peaceful mind, and to progress on the spiritual path.
And why is this so difficult to master? Well, in the first place because we don't give enough attention to our breathing, then, when we enter in a yoga class where someone talks about it, it's like learning how to walk all over again. Also, because of breathing needs time and a stable compromise, pranayama progression must be slow and, contrary to the asanas and so many other things in life, you must stay in your comfort zone.
Let's get into pranayama progression!
Receive all our tips by email!
Love Astrology? Subscribe Now and Receive Exclusive Content!
Pranayama progression: breathing techniques and steps
---
We want to state that there are a lot of other possibilities, and that is always good to consider the opinion of your teacher, but we guarantee this is a safe way to grow on your breathing techniques.
Ujjayi Pranayama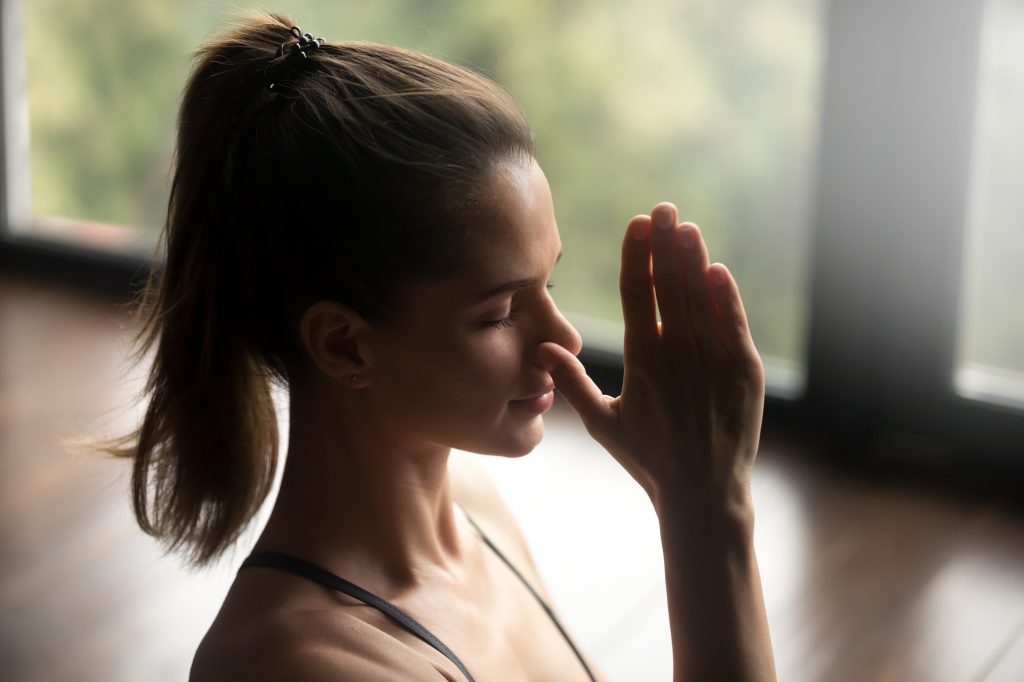 Ujjayi pranayama is the one technique almost all yoga students know about because it's the one that we do along the sequence of the poses, but it can be done alone as well, at the end of the physical practice.
Ujjayi stimulates the temperature, and physical heat normalizes the thyroid and endocrine functions and activates relaxation and interiorization.
Here's a simple explanation of this technique and how you can evolve in it:
Inhale through your nostrils, slowly contracting your glottis and producing a soft sound that must be gentle and continuous;

Hold the air in your lungs, close your glottis with Jalandhar bandha (bring your chin to your chest);

Relax and then exhale through your nose, contracting the glottis and producing the same smooth noise on your throat;

Hold your breath without air in your lungs with Jalandhar bandha.
And from here, you complete one cycle! Do at least twelve periods of Ujjayi. Following those steps, let's focus now on the duration of the breath:
a) In the first cycle make only step one and two and don't count the span of your breaths.
b) Keep only the first and fourth points for the second and third cycles, but introduce countings now. Do it on the rhythm 1-2, which means that you'll exhale on the double of the time of inhalation. Start slowly, for example, inhale in 4, exhale in 8.
c) For the next three cycles, do the steps 1, 2 and 4, in the rhythm 1-1-2. Translating: if you breathe in in four seconds, you'll hold your breath for four seconds and exhale in eight seconds.
d) For the next three cycles, introduce step 3, in the rhythm 1-1-2-1. Important note: if you don't feel comfortable, do the 1-1-2 for six cycles, and skip this step until you feel relaxed doing pranayama.
e) Do one cycle of step c)
f) Do one cycle without holding your breath but still counting
d) Repeat step a).
Here is essential to note that the duration of both your inhalation and exhalation must be comfortable for you, which means it will be entirely different for different people. Either you start with four seconds of breathing in, or ten, make sure you don't let your ego control you on this one.
Once you feel comfortable with the duration you are doing, try to add one of two seconds. Remember, if you add one second to inhalation, your expiration will always double it, so you also need to feel comfortable here. If you start feeling anxious, step back and stay for longer with the same times.
Pranayama can take months before you can improve your timings. An event of stress in your life can make you go back on what you had already conquered. Don't let your ego control you on this, it's reasonable to take time and what matters is to keep up with it.
Once you can reach 12-24, you'll already have some comfort on this pranayama, and it might be time to try a new one. Check out the following proposal.
Nadi Sodhana Pranayama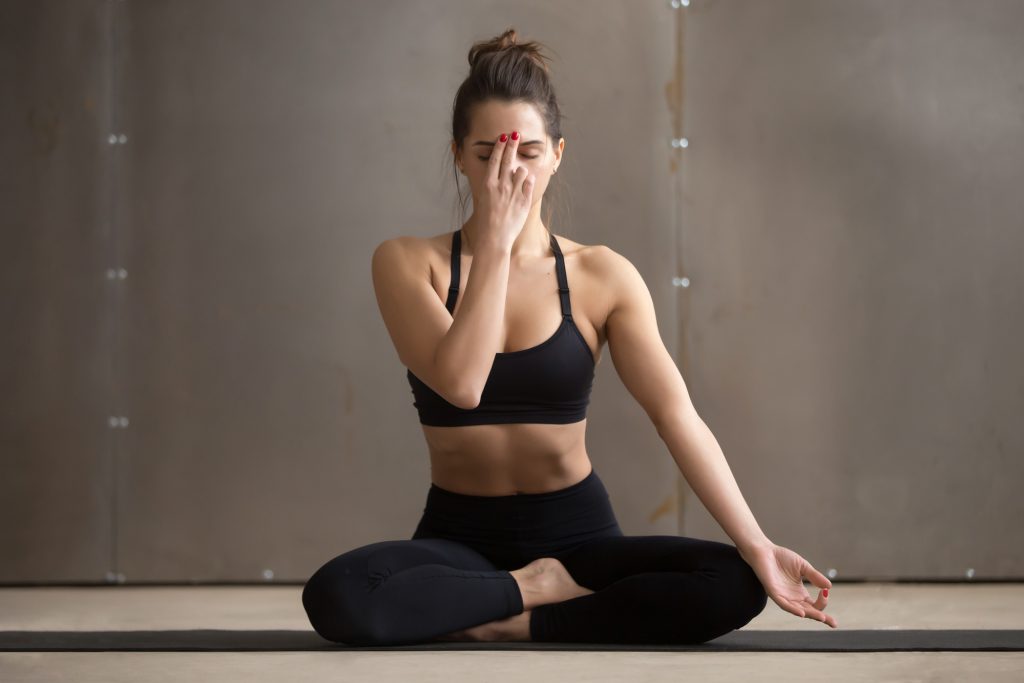 Nadi Shodhana Pranayama is one of the most important of them all, is usually done in the first years of practice, then typically people explore other pranayamas, but sooner or later go back to it. It's a great one to work your pranayama progression at the beginning. Let's look at it.
This pranayama is useful to purify our body, and that's one of the reasons it's recommended when we once start practicing breathing techniques.
How to do it:
To place the hands in jñána mudrá, Vishnu mudrá, nasrá mudrá or other;

Obstruct the right nostril or preferably just above the nose blocking the passage of air;

Inhale through the left nose;

Change the nostril in activity, now obstructing the left nostril;

Exhale through the right nostril;

Continue the pranayama, inhale by the right nostril and so on.
Here, apply the same logic of the rhythm 1-2, and always stay on your comfort zone. Once you feel it might be possible to take another step, introduce the retentions with air between stage 3 and 4, and the retention without air between stage 5 and 6.
Use the same logic presented on the previous pranayama, starting without counting your breaths, then introducing counting, which is followed by the introduction of the retention with air for three cycles, and so on.
Once you master Nadhi Shodhana Pranayama, is time to start exploring new pranayamas, but first, enjoy the excellent effects it has on your mind.
---
You may also like:
---