Anjali mudra: the never ending peace within yourself
---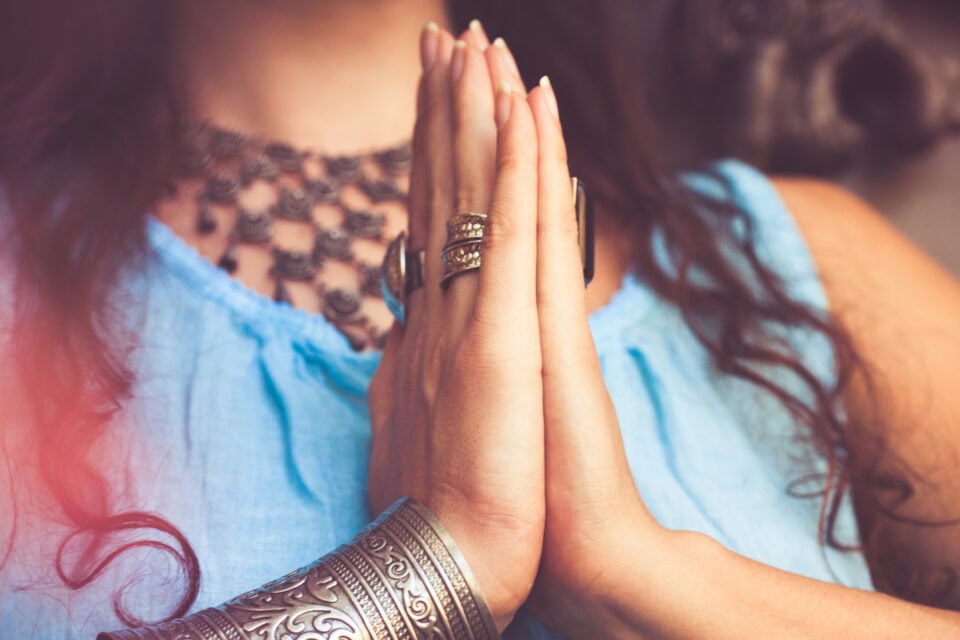 Anjali mudra is one of the most recognized gestures all over the world. Assuming different meanings in distinctive cultures, it's in Asia that is more common and daily sued. In the last years, the boom of yoga and other oriental practices made it more frequent in many western countries.
Although it can be seen as only a salutation gesture, it truly has a sacred meaning and there is beauty in applying it in our everyday life. As soon as one understands all what this, apparently simple gesture, contains it's possible to understand that we can access our spiritual aspects at any moment.
2024 predictions are out
Discover the stars predictions for new year!
Anjali mudra: a worldwide gesture of peace
---
Anjali mudra consists of bringing the palms together in front of the Anahata chakra (the heart). The palms are together with the fingers pointing upwards, and the arms parallel to the floor. The shoulders must be relaxed.
There are variations of the pose, according to what we are showing reverence to:
Anjali mudra made with the hands together above the head is used when pointing to the deities;

The palms together in front of the forehead, or with the fingers touching the forehead, shows reverence to a master;

While the hands in front of the heart are usually used to greet other people.
Besides being used in everyday life to salute people, in yoga classes at the beginning and end of the class (and in some poses as well), it is used to the guardian deities of the cardinal points, to rivers and trees and also at the beginning and end of Indian dances.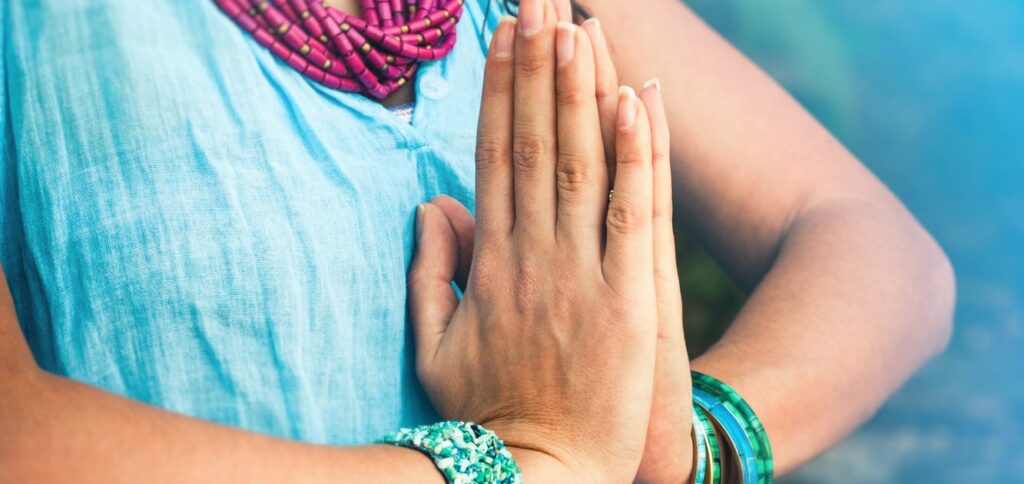 The meaning of Anjali mudra
Anjali mudra is just one of the many mudras that exist. Since they are not usually explored in the yoga classes, the hands' gestures are the most known, and even these ones, not in a deeper way. 
A mudra means to seal and refers to hands' and body's positions that elicit a certain inner state or symbolize a particular meaning. These are energeticly powerful.
Anjali stands for salutation, raise, bring, offer. It shows positive feelings, cordiality and good intentions. Moreover, it goes along with Namaste, which means, "the sacred in me salutes the sacred in you", a beautiful and simple way to bring the spiritual and sacred to human connections and little moments of life.
Benefits of Anjali mudra
Anjali mudra puts us at the core of our being, timeless and universal. It also reminds us of the process of unification and nourishes our hearts with awareness.
The physical and psychological benefits of Anjali mudra are:
Brings calm and a grounded feeling;

Improves focus;

Relaxes the mind;

Reduces stress;

Connects the right and left hemispheres of the brain;

Creates space between shoulder blades;

Stretches the wrists.
Connect with Anjali mudra and let all the benefits and peace of this gesture flow in your body and mind.
---
You may also like:
---