Health predictions for November 2019
---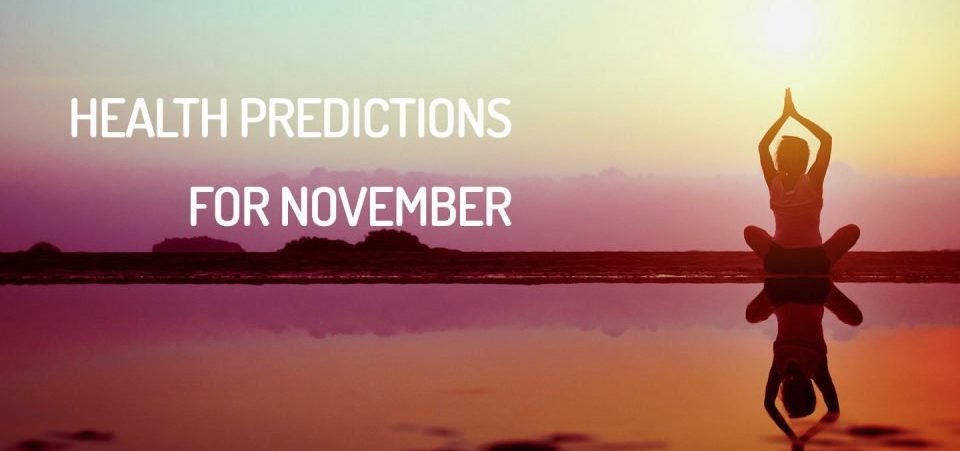 Wanting to know about the health predictions for November 2019? In this article, we will cover everything you need to know to take care of yourself this month. Do not be reckless with your health and stay safe!
Health predictions for November for each zodiac sign
---
Aries
With many events popping up this month, you are likely to want to go out quite a bit. But now is not the time to close the eyes to your health. Drink plenty of water, hydrate yourself properly and do not forget to put some sunscreen.
Pay more attention to caring for yourself at this time, especially of your skin. In the future, you will be happy with the attention given to yourself right now.
Taurus
Your great commitment to the professional area may give you some stress and that is when we talk about your health. Rethink your priorities and put the events on the scale to see what is worth your worries and what is not. You can not control everything.
To reduce stress, look for activities that require more physical effort and release adrenaline into the body. This is going to be the best way to relieve the tension that you have accumulated.
Gemini
The characteristic sensitivity of this month impacts on health predictions for November. It can trigger in you strong emotions that are not good, such as anger, stress, revolt, indignation, among others. Do not bury these feelings inside you.
This may reflect on your physical health, leading to headaches, fatigue and sleeping problems. Invest in activities that require weight lifting and great effort. This will release adrenaline and help relieve the stress in you.
Cancer
Taking care of health is always a good idea, isn't it? This month you will feel very agitated and this is the best opportunity for you to dedicate yourself to sports that require a lot of energy.
Exercises like running, soccer and tennis are great for the moment. Bodybuilding is also a very indicated activity since the moment is conducive for those looking to gain muscle. It is worthwhile to thoroughly research what you like and put into practice today.
Leo
We know that, since the beginning of the year, you have had a very hectic social life. And this is great! Going out with your friends, meeting new people, going to different places, etc. But all this usually comes with a lot of food and alcohol, doesn't it?
This is the time to pay attention to the signs of your body. Rest, sleep well and avoid exaggerations when drinking and eating. Dedicate yourself more to the care of the mind, thus avoiding episodes of stress and also decreasing the risk of mental illness.
Virgo
The health predictions for November say that you need to focus your attention on your skin and the functioning of your kidneys. In order to take care of them, the key is to drink plenty of liquid. Prefer water and tea, leaving soda and artificial juice aside.
Do not forget to get good moisturizers for your skin. All this coupled with a good sleep will save you from a visit to the doctor for a long time, Virgo.
Libra
This month you will feel freer to devote to your hobbies and the activities you enjoy. The month is great for this as long as you know how to organize your time for work and leisure.
The activities indicated for this month are those in groups. What about sports like football, volleyball or basketball? They are great for socializing and making new friends.
Scorpio
Scorpio is often closed and reflective. Since the beginning of the year, the picture has changed, which does very well to the emotional health of the natives of this sign. You only need to pay attention to the events in your professional and personal life so that they do not let the stress rise to the head without need.
Discover more about Scorpio >>
Sagittarius
You have been very dedicated to your work, which is great, but there are great chances that you have forgotten to exercise. It is necessary that you change this picture, for the sake of your health.
Take a few moments of your week to practice some sport that suits you. Football, swimming, tennis, any sport is valid. This effort will prevent you from having health problems in the future.
Discover more about Sagittarius >>
Capricorn
The month of November will make Capricorn very busy, both in your professional and personal lives. You may find it difficult to find a moment for yourself in the midst of such a rush.
It pays to get organized and take a moment each day so you can take a deep breath and relax. Meditation and reading are great options for relaxing in the rush of this month.
Discover more about Capricorn >>
Aquarius
Nerves are in the limelight these days, and this month will require increased attention to the events of your life. Better rethink some attitudes and avoid getting worn out with what is not needed.
Pay special attention to your heart and do your best to reduce your stress. It is recommended that you watch your food, always opting for healthy meals. Along with this, practice physical exercises. How about a walk, running, swimming or some sport that pleases you? It's never too late to start a new activity.
Discover more about Aquarius >>
Pisces
Pisces will be more concerned about health and fitness in November. The mood for routine changes and the beginning of new physical activities will emerge, so enjoy the moment and take care of your health.
The health predictions for November shows that it is a great opportunity to keep an eye on your food, making it healthier. Engage healthy eating with physical exercise so you get the results you want faster. Yoga, walking and swimming are great activities for this moment.
---
You may also like:

98.1% (1312)
---