Krishna: the one who attracts everything
---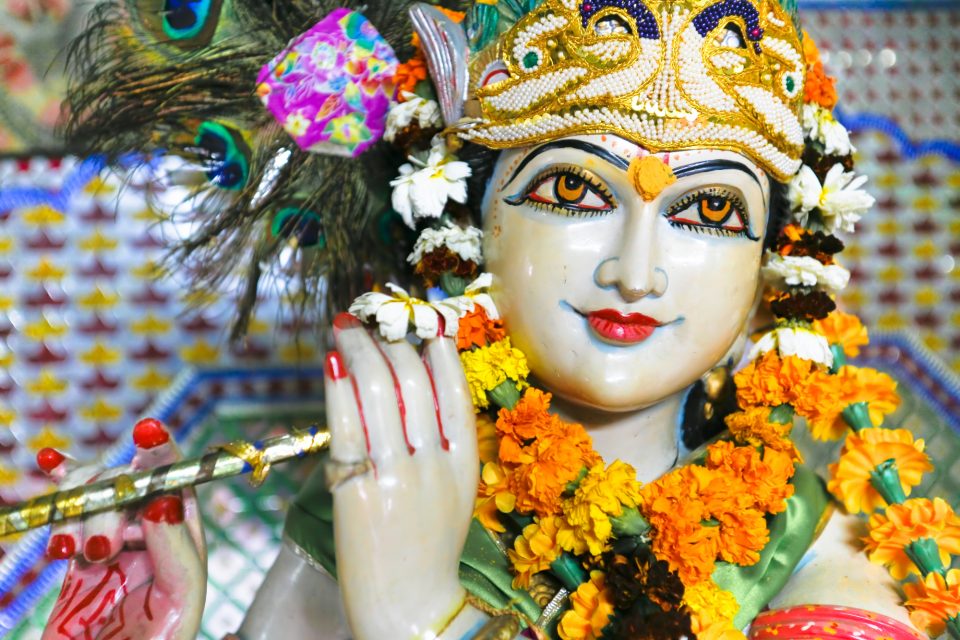 Krishna means "he who draws all". Thus, he is the most important god to those who follow him. This figure is for Hinduism the strongest divine personality, the absolute truth, the source of all wisdom, power and strength.
Endowed with six principles, all in their infinite degree: beauty, strength, wisdom, wealth, fame and renunciation, he still possesses omniscience, omnipotence and omnipresence, as well as being all merciful and always willing to raise up those who have stumbled over the errors of life and renounce evil. This deity frees them from all fears, sins and mischief, being the supreme god who rules all the planets and planes.
He has many ornaments full of symbols and meanings that are extremely important to Hindu culture and religion. First, the peacock feathers that represent beauty, wisdom and infinite mercy. The face, very attractive and without defined genre, symbolizes a beauty that is universal and manages to cover all the existing human features, since we are made in his image and likeness. His name can also read as "blue" or "dark", which symbolizes prosperity and fertility in relation to soil and life.
The tilaka present on his forehead serves to conserve concentrated energy and eliminate the bad vibrations that surround the human body and mind. The flute that he always plays is the divine sound, like a song that calls its believers and protects them. In addition, it represents the human heart that has been made empty just to be free and pure of all worldly thoughts and afflictions. With such purity and lightness it would then be possible to draw man to the virtuous side that awaits him in life on earth.
Thus, the supreme god knows all the ways and thoughts of his creation. He takes care of every detail and does not forsake his children. This deity has the greater power and still counts on other gods and demigods to perform his work with mastery and to guide the men.
Receive all our tips by email!
Love Astrology? Subscribe Now and Receive Exclusive Content!
Krishna: a god worshiped by women
---
From an early age, he has always aroused the envy of the women around him. The young ladies around the palace run to dance around him, shouting "hare Krishna!". He has a power of attraction with gopi, these shepherds known in the theology of Vaishnava for their total devotion to their revered god.
He is the inventor of the Rasa dance, a sort of divine union between the gopi, each one believing that she is dancing with her beloved god. Among the most famous mistresses who have rubbed shoulders with Krishna are Lalita, Vishakha, Campakalata, Citra, Tungavidya, Indeluekha, Rangadevi, Sudevi, and Radha, her childhood friend, who very often stands alongside her sacred lover.
Even today, Krishna represents the supreme deity, at the origin of all others. This is one of the most admired and respected deities in India and, for this, the subject of various sampradaya (traditions) bhakta (devotional) dedicated to his veneration.
---
You may also like:

98.1% (1312)
---