Knowing how to let go of the past and how to live in the present moment
---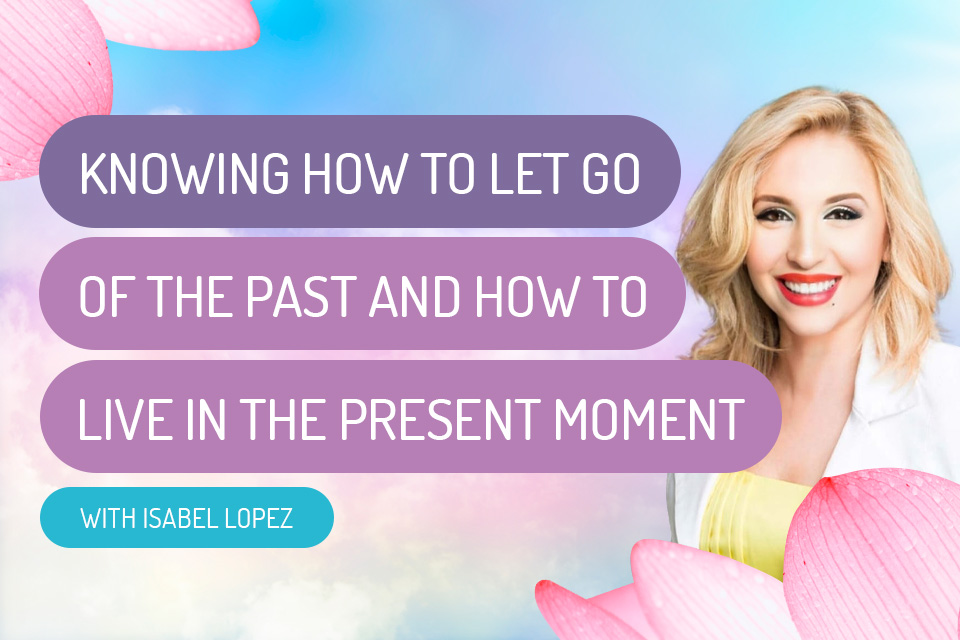 To achieve the holistic balance of knowing how to leave the past behind and knowing how to live in the present moment, try to take into account these guidelines based on psychology, neuroscience and spirituality:
Think about the past in small doses and be sure to focus on the past for a reason with a rational objective such as to relive a pleasant experience, identify where you should learn from mistakes, or discover the key to a past success.
You can also think about the future in terms of small doses and make sure to focus on the future in a healthy and anxiety-free way. A good example is to think about the future just long enough to prepare yourself and then move on.
Without a doubt the ideal would be to be able to stay in the present moment for most of your time. For this we can train our mind and today we know thanks to neuroplasticity that it is possible. The most important thing to start with is to become aware that we can change.
Following these guidelines is easier said than done, and it is with practice that makes perfect, and you can too!
Receive all our tips by email!
Love Astrology? Subscribe Now and Receive Exclusive Content!
How to live in the present moment
When we perform mindfulness or present moment meditation, we are not ignoring or denying thoughts of the past or future, we are simply choosing not to focus on them. It is known from the laws of the Universe and quantum laws that where we place our focus as observers, reality is created and manifested.
It is okay to recognize and label our thoughts of the past and future, categorize them and be aware of their importance. Here the important thing is not to get carried away with thinking about the past or the future, but to become aware that we are not our thoughts.
We can be present when we consciously reflect on past events instead of being trapped, distracted and overwhelmed by the past, the same goes for our future. Being mindfully present does not mean getting caught up in thoughts of our past or anxiety about our future.
Using Mindfulness to stop worrying
Speaking of worry, present moment awareness is an excellent way to reduce stress and anxiety.
Here are some steps to become more in tune with the present and get rid of excess anxiety. The point is always to be in balance which affects our autonomic nervous system, both sympathetic and parasympathetic.
Cultivate self-awareness
Practice savoring every moment: avoid worrying about the future by fully experiencing the present.
Focus on your breath: allow mindfulness to facilitate your interactions with yourself, your body and soul.
Find your "go with the flow": make the most of your time by losing track of time, just focus on what you are actually doing.
Improve your capacity for acceptance: accept what bothers you instead of denying it or running away from it. By accepting it, it becomes integrated into our system and is no longer a resistance.
Improve your engagement with life: reduce moments of unconsciousness and observe new or old things in life to improve your mindfulness.
And remember, breathing is a fundamental pillar. Always come back to the breath.
You may also want to try other exercises aimed at increasing mindfulness and a sense of present moment awareness, including body scanning, visualizing your goals, walking in nature, appreciating things in life….
---
---
Meditation
One of the best tools to stay in the present moment is meditation. There are some meditation practices specifically geared toward present moment awareness.
To try meditation, follow these simple steps:
Set aside some time each day, for example, 5 minutes first thing in the morning or before bedtime.
Get into a comfortable position, sitting upright may be the best posture.
Have your own "inner gatekeeper" to control what comes in and what should stay out of mind. Instruct the gatekeeper not to think about the past or the future for the rest of your current practice.
Repeat phrases like this silently to yourself three or more times: "Now is the time to be aware of the present moment." "I let go of the past and the future." "I let go and trust" or whatever phrase feels closest to you and with which you most identify.
Direct your attention to the sounds you hear, without trying to change anything.
Focus on your bodily sensations: your arms resting on the arms of a chair or on their lap, your legs on the chair, the feel of their clothes on their skin, any muscle aches or pains, any spasms or tingles. and any other sensations you may have.
Focus on the thoughts going through your head: watch them as they enter your mind, as they swirl around your awareness and then leave your mind.
Let each thought pass through, labeling them as they go, e.g., "worried," "excited," "hurt," or "happy," and keep your mind open for the next thought to arise.
Finally, focus on your breathing. Observe your natural breathing pattern and notice how your chest rises and falls with each breath.
Although mindfulness meditation is a fairly broad general term, there are some specific types of mindfulness meditations you can try.
These types include:
Basic mindfulness meditation: focus on your breath, a word or mantra and allow thoughts to come and go without judgment.
Body sensations: being aware of body sensations such as itching, tingling, pain or a tingling sensation and accepting them without judgment and then letting them pass.
Sensory: being aware of what you are seeing, hearing, smelling, tasting and touching without judgment, then labeling them and letting the sensations pass.
Emotions: allowing emotions to be present in you without judging them or trying to neutralize them; practice naming/labeling emotions and allowing them to arise and letting them go just as easily.
Acceptance: dealing with judgments by accepting them without judging them, noticing how you feel when they come to your mind and reminding yourself that they will pass.
The key to happiness lies in accepting the present moment.
Live it!
---
You may also like:
---