Pyrite: a powerful stone to attract money and health
---
When it comes to money and prosperity, almost everyone believes in amulets to lure fortune into your life. Pyrite, popularly known as "gold of fools", is one of the popular stones that we use to make such amulets.
It symbolizes the heat, the enduring presence of the sun and the ability to generate wealth by its own merit. It represents vitality and will, reinforces natural abilities and potential, stimulating the flow of ideas. This powerful stone of golden color attracts the energy of money and health around you. Learn more below.
Receive all our tips by email!
Love Astrology? Subscribe Now and Receive Exclusive Content!
The effects of Pyrite
---
On the emotional and spiritual body
This stone is capable of extolling the feelings of trust and persistence. It acts as a protective shield, drawing energy from the earth and creating a defensive barrier against negative energies and spiritual attacks.
In contact with our body or our environment, the pyrite stone inspires dedication, willpower, intelligence, strategy and action. These are important features in getting financial success. The energy of this stone gives us the strength to move forward and does not let us give up our goals. Despite being a stimulating rock, it brings peace and stress. This stone is able to balance the creative and intuitive impulses, reducing anxiety and frustration.
On the Physical Body
The main benefit of Pyrite to the physical body is the improvement of mental capacity. It is capable of unlocking, relieving traumas and depressions, releasing the fear and frustration accumulated during life. In addition, it also brings benefits to the respiratory and circulatory systems. This stone helps protect the digestive tract from the irritation of toxins.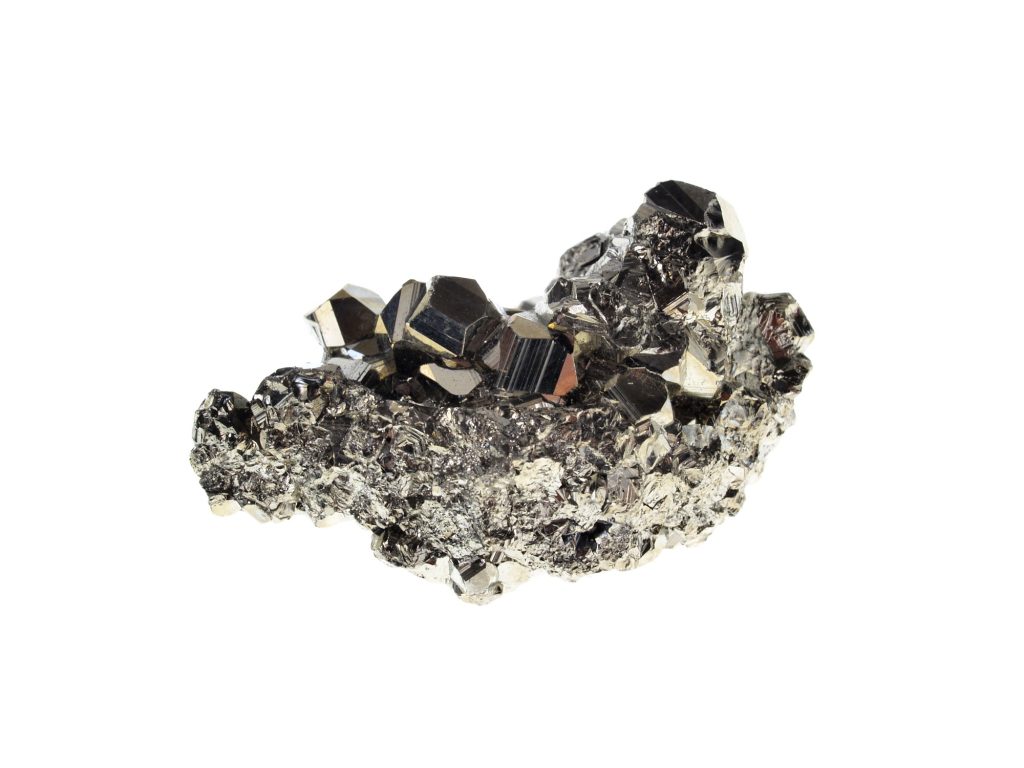 How to use the Pyrite stone
To attract money energy and financial success, we recommend that you put it on top of your desk or carry it in your purse or workbook.
For meditation, we recommend that you place the stone in the 7th Chakra (Coronary Chakra) or on the Laryngeal Chakra. If you intend to use it on the throat, always remember to put it inside a cloth. For health, you can put your stone under the pillow or walk with it as an amulet or accessory.
How to clean and energize the Pyrite stone
To take advantage of the therapeutic and mystical properties of this stone, it must always be clean and energized. Although it is not the best way to clean this stone, you can use a quick bath of water with coarse salt or washing it in spring water (rivers, waterfalls – unpolluted) and sea. Then you must dry it very well, because being of metallic origin the stone can become rusty if it is not completely dry.
The way we recommend to clean and energize this stone, while avoiding the water wearing effect, is to place it on a colorless room crystal druse or on an amethyst druse. Druses are very powerful stones, because they contain several crystal tips; they are self-cleaning and self-energizing. If you do not have a druse, put the stone in the smoke of a good incense to clean it. We advise the incense of 7 herbs. To energize this stone, we suggest you put it outside at night and let it get sun until noon.
---
You may also like:
---