Waxing Moon in 2020: influences and recommendations
---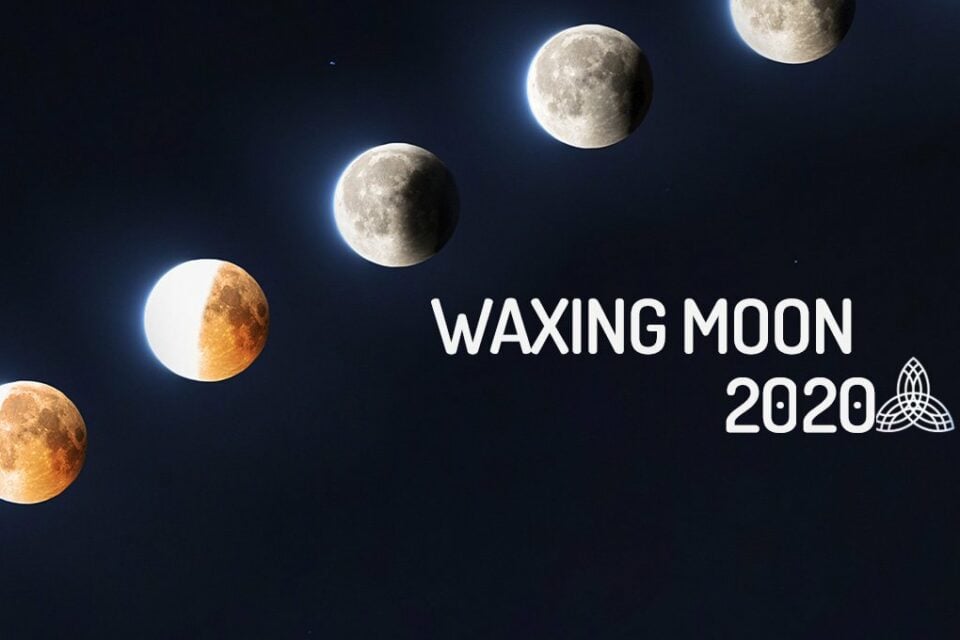 Find out the calendar and influence of the Waxing Moon in 2020 here! The different phases of the Moon, and the signs, influence your state of mind, your productivity, even the clothes you chose, and the food you want to eat. Incredible, right? 
That's why is interesting to keep an eye on the Moon and its phases. For example, a Full Moon in Aries has such a potential of energy and impulsiveness, that it's way easier to get into arguments and fights. If you know you tend to it, you can program a longer and more exhausting physical activity and use the vibes of the moon more productively.
Another example can be the New Moon in Taurus, which will ask for resting and food. If you know you have problems controlling what you eat, you can prepare some tasty but healthy snacks.
To help you organize yourself, we gathered and summarized the most important information about the Waxing Moon in 2020.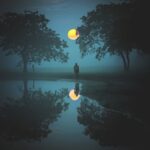 You may also like
Waxing Moon in 2020: the influence on you
---
Waxing Moon corresponds to any time between the New Moon and Full Moon and can be divided into other phases. We'll refer to its energy in general, and how it affects you. After that, we'll match that energy with the vibes of the sign. Since the moon changes the zodiac sign every two days, we are focusing on the Quarter Moon data and zodiac placement.
At the beginning of the period, it's time to set intentions and then to act towards your goals. The energy raises with the evolution of the moonlight, so your actions become more and stronger towards what you want. 
At the same time, your social life might as well be more active, as well as your physical needs to move.
Once it arrives in the middle of the period, the Quarter Moon, there is a new chance to review and adjustment of your choices, your action and the way you are distributing your energy.  The moon will continue to grow, and more and more energy will be available for you. 
The Waxing Moon corresponds to the Springtime and to the energy, an opportunity to bloom. It's a moment of prosperity and growth. Gives the courage to take risks. Increases your energy and your rhythm.
For those who are sick, or go through medical processes, it's a moment of recovery and healing. For relationships, it's the perfect time to work on it and develop the connection. 
Waxing Moon in 2020: calendar and Zodiac influence
January: Aries
The influence of the first Waxing Moon in 2020 will be connected to Aries. When the moon is in Aries, you'll feel more energetic, spontaneous and impulsive.
Since the energy is also getting higher, control and direct your energy to the things you want to do, and don't waste your precious vitality in fights that you don't need to fight.
Physical activities are a great tool during this time.
February: Taurus
The second Waxing Moon in 2020 will be more about peace and comfort. With a higher influence of Taurus, you'll feel like using your energy to take care of yourself, to spend more time choosing your clothes, makeup, and everything that boosts your self-esteem. 
You'll look for some luxury. It's also a great time to financial plan your life since Taurus is quite responsible for energy.
You'll feel two different energies, the Taurus that is more about slowing down, and the growth of the moon that will give you more energy. Great ways to do it is by spending time with yourself, or in nature.
March: Gemini
The Moon in Gemini makes everyone more communicative, lighter and more curious. It's a great moment to brainstorm, to attend classes, study, to do a conference. 
Gemini, you'll probably be talking more to your friends and family, and even at work, everyone will be more on the chatty mood.
The hardest thing is to focus, and therefore, if you need to prepare something that needs a lot of attention, do it right after the New Moon. Besides that, enjoy the ride, life doesn't always need to be deep! 
April: Leo
Twice, and twice in Leo! 
The Waxing Moon in Leo gives a lot of different directions, depending on what stage of your life you are living at this moment. It's a great moment to work with your "inner child" if you have been in a healing process connected with this aspect of your psyche. 
It's also a moment when you'll feel more creative, charming, wanting to put your energies in hobbies, arts, and romance.
As with any other energy, there is time for all kinds of moments. Just take into account your goals and redirect your actions and choices to what feels right in your heart. 
You might feel a tendency for drama, you want attention, to feel the most important person in the world. Remember, Leo energy is affecting everyone, so we will all be feeling the same. Allow yourself to live it, but with consciousness and control. 
May: Virgo
After three moons that will take you to desires for fun, communication, hobbies, May arrives with influence to go back to the organization. Yes, that's Virgo! 
Remember, the Moon in Virgo will last two days in a moment of strength and revaluation. Virgo will influence you to be organized, problems solving oriented, focused and realistic. That means you can take great advantage of this moon to be settled, grounded, work-oriented, and to put energy on your routines. 
Allow yourself to live both the fun times, and the focused moments, and life will be way more balanced.
June: Libra
This moon will again, in a moment of energy, take you to the external world and be more on your relationships. This time, the focus is on diplomacy, organization, beauty. 
If you need to solve problems with someone, Libra, this is a great moment to do it. If you have something to share with your partner and you have been avoiding it, both of you will be under the diplomatic energies of Libra, and the availability to listen and understand is higher.
At the same time, if you have to make decisions, maybe it's better to do postpone it a few days. Libra doesn't know how to make decisions, and soon there will be other vibes with more clarity. 
July & August – Scorpio
Some of you will go with the flow of passion and others will be all about digging deep in personal issues, and find some answers. Maybe even both together. 
Scorpio is all about that, and the light of the moon can help to bring some clarity to either intimacy and psychological matters. 
It's important that you keep an eye on your suspiciousness, and avoid being manipulative (and manipulated, since the others will be under the same moon). Also, keep the consumption of addicting substances under control. 
Besides that, have fun discovering the undersurface worlds.
September and October – Capricorn
24th, September
23rd, October
A crescent moon in Capricorn is the best moment to put effort into the goals you are longing to accomplish but require harder work, focus, and determination. Capricorn will give you the structure, the mental strength and the motivation that you need to pursue your ambitions.
Despite that, you need to be careful not to ignore your loved ones, and not to become too inflexible.
November and December – Pisces
22nd, November
21st, December
To finish the Waxing Moons in 2020, two times Pisces!
Pisces makes everyone a sensitive dreamer, with a few problems to face reality. Since we live in a world way more connected to, for example, Capricorn vibes, we all struggle to understand Pisces. 
But who are we without dreams and empathy? Who are you without it? We all need it, as individuals and society. Therefore, connect with your intuition, with your loved ones and your feelings. Allow yourself to feel, face your emotions and explore it, without feeding the negative ones. 
You might find answers about yourself during this period.
Enjoy this period to put your best energy out there in the world and focus on your wishes and desires!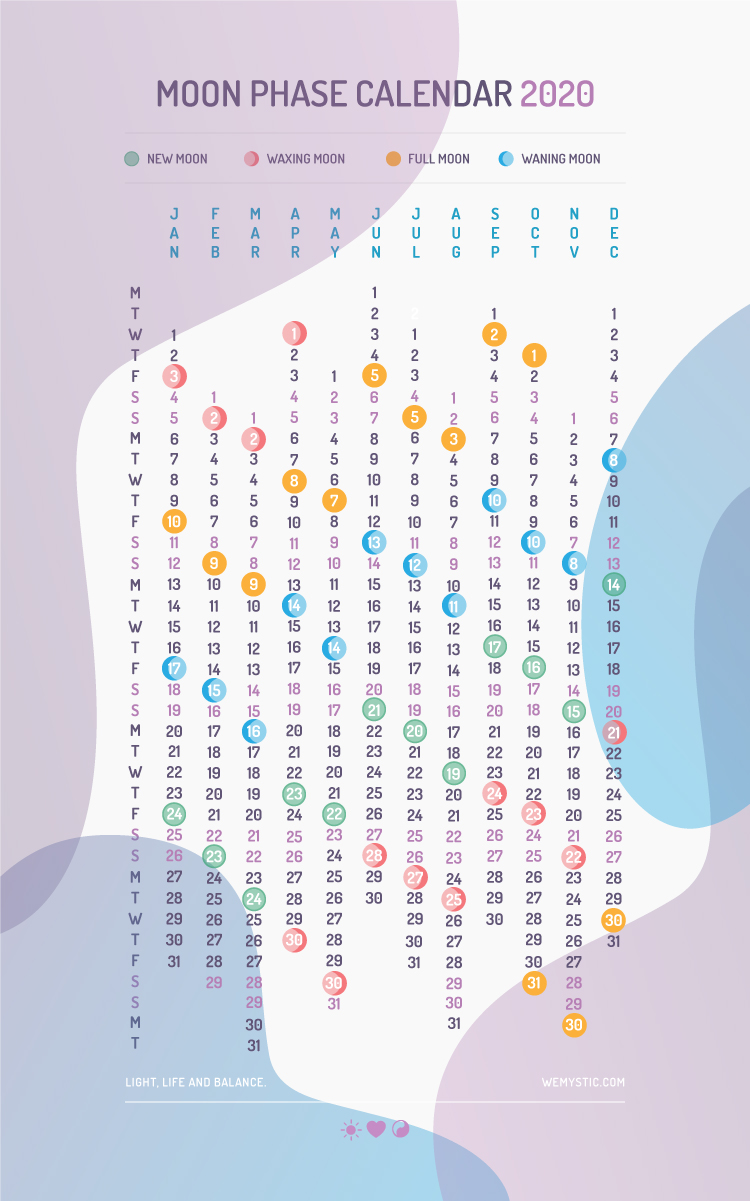 Learn the phases of the Waxing Moon in 2019
---
| | |
| --- | --- |
| Waxing Moon | Day |
| Waxing Moon | January 14 |
| Waxing Moon | February 12 |
| Waxing Moon | March 14 |
| Waxing Moon | April 12 |
| Waxing Moon | May 12 |
| Waxing Moon | June 10 |
| Waxing Moon | July 9 |
| Waxing Moon | August 7 |
| Waxing Moon | September 6 |
| Waxing Moon | October 5 |
| Waxing Moon | November 4 |
| Waxing Moon | December 4 |
Influence of the phases of the Waxing Moon in 2019
This phase of the Moon is an ideal time to start a new project of any kind. There is energy and it must be harnessed. It is therefore easier to absorb knowledge and ideas since the body will be predisposed to it thanks to the power radiated by the Moon. Choosing to pursue a university degree is a good choice without a doubt.
It is also an essential time to conduct business that leads to interesting economic returns. It's time to break out the new things you've purchased, anything from a house to a new coat to the mountain bike you bought online.
The Waxing Moon in 2019 can make us dream. Not just while we contemplate it but also when we fall into Morpheus' arms. If this is the case we will be before dreams that show us a period of renewal but also of retraining. In other words, we must be aware of what we have and adapt it to the new times to keep moving forward using the past resources we actually have.
Therefore, the phases of the Waxing Moon of 2019 will allow us to take advantage of the energies that emanate in these moments in order to start new projects, do business or more easily acquire various types of knowledge.
---
You may also like:
---