Haircut lunar calendar 2019
---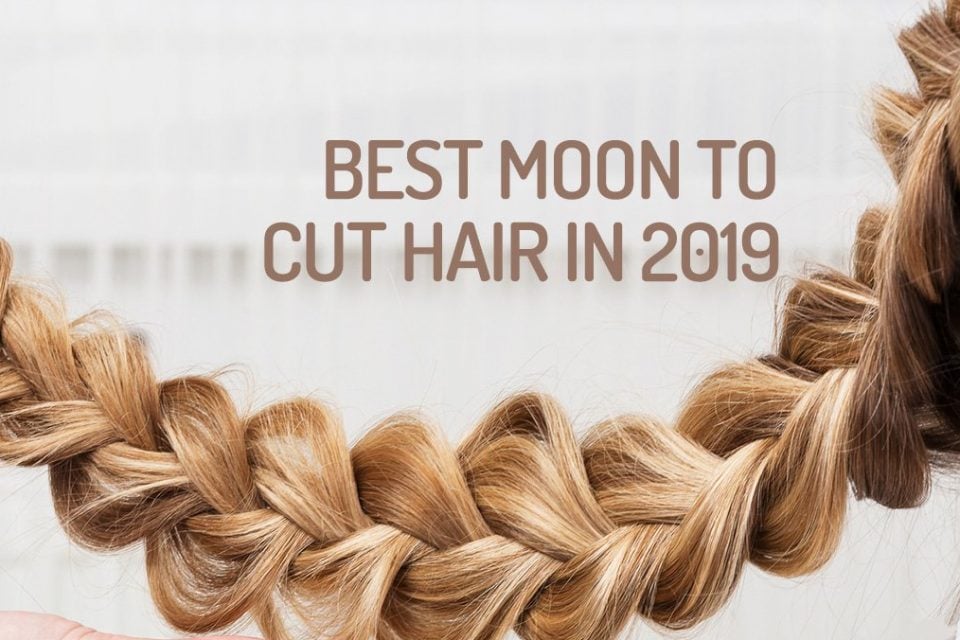 Did you know there's a haircut lunar calendar? Do you need a new haircut? Better check the best time to do that, don't you think?
The influence of the Moon is not only noticeable when it comes to fertility, sowing certain foods, tides or the behavior of animals. It is also said that it can help keep our hair healthy. To do so we must to know which is the best Moon for cutting your hair in 2019.
According to popular tradition, if your hair is in bad condition, dull and dry, the best thing you can do is take advantage of the Full Moon to cut it. This way your hair will heal and grow stronger and shinier.
If you are interested in improving the appearance of your hair and always having it in the best possible condition, you should be aware of the optimum lunar phase for each case.
Best Moon for cutting your hair in 2019
---

New Moon: best leave it alone
In this lunar phase the best thing you can do is to leave your hair as you have it. This is a very bad phase for strands, because hair fibers will be weakened and there is a greater chance for failure. Check the New Moon calendar for 2019 >>
Waxing Quarter: a good time for it to grow well
This is definitely the best moon for a haircut in 2019. This will make it grow fast and strong. It is also suitable for cutting dry ends, thus giving your hair an opportunity to improve the overall structure of its capillaries. The best time to cut your hair will be between noon and six in the afternoon. Check the Waxing Moon calendar for 2019 >>
Full Moon: time to have a great haircut
When your hair is badly treated and is barely alive, this lunar phase will be a great time to cut it and get it to grow stronger and thicker. To do this you will have to cut it between six in the morning and twelve in the afternoon. If possible, cut it a day before the Full Moon or the same day it starts. Check the Waxing Moon calendar for 2019 >>
Waning Quarter: ideal for those with a lot of hair and volume
When it comes to people who have a lot of hair, it is a very appropriate time to get a haircut and remove volume. This will keep the hair from growing so quickly and you will be able to keep the look longer. It must be cut between six in the morning and twelve in the afternoon, when the lunar attraction is reduced. Check the Waning Moon calendar for 2019 >>
Take advantage of the influence of the Moon to improve your hair by paying attention to the best Moon for cutting your hair in 2019.
Haircut lunar calendar in 2018
---
First Quarter Moon dates
The first quarter moon phases for 2018 happen on January 23rd, February 22nd, March 24th, April 22nd, May 22nd, June 20th, July 19th, August 17th, September 16th, October 15th, November 14th and December 13th.
Full moon dates
2018's lunar calendar specified that there will be a full moon on January 1st, January 31st, March 2nd, April 30th, May 30th, June 28th, July 27th, August 25th, September 24th, October 23rd, November 22nd and December 21st.
Last quarter moon dates
The 2018 moon is falling due on January 8th, February 7th, March 9th, April 7th, May 7th, June 5th, July 4th, August 2nd, September 1st, October 30th, November 29th and December 28th.
New moon dates
The new moon days for 2018: January 16th, February 15th, March 17th, April 15th, May 15th, June 13th, July 12th, August 10th, September 9th, October 8th, November 7th, and December 6th.
Now that you know what each phase of the moon brings to your hair and that you are aware of the haircut lunar calendar with the exact dates, will you dare to change your appearance?
---
You may also like:
---