ANNUAL HOROSCOPE: THE COMPLETE 2023 FORECAST FOR YOUR SIGN
---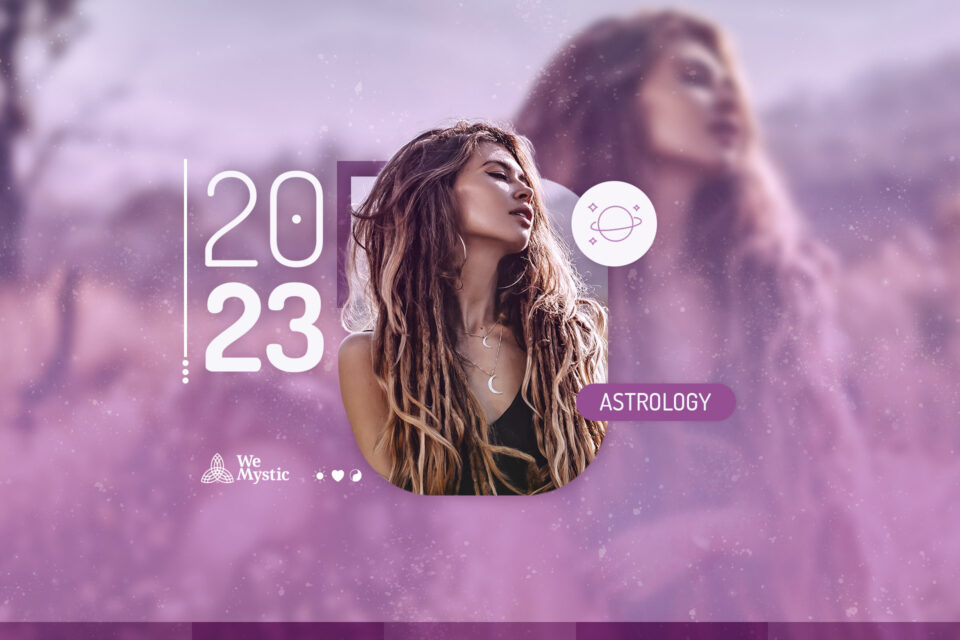 ---
We will begin the first days of the year with a certain slowdown, but don't be discouraged, and don't fool yourself, all of this will be exactly the representation of that brief retreat that you take before a great jump, you know? So get ready, trust, and jump in, because your parachute will be very well supported by the stars!
Mercury and Mars, both retrograde, jump on the ocean waves with us and spend the New Year's Eve with us, slowing down the pace and bringing a nostalgic and more reflective mood in relation to what we are actually seeking for our future.
The year begins with the energy of the Earth element very concentrated in the sky, being a very welcome invitation to strengthen the fulfillment of the famous New Year's promises. This energy helps us to get the plans off the drawing board right from the second half of January, when Mercury and Mars resume their natural course, so take advantage of it!
See also
The adventures of Jupiter
The first months of the year carry the beautiful energetic pulsing of Jupiter in Aries inflaming our desires, bringing a lot of courage and initiative not only for personal achievements, but also strengthening our sense of empathy and collectivity thanks to the great aspects that we will have in the first months of the year: Mercury conjunct Saturn, both in Aquarius; Mercury conjunct Neptune, both in Pisces; and Neptune trine Venus in Cancer.
Jupiter is the planet of expansion, adventure, and optimism, he wants to cross borders, and the constellation of Aries is the ideal partner for the famous "Let's go? Let's go!". Take advantage of this climate and set out to do something new and challenging for you and bring out the archetype of the inner warrior that will be much needed throughout the year. It is an energy that comes to remind you that you are capable of doing for yourself anything you want!
Within this same period we will have as a special attraction the first solar eclipse also in Aries, fulfilling the role of pushing the turbo button within this journey, leaving you no choice but to reflect about your self-responsibility and how much you have in fact accomplished your wills within a balanced relationship with others.
In the second half of May, Jupiter enters Taurus, which has its four legs firmly planted on the ground and, as stubborn as it is, will remain so until the end of the year, expanding our capacity for persistence in the initiatives taken until then. We will be especially provoked by the financial themes and about recognizing our self worth by making more challenging aspects in the sky with a nice energetic clash of two brave constellations: Taurus and Leo, and our role here is to know how to extract the benefits of this tension.
In June, July and August we will have a square of Mercury in Leo with Jupiter, and three squares of Venus in Leo also with Jupiter, the last one in a period of Venus retrograde. All this tension in the sky invites us to rethink our relationship with money, to claim recognition, and especially to remember that our true value and personal power lies in our authenticity, and that through this we can identify new ideas for sources of income. In addition, we will be provoked to reflect on our attribution of material values and how much of our investments are directed toward self-care.
In September, after having learned from the previous aspects, we will have Mercury and Mars, both in Scorpio, in opposition to Jupiter, leaving us no choice but to recognize that many times we need, with courage, to make the transformations we seek ourselves and know how to let go of everything that no longer serves us, so that we can expand into the new. The second solar eclipse that will happen soon after will give a boost to this process.
Remember that previous energy when Jupiter was in Aries? It's time to activate your inner warrior during this period and use everything you learned in the first semester, because you have already seen how much you can do!
The complete 2023 forecast for your sign
The three great astrological moments
Throughout the year we will have three great astrological moments, the first being in March, when Saturn enters the constellation of Pisces, meeting Mercury and making a beautiful conjunction. Saturn takes 2 and a half years to change signs, so from then on we will have a whole year with this position bringing a serious tone about our spirituality – something very necessary. It is no longer a matter of having or not having affinity with the subject, but rather of recognizing this layer within us and caring for it with the same seriousness and respect as we do our physical bodies.
Spiritual and interiorization practices such as meditation, yoga, self-knowledge tools, artistic expressions, contact with nature, among others, gain notoriety and strength, especially within organizations, giving light to the theme to rescue within us our best in order to improve the mental health scenario. It will no longer be an option, but a necessity, otherwise the unguided sensitivity may leave us disconnected and lost.
Venus in Gemini squaring Saturn in April will be a reminder to continue exploring Piscean themes with confidence, breaking out of mystical labels, and setting out to live your own experiences.
The second big astrological moment comes in June when Saturn and Neptune, both in Pisces, go retrograde while Venus and Mars in Leo are in the sky. It's time to review whether the way your life is structured utilizes your potential and the best of your talents. It can be a good time to travel to a place you've always wanted to go, go on a retreat, invest in self-care practices. Take a moment for yourself, get away from the external noise, and allow yourself this inner reflection.
The third big moment comes in September when we will experience the retrogradation of 7 planets in the same month, namely: Mercury, Venus, Jupiter, Saturn, Uranus, Neptune and Pluto. The feeling will be very strong of slowing down, as if things will not move forward (it is likely that they will not move forward at all). So it will not be a time to place great expectations, but rather to dribble the anxiety and exercise patience, taking advantage of this moment for what it asks for: rest!
This energy will continue through the month of October when we will still have 5 retrograde planets in the sky, and gradually things will return to "normal" until the end of the year. Even so, the second half of the year will not have the same fluidity as the first, so it is worth taking advantage of the energy of the first months of the year to leave some structured plans so as not to spend the last months of the year on automatic pilot without seeing the days go by.

98.1% (1312)
The great clash of giants: Jupiter and Pluto
Like every great presentation, I left the main artist for the end of the show. So you can get ready, because I will end these predictions by telling you now about the main attraction of the year!
The most important aspect of the 2023 sky will be the square of Jupiter in Taurus with retrograde Pluto in Aquarius that will take place in May. This is a transit that affects the energy of the collective in a very important way, because it is an aspect that ends a cycle of "conversations" between these two planets that was started in 2020 when they made their conjunction. So, now the great reflection that they leave us with is: After all, what have you done with all that you have learned from what happened to us in the last 2 years?
Since when the conjunction happened, the population faced challenging historical moments that destabilized everyone's lives and put us in a reality shock about the true unpredictability of life. And now this square invites us to evaluate how much of the lessons learned have come out of the speeches and are also part of your actions.
This is an aspect that usually brings up themes of the power system, which can shed light on some financial or ideological abuse, but can also promote some collective gain on the same themes, triggering some important new law or a new social movement.
We will be subject to profound transformations of beliefs and values, with a great opportunity to guide our lives by positive systems of thought. Here it is worth saying that learning to be receptive to other people's opinions will be on the agenda, as well as the exercise of active listening, which can bring social benefits. It can be an opportunity to collectively achieve more respectful and less imposing discussions.
For those who have not yet promoted significant internal changes regarding values, philosophy of life, sense of collectivity, and purpose, it is time for the stars to pull your ear to really do something with all that you have learned with the beautiful shake-up we have had in the last years.
I wish you a beautiful 2023!
You may also like:

98.1% (1312)
---