How to buy a tarot deck and choose the right one for you
---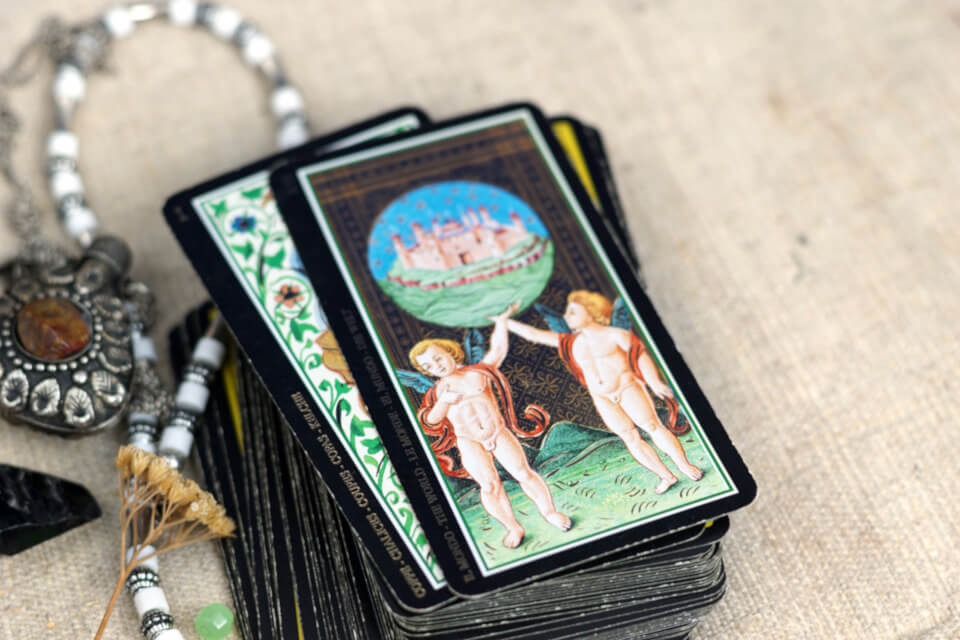 If you had planned to buy a Tarot deck, you found that there are different types of Tarot, including, among others: the Tarot of Marseille, the Grand Etteilla, the Tarot of Oswald Wirth, Tarot Rider-Waite, the Aleister Crowley's Tarot and many more. So how to choose your Tarot game? Our advice: simply choose the one you feel best with.
Obviously, each Tarot has a personal imagery and energies of its own. And again, most often it is a question of affinity with the illustrations, and the impressions, visions, that the figures on the Tarot deck provide. It is necessary that the images are expressive and easy to define for the reader.
2024 predictions are out
Discover the stars predictions for new year!
4 Tips to buy a Tarot deck that suits you
---
Buy it in an esoteric shop
There are probably still esoteric shops in your city. Prices are generally slightly higher than a virtual shop. However, the advice of a seller can be welcome, especially if you are learning the Tarot. It is worth mentioning that there are online shops that offer advice for buyers. The other big interest is to be able to appreciate the cards by hand.
When you want to buy a Tarot deck, do not be surprised if the seller refuses to open the package. On the other hand, they often have a supplier catalog with a lot of illustrations. Their showcase must also have a lot of references; do not hesitate to take a look at all the tarots and oracles that a shop offers.
Pay attention to the quality of the cards, the condition of the package and never buy an already open package.
Listen to your instinct
Buying a Tarot deck is a matter of sensitivity and taste. It will probably catch your eye in the window of an esoteric shop or on the internet.
Choose a Deck that you like
Choosing a game that you like is very important because you will spend time with it. You will spend time looking at the cards, their colors, their details. You will manipulate your Cards. They must please you, as well to the sight as to the touch.
To learn how to draw Cards, find a Tarot that:
Is intuitive;
Has all cards illustrated;
Does not use knowledge that you do not have.
Never buy a used deck
Each person imbues Tarot cards with their personal energy when touching them. So there is a risk of influences when you make a draw with a game that has belonged to someone before.
If you're new, never buy a Tarot already opened or manipulated by someone else. Be suspicious, because some shopkeepers open packages to "show" the deck to their customers and then resell this game to the most naive.
You may also like:
---