---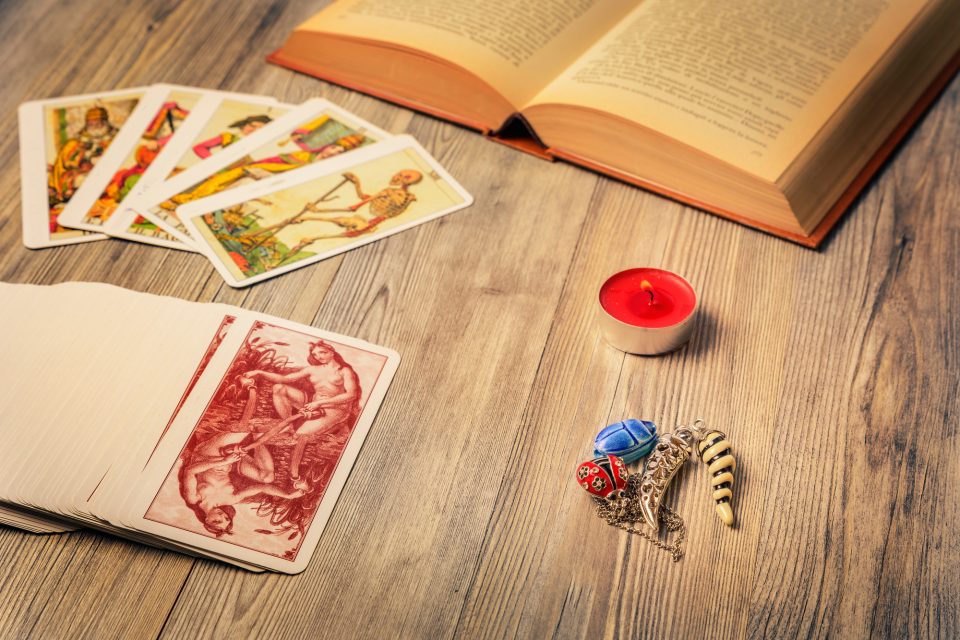 The Gypsy Tarot, also called the Tzigane Oracle, is a set of tarot cards is just like any other tarot deck, being used as a divination tool to compose a particular reading for someone.
Just as with any tarot reading, you can pull one card at a time, or you can complete a more complex reading by drawing multiple cards in a manner specific to the answers you are seeking.
Here we will discuss the meaning of each of the cards, as different artwork on the cards can lead to different interpretations. However, the meanings below are the most universal and can be interpreted in many ways, based on these general meanings.
Everything you need to know about the Gypsy Tarot deck
---
Old Woman
There is possibly something from your past to bring into your current life. Making wise decisions,  or on the contrary holding rigid beliefs. May reflect a fear of ageing or the sense you are running out of time.
Messenger
An announcement or invitation may be coming your way or represents that you are waiting for some sort of results and/or a phone call. There may also be an important message that you need to communicate to others.
The letter
An answer or specific document or contract is coming your way through multiple different types of mediums of communication. News will inevitably bring change. A new opportunity or challenge is also heading your way.
Thief
Misplacing or losing something. Reflects all that is stolen but doesn't necessarily mean something will be taken from you in the physical. You may be spending time with someone who drains you energetically or is stealing your "peace of mind." Be mindful of your valuables.
Servant
This card can represent a single female or being too lax or unassertive in a certain situation.
Service
Reflects serving others – can mean receiving help from others or offering help to others.
Doctor
Can actually reflect someone who practices medicine of some kind and/or the need for personal healing, whether emotional or physical.
Wife
Conflict and/or unresolved personal issues. May also represent a want to be in a committed and loyal relationship. May symbolise an actual wife in your life, but there is something that needs to be taken care of.
Falseness
Actually reflects some sort of falsity in your life, including lies and/or betrayal. Can also include someone who has been "fake" to you and possibly a deception of an extreme nature. Can also reflect you trying to cover up something. Be weary of self-deception when this card is drawn.
Enemy
Reflects weakness and/or aggression toward others or yourself. Fraudulent person in your life. Opposing ideas. self-doubt,  and conflicting attitudes in your life.
Foe
Represents some sort of a literal or metaphorical "competition." A comparison you are making of yourself to another. The thought that the grass is greener on the other side. Or, on the other end, embracing an enjoyment you have not thought of.
Friend
Can reflect literal friendship or simply a new set of positive in your life, including happy news. New soul or literal lessons acquired. This card can also reflect characteristics of yourself that you have not acknowledged but are now prepared to put into place in your life.
Joyfulness
Literally can signify joyfulness in it's purity: good times, pleasure, and happy well-being. Can also reflect entertainment, creativity, and harmony amongst others. May represent having to attend a happy function.
Thought
Represents all things concerning contemplation, thought, and planning…or on the contrary: indecision or doubts within the thinking process. Also concerns meditating on personal issues, studying, daydreaming and absorbing information.
Prison
Represents all things inclusive of rules, limits, and strict responsibilities. May also reflect feelings of feeling restricted or emotional loneliness. This card reflects the idea that there is a current relationship or situation that may make you feel restricted in a few ways and causing you to feel less freedom in your life. Alternatively, the other meaning of this card can reflect guilt or shame, and it is relaying a message that you should refrain from self-punishment.
Money
Can reflect abundance, luck, winning at something, or inheritance. Regardless of your intuitive representation of this card, it reflects some sort of increase, whether in wealth, prosperity, or general success. You should have a strong sense of self-worth and confidence in order to bring this to fruition.
Scholar
This card may represent an elder in your life, along with the general ideas that come along with retirement. Can also reflect a sense of longevity, which symbolizes wisdom. Along with wisdom comes forgiveness. Use this elder wisdom to offer guidance to those you come across.
Pleasure-Seekers
Reflects an appetite of metaphorical form; longing combined with anxiety, or a craving along with wishful thinking. Represents another hope or wish for something that may be out of your control. This card also exudes an energy that proves you can create what you desire if it is in the best interest of humanity.
Gift
Can reflect a selfless act, donation, present, or contribution. Also represents the simple act of both receiving in gratitude, but also giving.
Fortune
Representative of a literal or metaphorical victory. Holds a miraculous energy, so be mindful to give praise for all of the good in your life. You are fortunate. You may have good luck in the coming times, so know you dreams can come true via inner skills and unacknowledged talents.
Lord
Representative of the domestic ruler or dominant figure. May reflect the house owner or the one who is seemingly the "Boss" of the abode. Can be a great teacher. Also represents importance of obligations. It can also reflect someone in your life that you feel has too much say or power over your life and dictates what you can do.
House
Reflects personal bonds, both of the family and of the emotions. Can reflect values of the home, personal security, or office aspects of life. Can represent (in general) the environment you live in and work in as a whole.
Cheerfulness
Can represent a specific social event, reception, wedding/baby shower or celebration that has happened or will happen in your life soon. Can also reflect the need to be more freeing of your soul and get out more. Therefore, if this represents a future event, embrace it because a lot of interaction will be experienced.
Haughtiness
Physical ego is reflected here. It represents an ambition with conceit, combined with arrogance and a sense of "showing off." Too much pride.
Wedding
Of course this can reflect marriage, predict marriage or your state thereof, but it also represents the inner workings of such a bond: commitment, agreements, union, bonding, loss of independence.
Hope
General reflection of the feeling of anticipating. A future feeling that keeps you waiting. Hope to know of a positive outcome, because all is possible through knowing in the Universe.
Young Woman
Represents the most motherly and nurturing energy. This energy also reflects a certain sense of love but also passivity. Refers to a male's dualistic nature of their female side, or their/a woman's own female aspects of themselves or the mother. Alternatively, it can also represent temptation and guilt.
Merchant
This card will always signify profit in some sort. This can include an advantage, or a gain and/or increase of some sort. When you see this card, you must open your mind to change and openly viewing things through multiple perspectives. Take note of your business ideas, and also your other professional aspirations and goals. Be mindful, though, because there may be someone who is taking advantage of you in this aspect, but in a negative way.
Child
Signifies a new start of some sort. Can represent a new baby or pregnancy, but also reflects the essence of young ones, including: inexperience, infantile reasoning, or the beginning of comprehension and/or being naive. Can also be representative of the start of a relationship or project.
Constancy
This card indicates a current lack of adjustment or change, making you reflect on a very fixed and solid existence.
Conversation
Representative of the judge, this card reflects decisions of those in authority and the "final verdict" you may be facing. You must be mindful to weigh the pros and cons in any given situation, as you may be going through a universal test of sorts. Seek your own forgiveness and acceptance to move forward.
Malady
This card can reflect a serious feeling of weight or burden. It can even represent illness and/or recovery. Be mindful if you hold a current feeling of a negative-based well-being, as the key to any recovery may also be held within the card and/or spread.
Sorrow
May be reflective of a loss or situation that is risky. Can also reflect a decrease in or losing at something. If you have an intuitive thought you are pondering when this arises, the answer is no. Can also indicate money issues or separation of a relationship. Best not to bet against the odds at this time.
Frivolity
Represents being constantly indecisive, having irregular emotions, or consistently acting fickle and changing your mind often.
Love
This card reflects all things regarding love, happiness, positivity and affection. You may encounter an emotional situation that highly involves your emotions or feelings about romance.
Sweetheart
This card is the female version of indicating a special woman, girlfriend or wife. If chosen with other cards, this card will show its meaning by the surrounding cards.
Lover
This card is the male version of indicating a special man, boyfriend or husband.  If chosen with other cards, this card will show its meaning by the surrounding cards.
Melancholy
Undesired grief, emotional upswings, crying/sorrow, or other unfavorable emotions. You may be coming about or going through a very upsetting time. Though you may feel depressed, "this too shall pass," and it is only indicative of a temporary state of mind, no matter what disappointments you experience.
Soldier
This card may reflect a certain man in uniform OR someone of any type of authority. It can reflect professional situations, or any legal/personal battles over a specific issue. Becoming involved with someone in uniform may mean loving and leaving.
Priest
Reflective of having faith and holds a spiritual meaning. May be related to your specific religious belief or place of practice. May signify a stronger necessity for higher morality and abstinence.
Journey
As the name signifies, this card reflects all things regarding literal and metaphorical travel. Can represent a current/coming emergency, having to take time off or taking a physical trip. Can also reflect vacation, while signifying profits, self-discovery or progress along the way. This is an energy of a very welcoming and harmonious change.
Sighs
Technically can represent the "widow" or divorcee, which reflects loneliness and grief. A woman in sorrow is something that reflects any situation that causes pain. Reflects a need to differentiate between various things in your life and appropriately prioritise them. You may be feeling overwhelmed and having a fear of separation.
Death
This card signifies an ending, a true farewell and finalisation of sorts. If you are looking for an answer toward a situation, the answer is probably "no." This card reflects the ending of a certain cycle in your life and having to say good-bye. It reflects being okay with forgetting the past and accepting that it is time to go in a different direction.
Faithfulness
This card reflects good news coming your way. Positive answers or announcements, along with your positive intuition (which will be right!).  Can signify any intuitive feelings regarding generosity and loyalty. This can reflect any strong values and good intentions, that will enable you to grow physically and spiritually.
Consolation
Can reflect physical money, such as a raise or bonus. Can also represent a personal purchase, influx of money, or a random refund.
Misfortune
This card can typically signify a sort of unfortunate news, discomforting event, or seemingly tough obstacles. This card can reflect a sort of warning that maybe a random occurrence or circumstance may occur. Be prepared for change and/or the unexpected, because something is in need of your attention, so always ponder on possible consequences.
Reunion
Representative of loyalty, honesty, and unconditional love or friendship. Can also reflect a certain loyal person or situation in your life.
Despair
This card can reflect a strong sense of frustration or negative emotions within yourself. You may feel annoyed or in a bad mood or out of control with your own emotions. Watch for anger issues.
Waiting
This card can reflect a feeling of jealousy, including the emotions that come along with: envy, resentment, or another party. Do not feel the grass is greener on the other side.
Widower
This can represent an older male relative in your life. This reflects mourning, your past, and remembering. You may have a situation that must be accepted, and pay attention to pining over any particular loved one.
Room
This card reflects the physical compartments of your life relating to errands, work meetings, social obligations, and teamwork. If you are expecting guests soon, this represents that act of receiving guests and being welcomed by others. Just be aware, there may be an element of surprise involved.
Surprise
Reflective of new realizations, findings, and recognition. A situation may come up that did not go as planned but ended up working to your advantage. You may end up getting positive news about a new or lifelong condition.
---
 You may also like: 
---