How to cleanse Tarot cards with crystals to strengthen your intuition
---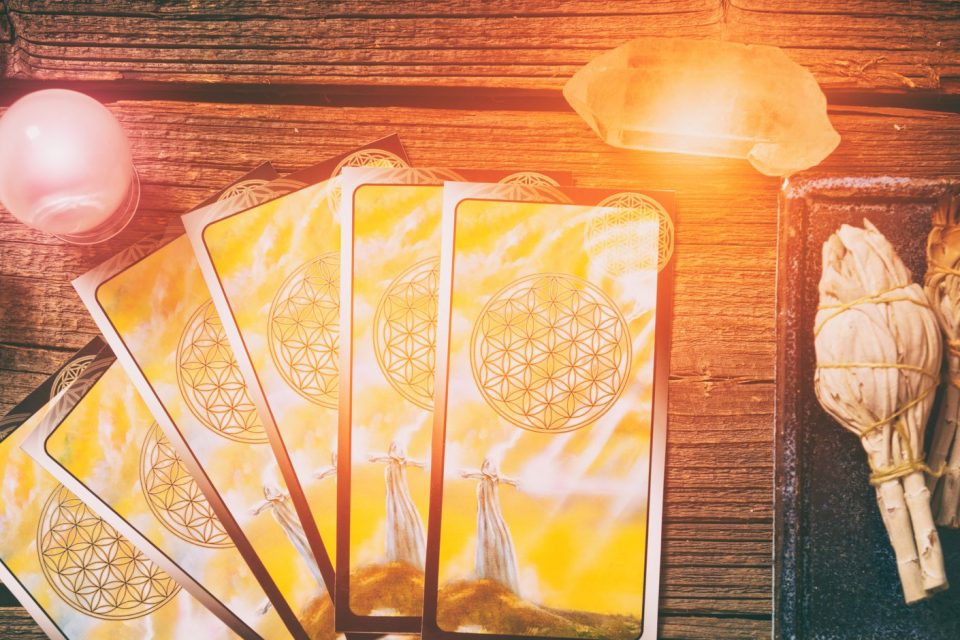 Tarot cards are magnificent tools that connect us to the Divine so we can receive some messages. But in order to their job of divination, they must be cleansed. If you choose to cleanse tarot cards with crystals, you are doing right. We will tell you why and how to. Stay with us!
Receive all our tips by email!
Love Astrology? Subscribe Now and Receive Exclusive Content!
Cleanse tarot cards with crystals
---
You might know that crystals should be cleansed and programmed once in a while. They are magic gifts from nature that contain many properties that help us to reach our goals. But did you know that some of these properties are cleaners as well?
Yes, some of them have so strong natural properties that they are able to change the surrounding electromagnetic field. Thus, they promote a real cleansing and energizing of the people (and objects) that work with them.
If you read tarot cards, you should know that when you buy a deck, you must cleanse, energize and consecrate it. In this article, we will focus on how to clean tarot cards with crystals because they strengthen your intuition and clairvoyance – two of the most important things when reading tarot cards.
How to cleanse tarot cards?
Before you start cleansing your deck with crystals, we suggest you cleanse it with salt. Just fill half a glass of water, put salt on it and let the deck rest on the glass for about two hours. Do not leave it for more than that. The cards can bend because of the humidity.
Once you have cleansed them with salt, you can proceed with cleansing with crystals. Here we talk about the connection with the Sun and the Moon. You can choose the crystal that is most suited to your purpose or do both rituals.
Wanna know which Tarot card are you? Take the Quiz! >>
Selenite
Selenite is associated with the Moon and consequently cycles and intuition. The Moon rules dreams, what is hidden, and our emotions. All ingredients perfect for a good reading of tarot cards. It is a crystal that also has healing power and balances emotions. Because it is a fragile crystal, it is better to always leave it separate from the others.
To clean tarot cards with Selenite, you must do it overnight. Look for a window where the moon is clearly visible and simply place the crystal on or under your deck. Ask the Moon for a peaceful sleep and remove the deck from the window as soon as you wake up.
Sunstone
The Sun is the source of heat that gives life to humans and everything on Earth. This star has the power to regenerate and restore the inner strength of all that touches. Take advantage of this energy to clean your tarot cards and make your readings more assertive.
You should do this cleansing ritual on a Sunday as it is the day of the week that the Sun rules. Make it close to noon because that is when the Sun will be stronger. You can do it in the window, but if you have a garden, it will be better.
Open the deck and place all the cards in order. Organize first the major and then the minor arcana, arranging in the following sequence of suits: clubs, hearts, spades and diamonds.
Watch the sunlight touching each card and mentalize your intention. It is time to ask for protection, prosperity, strength and more clarity of thought.
Then, separate the card of the Sun, placing it above all the rest of the closed deck. Put the Sunstone on everything and let the cards stay that way until the end of the day. When the sun goes down, take the deck and store it in the usual place.
---
You may also like:

98.1% (1312)
---