How to program crystals: 5 ways to empower them
---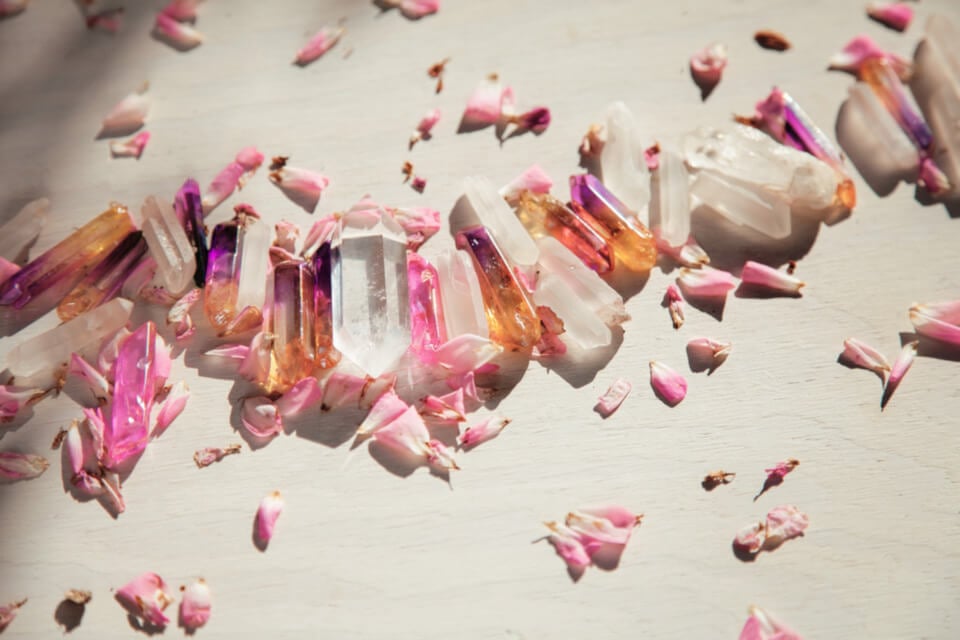 Did you know that crystals should be programmed? Yes, after buying them it is not enough to just leave them in your house to take advantage of all their properties. In addition to cleansing, you must perform some activation ritual to release the power of a crystal. If you have no idea how to do it, learn how to program crystals now.
Receive all our tips by email!
Love Astrology? Subscribe Now and Receive Exclusive Content!
How to program crystals
---
The Mother Nature was very generous when she gave us crystals. They are special stones that carry magnificent properties of physical and therapeutic orders. We can take advantage of them in different ways and for different purposes, but in order to release all their power, we must cleanse and program the crystals.
First of all, you should know that you should only program a crystal that is clean. If you do not know how to clean your crystal, read this article we have prepared for you.
But what does the programming of a crystal consist of? Programming a crystal means adjusting it and directing it to the intention that you have in your heart. That is, what goal do you want to achieve by using a crystal? With this in mind, it is easier to point the way for the crystal to do its job in a more effective way.
How often should I program and activate my crystals?
If you can only program a crystal that is clean and if cleansing means a restart on the stone, it is easy to imagine that you should program a crystal every time you cleanse. Because if you just clean your crystal, it is almost still and does not work the way you want it to.
You should take care of the processes of cleansing and programming crystals in a thoughtful and positive way. After all, you are dealing with precious gems from Mother Nature. So every time you program your crystals, take the time to meditate first.
It does not have to be too much, but just by being in touch with your inner energy for a few minutes, your channel of connection to the crystals gets more open and so "you two can talk more about your goals."
You can also write down on paper what you want to achieve, clearly and objectively. Hold the crystal with your left hand and if it has a tip, place it in the direction of your body. Think of the crystal as a living being.
5 different ways to program crystals
There is always a different method to program crystals and no one is better than the other. You should choose which method to use by consulting your intuition and thinking about the purpose of the crystal.
For example, you may want to take it easy and connect with your feminine self through the crystal. Thinking this way, a good way is to program the crystal with the energy of the Moon and so on.
Your voice
Our voice emits energetic vibrations that are able to connect with the crystal. Hold it in your right hand and out loud chant your request as if it was a mantra. Do this for at least a minute and repeat on the left hand.
Third Eye
Your Third Eye is the point between your eyebrows. Place the crystal in front of this point but without touching your skin. Visualize your mind transferring your desire to the crystal through a beam of white light coming out of your Third Eye. Make the visualization as if you have already achieved your desire.
Your hands/Reiki
If you are initiated into Reiki, you can use the technique to send Reiki energy to the crystal. If you are not close to Reiki yet, you can perform the ritual in the same way. Mentalize positive things and your request while placing your hands above the crystal without touching it.
The Sun
This method is indicated for more masculine activation. Leave your crystal exposed to sunlight but be especially careful with Amethyst, Citrine and other colored crystals, which should only be exposed for a maximum of 30 minutes.
And, for all crystals, it is recommended to do this before noon as the Sun is a very aggressive source of energy.
The Moon
If you want to stimulate more feminine, intuitive and maternal programming, this method is for you. Leave your crystal in the moonlight while going to bed mentalizing your desire.
Moonlight is not as aggressive as the Sun, so you can leave your crystal exposed for an entire night. Astrologers only suggest that this ritual should not be done on the Full Moon when the energy is very intense.
---
You may also like:
---