7 best healing gemstones to keep in your life
---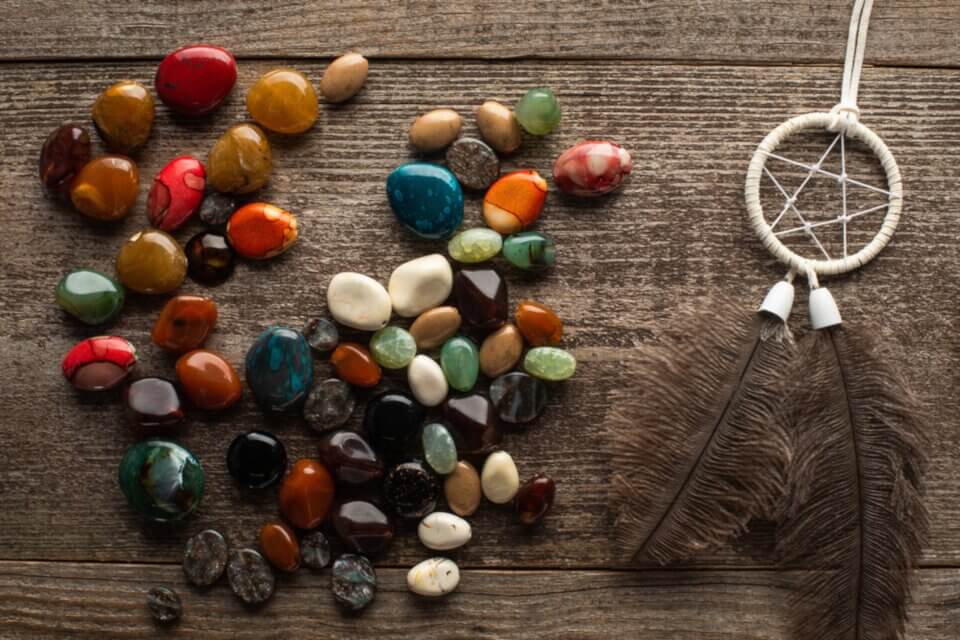 Healing gemstones and crystals help to balance spirit, mind, and body. They have been used by ancient civilizations for thousands of years. After centuries of connecting its powers to witches (wrongly linked with black magic) and censored, we're rediscovering its magic. 
Crystals emit a certain energetic vibration that has an effect and is each gem has its vibration. That's why they have different healing characteristics and unique powers. We, humans, have our vibration and we are naturally receptive to crystals vibrations.
Learn how to use gemstones, which include how to treat them, which ones to chose for different purposes, among other aspects, is a great tool for you to improve balance in your life. 
Receive all our tips by email!
Love Astrology? Subscribe Now and Receive Exclusive Content!
The 7 most consensual healing gemstones
---
As we mentioned before, both humans and gemstones have a specific energetic vibration, and the alignment between both is a strong technique to promote healing, well-being, calm and balance.
Crystals are considered to contain special wisdom directly from mother Earth, and it can fulfill your heart and lead your intuition with the great knowledge that we cannot put in words or rationally express, that is beyond us but we can feel.
Learn more about crystals so you can make the best use of it. Start with our list of the 7 best healing gemstones:

Healing Gemstones – Amethyst
It's almost impossible to cover the theme of the potential of healing gemstones and not mention Amethyst. Found in Latin, Central and North America, and also in Europe, is has been used since ancient civilizations, such as Romans, in multiple ways. For centuries it was connected to luxury, and symbol of royalty. This gem is used until nowadays to attract wealth.
Amethyst is associated with the crown chakra.
Healing powers
Amethyst healing powers are especially the purification of the mind by removing negativity and lowering the stress and anxiety, especially connected to the working life. It also facilitates intuition and promotes clear communication. Adding to that, it also attracts abundance. 

Clear Quartz
Easier to find, since it's one of the most abundant minerals, it is also one of the most iconic crystals. Its use has been found in ancient cultures everywhere in the world, with different meanings and uses. In Japan it was associated with purity, in North America, the creator of life was conducted by clear quartz, among other interpretations and believes around this gem.
This is a great crystal to use when manifesting intentions.
Healing powers
It's believed that the crystal keeps your intentions and helps to manifest your desires, amplifying it. It helps to control the thoughts, and by raising intuition, it helps to feel what situations are coming in our direction. 
The Clear Quartz is a great ally to deal with blockages and repair the energy flow of the body and mind, it expands the consciousness and makes communication easier. 
This crystal can be placed in the house and it will radiate positive vibes. Put it near a window where it gets light from the moon and the sun. 
Clear Quartz is connected to all chakras and is considered a master of healing.

Healing Gemstones – Rose Quartz
This healing gemstone is first of all connected to love because of its color, and that has been its most common use over the times. While some crystals must be put in the sun, Rose Quartz must be kept out of it.
This stone high frequencies, not only attract, but also supports unconditional love, and compassion. It goes beyond the idea of romantic love and uses the energy of love to promote cure, consciousness and deep understanding.
Healing powers
Rose Quartz is used to replace negative emotions with love and harmonized emotions, promoting a more clear mind and perspectives. 
It helps to open your heart and promotes feelings of trust and confidence, that help to unlock trapped energies and old traumas. Consequently, this process will also unlock the inner light and power, and the self-love.
Despite this is not its main focus, on a romantic level, it develops the connection between the partners and helps to cure emotional wounds.
Its tenderness is so beautiful, it makes the world a better place! Consequently, promotes kindness, compassion, understanding, and the capacity for forgiveness, to give and receive love. Love is one of the most powerful energies of cure and healing.
Rose Quartz is linked to the heart chakra.

Citrine
Citrine is known for its vibrant energy, for its joy and positivity. It can be found all around the world, with its yellow bright color. It has been used for jewelry for thousands of years, and from the 17th century on became popular in the United Kingdom since it was one of the Queen Victoria's favorite crystals. 
Citrine is composed of silicon dioxide, and this component is also part of our body constitutions, which is one of the reasons why it's part of the most important healing gemstones. This fact makes it easier for the body to align and receive the energy of this crystal.
Healing powers
Citrine healing properties are connected with luck and abundance, and it's the perfect gem to use when your intentions are related to finances or business issues. 
This crystal boosts the energies of joy, motivation, and optimism, key feelings to motivation.  
It's also good to use when you're going through a moment of lack of motivation or direction, and you can meditate with it. It will help you feel where you want to go and feel hope about your dreams.
Citrine gives not only motivation but also perseverance. It's connected with the solar plexus chakra.

Healing Gemstones – Tiger Eye
 A gemstone with the power of throwing away your fears is perfect for those who get stuck in their life because they can't move to fear the outcomes of their tries. 
Healing powers
Power is the right word to define the Tiger Eye. It won't give you power, it will help you find out your power and own it. The Tiger Eye will transmute your fears into confidence, your anxiety into courage, and improve your self-confidence.
It does so also by helping you get a new perspective on things, dropping the negative filter, and let you see farther. It's also about passion and determination. No way it's easy and out of challenges, so we all need that passion to sustain our goals in the bad days.
This gem also helps when there is a need to stay grounded and centered, especially in the most challenging moments. 
It's connected with the sacral chakra.

Moonstone
The Moonstone works like a channel to the moon itself. The most prized moonstones, that you can find in many colors, are the ones from Sri Lanka and India, but it can be found in Europe, Latin, and North America and even Australia.
It's a gemstone associated with fertility.
Healing powers
The Moonstone will help you open your heart and get in touch with your feelings. This dreamy gem is connected with the feminine power and with the goddess that lives within. Therefore, it's also connected with sensuality and fertility. 
This crystal will bring you balance but also that gloom of knowing life is a beautiful miracle and being here is a blessing.
The Moonstone is also believed to help with menstrual disorders and pain, it protects pregnancies and delivery, and the travellers at night.

Healing Gemstones – Hematite
Hematite calls you whenever you need to be grounded! And to be grounded is essential for well-being and health. It was used by the Greeks to make ink out of it, from the color of blood. Because of that, they called it "haim", which means blood.
Its silky aspect reminds us of the stars and reminds us of the power of the light. 
Healing powers
Hematite can absorb negative thoughts and transform them into more positive feelings. These toxic emotions block many people from following dreams, build a better life, dream higher, fulfill their potential. It blocks the negative effects of bad vibes!
Hematite is effective when healing the body since it helps to cleanse. It's connected with the roots chakra.
---
You may also like:
---