Ocean Jasper: a stone of vital and positive energies
---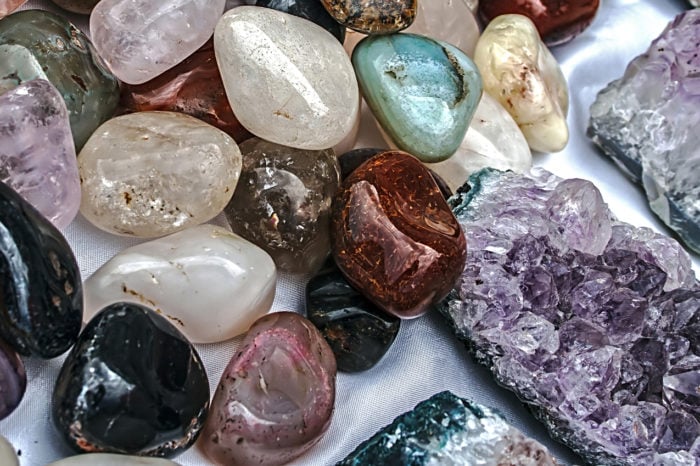 Ocean Jasper is a highly spiritual Shamanic stone that purifies everything around us and connects us with protective and healing nature spirits. It draws vital and very positive energies into the environment, purifies and protects the Aura, and enhances our connection with the guardians of the planet's evolution.
Being highly combative, it is one of the most suitable for the personal and environment protection against bad influences and negative energies.
Receive all our tips by email!
Love Astrology? Subscribe Now and Receive Exclusive Content!
Ocean Jasper: history, legends and beliefs
---
This stone is a recent discovery and therefore there are not much details about its history. The stone appeared in early 1900 among collectors, but we did not know the place on the island of Madagascar where the stone was extracted.
It was not until the Tucson mineral fair in the United States in 2000 that the ocean jasper was rediscovered and identified. An island mining company took 45 days of intense research to locate the deposit. It seems to have been lost for so long because it is only visible at low tide.
But this source dried up in 2009 after a few years of heavy exploitation. This stone is therefore becoming scarce and it is likely that the price of Madagascar ocean jasper will gradually rise. No other source has yet been located on the island.

98.1% (1312)
Ocean jasper's properties
The stone's great accessibility makes it of little economic value but its metaphysical properties make it an invaluable stone. According to its colors, we linked Jasper to prosperity, agriculture or gardening; we have seen it as a nourishing and protective stone. Its protection is both powerful and smooth.
Jasper balances the yin and yang energies; this helps the healing processes while bringing a feeling of peace and tranquility.
It gives a calming and relaxing mental and emotional action, making the person feel calm even in difficult or challenging situations; it helps healing trauma and emotional disturbances by facilitating the deep healing process at this level.
This stone helps self healing and leads to finding an emotional comfort that generates a feeling of kindness and empathy with all beings. Perhaps this is why it is said that this stone brings beauty to the life of its owner, both exterior and interior. Jasper softens all mental processes and is therefore a good stone for anxious students in an exam or test situation.
Purification and recharging
A flat stone pebble must imperatively be purified as soon as you take possession of it. Indeed, before arriving to you, several people manipulated it and it is advisable to remove their influences from the stone.
The stone can be purified with distilled salted water. It recharges in the sun or on a heap of quartz like a geode or a piece of Amethyst.
---
You may also like:

98.1% (1312)
---