Opal stones: types, characteristics, healing and mystical powers
---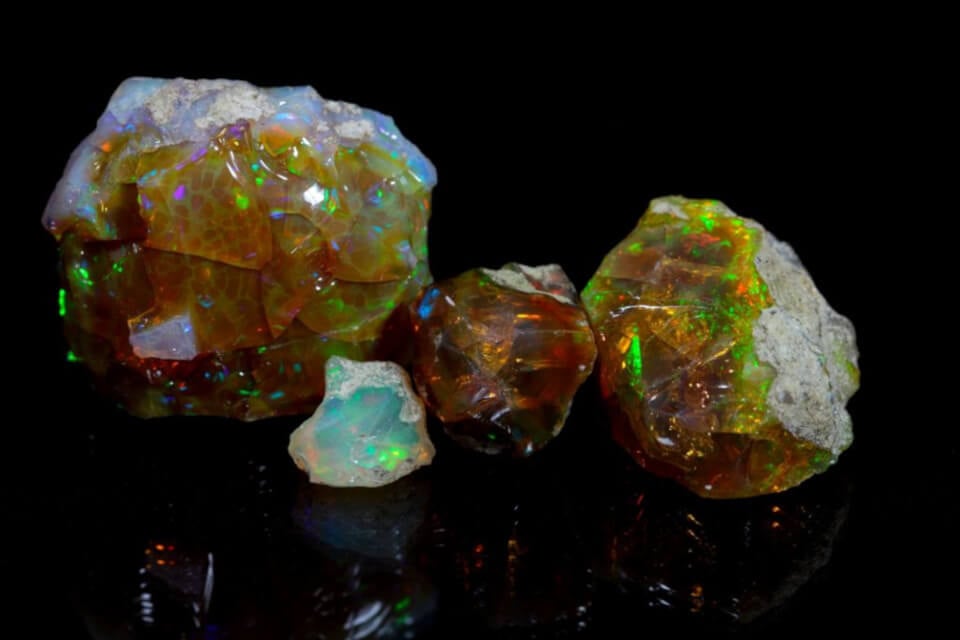 Opal – from the Sanskrit upala ("precious stone") – has always been associated with love and passion. It is a seductive stone that intensifies emotional states and can also act as an emotional stabilizer. However, they are also a kind of antidote for negative energies or for those thoughts that usually haunt us. It is said that wearing Opal stones inspires love and hope, innocence and purity, luck and happiness.
Also called the "Eye Stone", it contains the fiery flame of the carbuncle (Garnet), the resplendent purple of the Amethyst, and the sea-green glory of the Emerald. It's, so to say, a rainbow trapped in a stone.
2024 predictions are out
Discover the stars predictions for new year!
Opal stones: types and characteristics
---
There are three basic types of Opals: Precious Opal, Common Opal and Fire Opal.
The Precious Opal, also called "Rainbow Opal," is the rarest, mined in a limited number of locations worldwide and produces brilliant flashes or streaks of iridescent colour when turned in the light, a phenomenon known as "play of colour." The colour is not due to any pigment in the stone, but because of the optical effects created when the microscopic spheres of silica hardened in an orderly grid-like pattern.
Common Opal, or "Potch," is found in many places throughout the world and forms with spheres of unorderly sizes or stacking, and does not exhibit games of colour. It usually has a milky or pearly glaze, known as "opalescence."
The third type, Fire Opal, is a transparent to translucent Opal with a body colour of vivid red, orange or yellow, most commonly mined in Mexico. It typically shows no games of colour, though occasionally a stone will have a weak display or exhibit bright green flashes.
In addition to these three basic types, there is an extensive number of Opal stones. Here are some examples:
Andean Opal or Peruvian Opal
Black or Precious Black Opal
Boulder Opal
Crystal Opal
Ethiopian Opal
Girasol Opal
Green Opal and Prase Opal
Hydrophane Opal
Matrix Opal
Milk Opal
White or Precious White Opal
Owyhee Blue Opal
Water Opal or Hyalite
Wood Opal and Opalized Nature
Opal stones: what are they good for
Opal stones eases stress and depression, promoting a sense of calm and encouraging to better direct thoughts and energies.
It's said that they are antidotes to restless thoughts and racing minds that rehash the past or anticipate the future. Opals center the mind and are stones of happy dreams, particularly soothing for children and for those who have always slept badly or had recurring nightmares with no apparent reason.
Seen also as a stone of protection, Opals function like a shield to keep from absorbing other people's negative thoughts and energies.
Just as it uses interference and diffraction to produce its colours, it can also run interference around challenging people or situations that affect your mood or hurt your feelings.
Opals are excellent stones for those who work in or around water, such as physical therapists who employ hydrotherapy. White Precious Opals and Fire Opals inspire all who write, dance, play music or sing, or who teach or organize creative or performing arts.
Owyhee Blue Opals expand energies for channels, mediums, psychics and teachers who communicate higher guidance through speech and sound.
Black Precious Opals support hypnotherapists, past-life regression counselours, shamans and others who access the deepest realms of the self and mind in order to heal.
Opal healing therapies
Opal physical healing energy
Opal stones are beneficial to disperse infections, purify the blood and kidneys, and to regulate insulin production. It's strongly associated with the health of the eyes, hair, nails and skin, and may also be useful in overcoming dehydration or alleviating water retention.
Opal stones emotional healing energy
Opal stones are also dedicated to healing and strengthening the emotional body. Their high internal energy brings thoughts and feelings to the surface for examination, and reveals what one's emotional state has been in the past, or even in previous lives.
These stones facilitates the letting go of negative behaviours and soothes the emotional body, helping one feel more in control.
Opal chakra healing
Opals' dominant colour energies may be utilized to stimulate corresponding chakras. The brilliant play of colour in many Opals are useful for activating several chakras and linking them to the Crown Chakra, infusing the aura with full spectrum light for healing.
Meditation and Opal
As we said before, Opal stones promote a calm and centered mind for prayer and meditation, allowing one to connect with the Earth and to experience the elemental joy of the natural world.
Opal mystical powers
Opal stones amplifies traits, whether those traits are good or bad. They are brought to the surface for transformation.
Among the mystical powers of these precious stones is the understanding that you can achieve your full potential. Because these stones are absorbent and reflective, they encourage people to pick up thoughts and feelings, amplify them, and return them to their source.
For this reason, the Opal stones are considered karmic stones, since they teach that what you put out comes back to you.
---
You may also like:
---