Full Moon in 2023: love, sensitivity, and lots of energy
---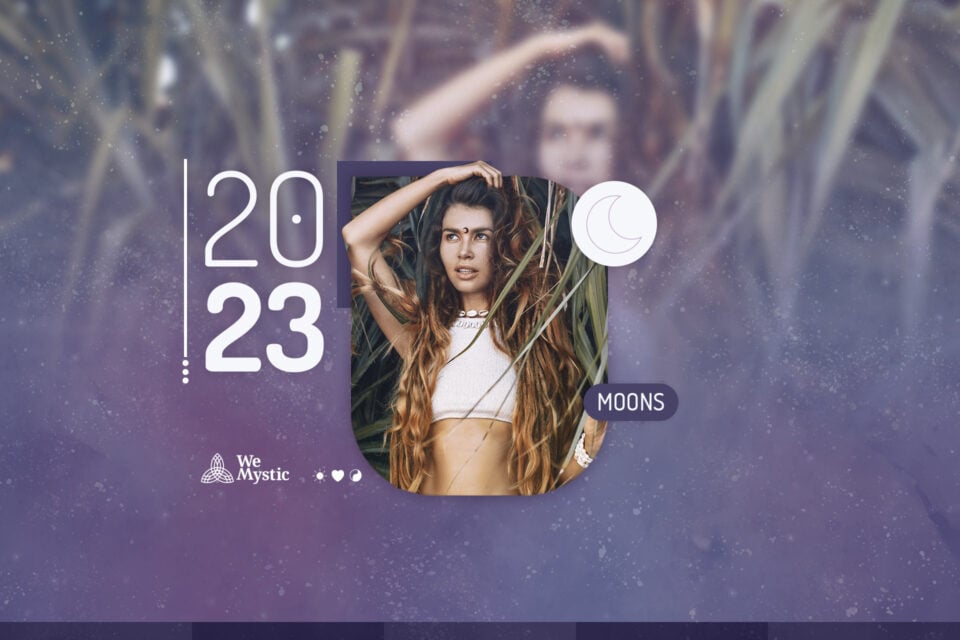 Washington TimeZone | USA (GMT -4)
Undoubtedly one of the most passionate and awaited phases, the Full Moon in 2023 is a time to let your emotions take over. This can be a turbulent period, since people tend to act more from the heart; but with focus and balance, it is possible to have reason and emotion holding hands and making this period something incredible!
Check out below what are the general characteristics of this lunar phase and what you can expect from it during the year 2023.
Receive all our tips by email!
Love Astrology? Subscribe Now and Receive Exclusive Content!
Full Moon in 2023: cycles and concepts
The third and most expected lunar phase, the Full Moon in 2022 will be the period of overflow, where power and cosmic energy are at their peak. For these and other reasons, it is very important that you have worked your maximum during the Crescent Moon, because from here on no project should move forward.
During this cycle you are very likely to feel more emotional, and external influences will hit you more easily. Goals and projects established at the New Moon may find themselves completed here, or simply appear to be resolved.
You find it more difficult to keep your balance, as emotions are heightened. This instability can be tested on different levels, as the realizations of this lunar phase can be both for the better and for the worse.
All your actions, plans, and thoughts orchestrated during the previous lunar phases must be "judged" now, and the result will come through your previous performance. The possibilities vary between brightness and achievements, or the emergence of conflicts and frustrations.
Full and beautiful, the Full Moon in 2023 will cause people to become a little more accepting of others. It's also not unusual to see some people more connected with their subconscious; abilities such as clairvoyance can be optimized here. Also, if you (or someone) has done or told something that can't be discovered – whether that's correct or not – the Full Moon is the time when all is revealed, so watch out!
Rituals, spells, and charms usually work best during this phase. Try to make use of this lunar phase to work better at channeling your energies. Take care that mood instability does not hinder your plans, much less your interpersonal relationships – which can suffer from anxiety, obsession, or aggressiveness.
Emotions to the surface, and cosmic energy at its peak. Check below the dates when the Full Moon will occur in 2023, and prepare yourself.
January 06th / February 05th / March 07th / April 06th / May 05th / June 03rd / July 03rd / August 01st / August 31th / September 29th / October 28th / November 27th / December 27th.

98.1% (1312)
Full Moon and the career
Although wonderful, the Full Moon in 2023 has a tendency to make people more sensitive and vulnerable, which can be reflected in professional life. With more difficulty in controlling emotions, problems such as lack of attention and dedication to work can arise.
Don't let your heart be the guide in important decisions, such as resigning or dealing with delicate issues – like salary increases or problems within the company. Put off confrontations and fights.
Despite the caution, being more sensitive and emotional should help with teamwork. Avoid working alone. The company of colleagues or even family members should make everything more fulfilling. Listen to what others have to say. Take others' opinions into consideration and you will see that your ability to captivate people will come to the fore.
If you work in sales or something that puts you constantly in contact with the public, you will find it easier to close deals and prosper. Trade activities are on the rise during this phase. Especially after the third day of this lunar phase, you will find it easier to advertise your business, study, understand and discern. There will be a very favorable intelligence-driven energy for planning.
But take it easy! Being more emotional, you will also be more tempted to spend money on impulse, on things you don't need. During the Full Moon, avoid taking out loans, taking on installments, or making new debts.
Your health under the Full Moon
The Full Moon affects our behavior as if it were a kind of "madness". Its brightness also contributes to a reduction in the production of melatonin, the sleep hormone, causing insomnia, mood swings, and other physical symptoms.
Faced with this roller coaster of emotions, experts say that emergency calls increase by about 3% during this lunar phase. Be careful with anxiety and stress, as it can trigger other problems like eating disorders and muscle pain.
Complaints such as headaches and tingling are also more common, without this signaling major problems. Cardiac activity also becomes more accelerated during the Full Moon, so take it easy on the gym and aerobic exercises.
Men and women who are undergoing infertility treatments may have better results during the Full Moon, considered the most fertile phase of the cycle. If you do not want to get pregnant, take extra care.
Body, beauty, and the Full Moon
In a period of so much emotion and sensitivity, it is not surprising that the need to be well with yourself becomes a priority. It is time to work on what has been causing you dissatisfaction.
Do you want to get into those pants that have been stored for so long? Then use the Full Moon to enroll in a gym, and change some eating habits. Investing in skin and hair treatments with creams and formulas are also recommended during this phase. The options are countless, and the results promise to inspire greater self-confidence and self-esteem for the next phases.
Be careful, however, with radical changes. Although it is a phase that encourages care and positive changes, the Full Moon is not the best time to go for invasive treatments or to abuse this freedom in your looks.
Full Moon and love
Not by chance many spells and rituals require the Full Moon to achieve the expected results. In fact, during this incredible phase we have the opportunity to see what is usually hidden; emotions come to the surface, providing the chance to be healed and resolved.
You may take on a more introspective, reflective behavior in order to identify what is really good and right for your life. There is a battle between polarities in the air, and you need to find the point of balance amidst the whirlwind of feelings.
People that you have been estranged from can come back together again. Even that great love from the past can resurface. If you are engaged, be careful because the heightened sensitivity of the period can make you more susceptible to "jumping the fence" (and so can your partner).
Known as the Lovers' Moon, the Full Moon provides libido highs, as well as a period of great fertility for women. Symbolizing female maturity, during this Moon we have the representation of love and motherhood, and it is an excellent time for those who want to get pregnant.
Couples enjoy great moments of harmony and bonding during this period, but any instability can end up causing you to project your anger, irritation, or frustrations onto your partner. Be careful with your words and avoid arguments during the Full Moon. Once you get involved in a fight during this lunar phase, it is likely to extend longer than imagined.
Moon Calendar 2023: Full Moon
Below, check out the complete lunar calendar with all appearances of the Full Moon in 2023, also containing the times when it will actually be in the sky.
| Moon Phase | Date | Hour |
| --- | --- | --- |
| Full Moon 🌕 | January 06th | 6:09 PM |
| Full Moon 🌕 | February 05th | 1:28 PM |
| Full Moon 🌕 | March 07th | 7:40 AM |
| Full Moon 🌕 | April 06th | 0:34 AM |
| Full Moon 🌕 | May 05th | 1:36 PM |
| Full Moon 🌕 | June 03rd | 11:43 PM |
| Full Moon 🌕 | July 03rd | 7:40 AM |
| Full Moon 🌕 | August 01st | 2:31 PM |
| Full Moon 🌕 | August 30th | 9:37 PM |
| Full Moon 🌕 | September 29th | 5:57 AM |
| Full Moon 🌕 | October 28th | 4:24 PM |
| Full Moon 🌕 | November 27th | 4:16 AM |
| Full Moon 🌕 | December 26th | 7:33 PM |
You may also like:

98.1% (1312)
---