How to create a healthier home in 8 steps
---
Keeping our home environment clean helps to improve our mental and physical health. Find out some tips to create a healthier home.
Just like us, our home needs a lot of care. After all, it's our haven of refuge. Keeping this space healthy and clean improves our physical and mental health. Natural light, tidiness, soft colors in the decoration, ventilation, temperature and acoustic are some of the factors that help to create a healthier home.
Receive all our tips by email!
Love Astrology? Subscribe Now and Receive Exclusive Content!
8 ways to create a healthier home
---
Open the windows
Renovating the air is very important to create a healthier home. Try to keep the habit of opening the windows when you wake up.
If you can't leave it open too much time, twenty minutes is enough, the time for you to get ready before starting your daily chores.
Healthier home – Let the light in
Having access to natural lighting and exterior views is highly beneficial to our health.
When we have contact with sunlight, our body produces vitamin D and improves the levels of melatonin, increasing our well-being.
Take off your shoes when entering the house
Much of the pollution enters our homes through shoes. Another great strategy for having a healthier home is to have large doormats.
Bring more green to your home
Plants have a great power to purify and improve indoor air quality. In addition to leaving the air cleaner, plants increase our well-being and decrease the level of stress, by bringing us closer to nature.
Use natural/non-toxic materials
A lot of people don't know, but many of the materials we use in our homes can be harmful to our health.
Paints, varnishes, glues, composite wood, emit volatile organic compounds which damage the ozone layer, generating negative impacts on the environment and also on human health. You should give preference to ecological varnishes and paints.
Natural materials such as wood and bamboo, in addition to being non-toxic, also bring us visual comfort, by connecting us to elements of nature (biophilia).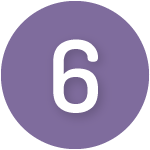 Healthier home – Water care
In addition to the traditional care we should take, such as using a filter for the water we are going to drink, the ideal is also to try to decrease the amount of chlorine in all the water in the house.
A filter can be installed in the water tank itself. For apartments, there are options in the market for filters for showers and taps.
Protect your home against harmful radiation
Equipment quite common today; such as cell phones, TV, computers, microwaves, cell phone antennas, emit radiation that can be harmful to health: the can affect sleep or alter metabolism.
Even with this awareness, we can practically not live without them, so the tip is to avoid electronic devices in the bedrooms, turn off the router at night and whenever it is not being used. It is also worth turning off the cellular data service in the same period.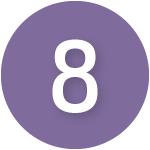 Healthier home – Clear the clutter
Even in the morning rush, try to leave your stuff in the right place. There's nothing more maddening than coming home after a work day and finding everything in a mess.
If you have too many things, choose to place boxes under the bed, avoiding scattered stuff around the house. Get rid of clothes and things you no longer use. This will help you get a healthier home and a clutter free space.
You may also like:
---