One step further to reach the harmony of the whole
---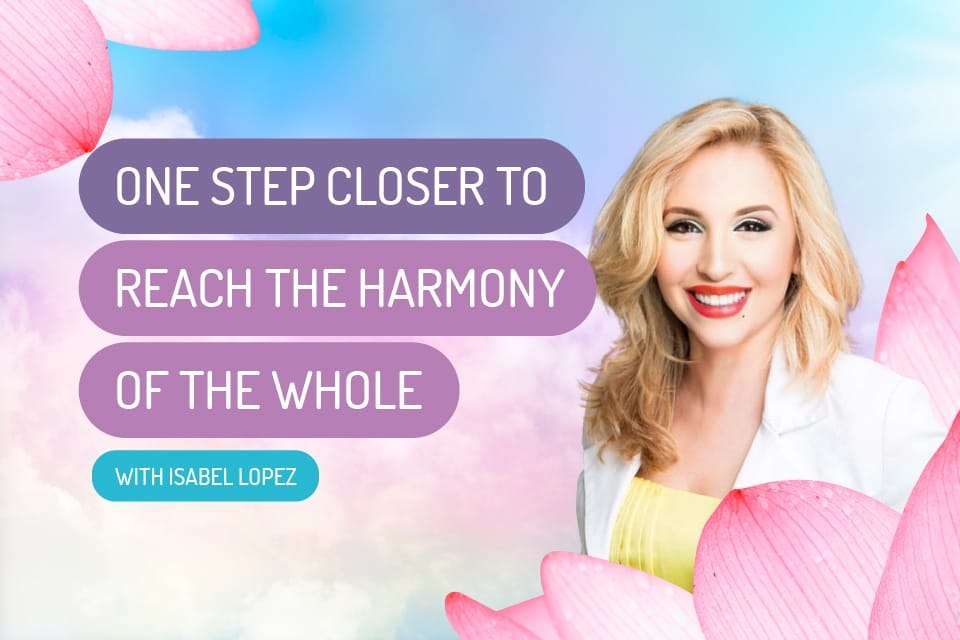 A further step towards the harmony of the Whole is to become aware of the oneness of which we are a part: unity consciousness. In becoming aware we understand the why and wherefore we live what we live. It is important to learn that the situations we experience in our life are an opportunity to grow in our experience of life. By becoming aware we stop thinking and act in coherence instead. Understanding brings us peace, and that balance from deep within contributes to our emotional well-being.
This step consists of being aware of the all-forming thinking consciousness, the objective presence of which we are a part with the universal consciousness, being different consciousnesses that are part of the whole in interconnectedness, with each of us as individuals and with the social and family community of which we are a part, forming the unity consciousness together, the source of all energy. We therefore have different consciousnesses interspersed with each other that form part of the universal consciousness, the thinking info-energy: the individual consciousness, the family consciousness and the collective consciousness as a group.
Remember: "I think therefore I create my reality". We are one with the thinking consciousness and in essence we are all equal, no more and no less than any other human being. We are all responsible for the reality we experience individually and collectively. What we experience is related to what we feel and think. What we see outside is a reflection of our inner vibration.
We are all a manifestation of the same creative source. We live feeling separate from dual consciousness, in a constant dual uncertainty stemming from the fear of the ego. We experience this from the different subjective polarities of existence, instead of seeing the world objectively by observing it from the neutrality and universal balance of the quantum field. We are drops of the sea in the ocean of the Universe forming and being together the origin, eternity.
On this physical plane where we manifest, we appreciate duality although in essence we are all One with the unity consciousness.
---
---
Receive all our tips by email!
Love Astrology? Subscribe Now and Receive Exclusive Content!
Universal Oneness consciousness
Oneness consciousness reminds us that everything is interconnected, that there is no separation and that we are part of the same universal energy and order. Humanity dwells in a belief of separation and we believe ourselves to be separate from the divine consciousness, from other beings, and from our surroundings. Yet we are actually blind, on this earthly plane.
The belief of separation limits us and prevents us from connecting with our essence, with all that we are as transcendental beings. The belief of separation, dual consciousness divides us, keeps us trapped in the ego, in patterns of comparison, of judgement, of complaint, of active and passive aggression. When we believe we are separate from others, from nature and from the situations we live in, we cannot make use of our true personal power.
Unity consciousness helps us to understand that everything in our life is connected. We actually know unconsciously that we are part of a whole, that there is a universal intelligence, a divine order, an energetic pattern, a perfect geometry that sustains existence and that organises the energy, formations and cycles of nature. Let us leave behind the fear of the ego and connect with faith. Have conscious awareness of what we already know unconsciously. Nature is in complete synchronicity. We are all created equal in essence, and live the same spiritual and biological process. We are all equal and at the same time unique. We are perfect in our imperfection.
Our physical body, our emotions, our mind and our spiritual energy are a unity. What we feel and think impacts our biology and our reality. Our life situations manifest our conscious and unconscious realities. What happens in the world is everyone's responsibility, through our actions and even through the way we think. Thinking energy always goes somewhere because energy is neither created nor destroyed, only transformed.
Our collective thoughts create the reality of the world. The relationships we have and the experiences we have are not casual, they are causal, they reflect inner aspects and through them we can take the learnings we need for life. The elements of nature inhabit everyone in the form of energy and vibration. There are no absolute truths, there are only different realities, truths and possibilities about the same reality, the oneness of the Whole.
Unity consciousness helps us to enter into communion with ourselves, it invites us to listen to ourselves, to feel ourselves, to recognise how our thoughts and emotions are related to the reality we experience. Unity consciousness opens us to the connection with nature, to interact with other beings in harmony with love and respect, recognising each living being as valuable for the mere fact of existing.
---
---
Methods to connect with unity consciousness
Connect with the present moment, meditate, practice mindfulness. Experience in present time what you do, what you eat, what you hear and visualise that everything is energy interacting. Stop judging people and situations. Think instead, why is this happening to me? What can I learn from this earthly experience to become more aware of the reality of my existence?
Stop blaming external situations or people for what is happening to you. Ask yourself instead: How does this have to do with my thoughts and emotions? Question your truths instead from peace. To learn we must first reset.
When we question the way we see reality, we can open ourselves to unity consciousness and take responsibility and thus become empowered. Remember, "I only know that I know nothing" as Socrates once said.
Reflect, what does my reality have to do with my judgements? Connect instead with abundance, with nature. Imagine that everything natural you come into contact with is there for you as a gift from the universe. If you can imagine and feel it, it is because this information is already in you within your being.
Make unity consciousness a way of life, listen to yourself and look at other human beings with compassion and respect, honour nature and all the forms in which it manifests. Remember that we all come from the same creative source, the one thinking consciousness, the unity consciousness.
Individual self-awareness
To reach unity consciousness it is important to connect with your emotions. Your emotions are information that you must decipher in order to transcend that information and evolve with the universe. There are several ways to become more aware of emotions. Being able to understand our emotions helps us to relate to other people, to know what we want. Even negative emotions can help us understand our environment, other people and ourselves.
To be more in touch with your emotions you can : observe and name your emotions, analyse them. Writing down your feelings in a journal helps to build your emotional awareness. You can also express your emotions in a creative way, which is the same as therapeutic writing.
The more aware you are of your emotions, the more you can know yourself and understand the people around you, your world. Emotional awareness is the ability to perceive one's own emotions, i.e. self-awareness of feelings. The channelling of emotions is a fundamental part of personal growth and awareness. Emotions are a tool that makes it easier for us to respond to our environment, which is why it is so important to be trained in the field of personal development. Knowing where your emotions come from and what they want to transmit is the key to responding appropriately to your environment, making better decisions and creating your best potential.
Emotional awareness involves three fundamental pillars:
Self-awareness. Self-awareness is the ability to be introspective, to know oneself and identify one's emotional state. Each emotion has a different function, so distinguishing one emotion from another will help us to make the right decisions in response to our environment.
Self-regulation. Self-regulation is the ability to channel one's emotions. Once we detect our feelings, they must be managed correctly.
Self-motivation. Self-motivation is the ability to motivate oneself. When you put all your efforts into achieving something, without external reinforcement, you are using self-motivation. To develop this ability we must learn to set short, medium and long term goals as well as to be in touch with our essence.
Self-awareness is fundamental to respond appropriately to environmental stimuli. Being self-aware implies realising who you are, how you relate to your environment and why you do what you do, allowing you to accept yourself and everything around you.
---
---
Collective and family awareness
Have you noticed that you repeat patterns in relationships, at work or in any other area and you don't know why? You are not alone.
To become aware is to understand the whys and wherefores of our existence. We have been trapped in situations that we feel we have experienced before and yet we repeat them without realising or being able to stop our behavioural, emotional and mental patterns. The situations we experience are directly related to our trans-generational family, the collective consciousness we are part of as a group. We process family and collective information, and relive it as an individual or as a group until we transcend it. This is a transformative process and takes time. Remember "what you resist, persist", according to Carl Gustav Jung. Untranscended information repeats itself until we integrate it and this can be the cause of much suffering, the resistance to learning to integrate our realities.
To become aware is to bring to light that information that is inside our being and to understand that we are repeating unconscious inherited family or social patterns, and even collective patterns of the community to which we belong. This is called becoming aware at the family or collective level as a group. The solution is found when we understand, integrate, stop positioning ourselves, forgive, and free ourselves from victimhood to reach emotional maturity.
The next step to find harmony with the whole is to understand, to become aware that we are one with the whole and that all our different spheres, both individual, family and collective, are interrelated.
Understanding and becoming aware of your being on a holistic level is the greatest pillar of your emotional balance and well-being.
---
You may also like:
---