Holistic living: The first steps
---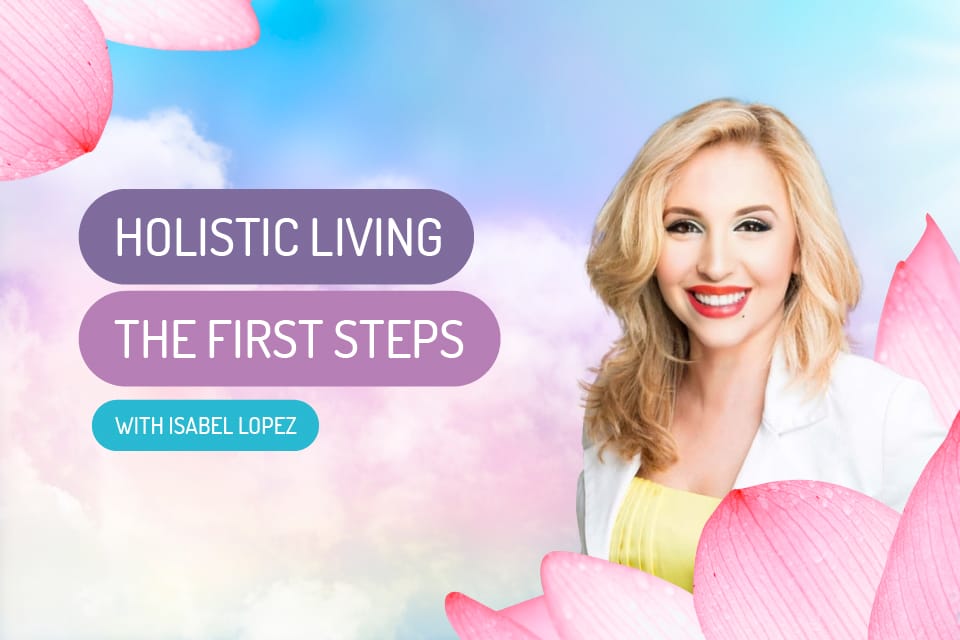 In search of balance between the parts.
The most important thing to start a holistic life is to perceive life as a "whole". Always in search of balance and by universal law, there are interdependencies between the parts and constant interactions, which form a balance of the whole emotionally, spiritually and mentally in order to achieve peace and holistic well-being.
Holistic living entails the conception of each reality as a whole different from the sum of its component parts. It is a philosophy of life which leads to unity and which is becoming more and more open in our society as more and more people are becoming aware of it.
There are elements of spirituality and holism, but it is important to start working with our physical being, because we are essentially spiritual beings, but here and now we are living an earthly, physical experience.
It is also important to apply the more positive practical side to include in our daily lives. The holistic approach to body, mind and soul can, in itself, transform our overall health and well-being, as well as benefit our relationships, and make us feel good about ourselves by generating more positive attitudes in harmony with life.
The first steps towards holistic living associated with daily living with behaviours consistent with its philosophy can greatly enhance it towards greater balance and peace. In fact there is a strong scientific basis and correlation in all these steps and arguments that corroborate their efficacy in our overall well-being.
The steps for a holistic life jointly address three spheres of our existence: our body, mind and soul or spirit.
Receive all our tips by email!
Love Astrology? Subscribe Now and Receive Exclusive Content!
Body
Taking care of the physical
Eating clean and in a balanced way
Listen to your body, understand which foods are suitable for your body and which are not. Our body is the vehicle through which we achieve wellness, our body is the temple of our spirit.
A balanced diet with more vegetables, fruits, and less processed foods is a good basis for eating as a general rule. You can incorporate nutrients that you would not normally consume such as probiotics or superfoods.
It is also important to give your body a break from time to time to avoid stressing your body with too many self-demands and perfectionism.
It is also very important to detox our body, to wash out toxins. Foods such as green tea and plenty of water will help us to feel better. Remember, our body must be respected, your body tells you how you really feel.
Recycle energy
Respect mother earth. We must think beyond ourselves, making an effort to take care of the planet we live on helps us to achieve a holistic life to the fullest. In addition to making an effort to recycle more and consume less, why not try to be more coherent and share our wisdom and cooperation with our fellow human beings? Remember the law of the Universe, "do not think of doing to your neighbour what you would not want your neighbour to think of doing to you". Use the law of reciprocity, it is universal.

98.1% (1312)
Mind
Stress, the Right Thing
For the vast majority of people, our mind tends to be in constant turmoil which causes emotional and mental imbalance. It is important to take time to do things that we enjoy in our daily lives, for and by ourselves.
Here it is best to find peace, balance with the dreaded stress. There is a positive stress that moves and motivates us. On the other hand, if it is unbalanced and more than we can handle, it has the opposite effect to what we want and is negative for our organism. The important thing is to listen to our mind from the peace and acceptance of the present moment, without judging our possible negative thoughts, and to flow with the Universe.
Connect with your world
Human beings tend by nature to want to surround themselves with peers who are on the same vibrational frequency level. Surround yourself as much as possible with like-minded people to carry out your life project. Connecting with people makes us feel loved, understood and accepted. Each encounter is a reflection of ourselves in order to grow and learn as a person. As it is on the inside, so it is on the outside, the law of the mirror and projection.
Socially, the most important thing is to have a balance in the different social spheres, such as your family/partner life, friendships, cultivating true relationships that allow you to develop as a person. Remember that what is important is the quality of relationships, more than the quantity, and that the saying "better alone than in bad company", acquires great validity here.
---
---
Spirit
Personal growth
There is always something new to learn, something you can add to your life. Exercise your mind by reading new books, learning new knowledge even with online personal development courses to connect with abundance and keep in mind that curiosity is actually a great virtue that makes us move forward and develop as a person.
Spiritual practice – Transcendental Therapy
Meditate, reconnect with your essence, practice Mindfullness. There are even apps and videos that can help you in this process.
Just as we take care of our body, it is also basic to dedicate time to our Spirit and Soul, connecting with yourself through meditation and introspection exercises. It is a sign of self-love with yourself that helps you reduce stress, maintain a healthy internal dialogue and make clearer decisions. It is important to take a few minutes of your day to meditate to clear your mind, and to feel a balance between the outside and the inside with universal awareness.
---
---
Conclusion: Become Aware
Alternative Therapies in your daily life
These types of therapies with a more mystical life to be incorporated into our daily life can help us to prevent ailments as well as illnesses in an initial state and improve relaxation processes.
A holistic life helps you to become more aware, to know and listen to your body, to improve your intuition and thus to become aware of presence, of your objective reality with the universe.
All these changes are usually a slow process, and not all organisms react in the same way, but the results are created in our organism and persist even if they are not noticed at first.
Life is a learning process
When we come to the conclusion that the more we learn the more we still have to learn, "I only know that I know nothing" as the philosopher Socrates once said, then the contact with the essence of creation begins. This continuous learning becomes the motor of our whole existence. Everything happens for a reason.
The holistic lifestyle is to know how to balance our different planes as human beings. We are info-energy in constant movement and transformation, so it is important to live a coherent life in order to transcend the energies that block us.
A holistic approach to your body, mind and spirit transforms health and well-being, but can also bring peace to all the different planes of life as a human being, in synchronicity with the Universe and to all your relationships, starting first with the most important relationship, with yourself.
Living a holistic life helps you to awaken your consciousness, to reconnect with your inner power, and to connect with your essence, with what you truly are, Love.
---
You may also like:

98.1% (1312)
---