Numerology 2024: the year of the 8
---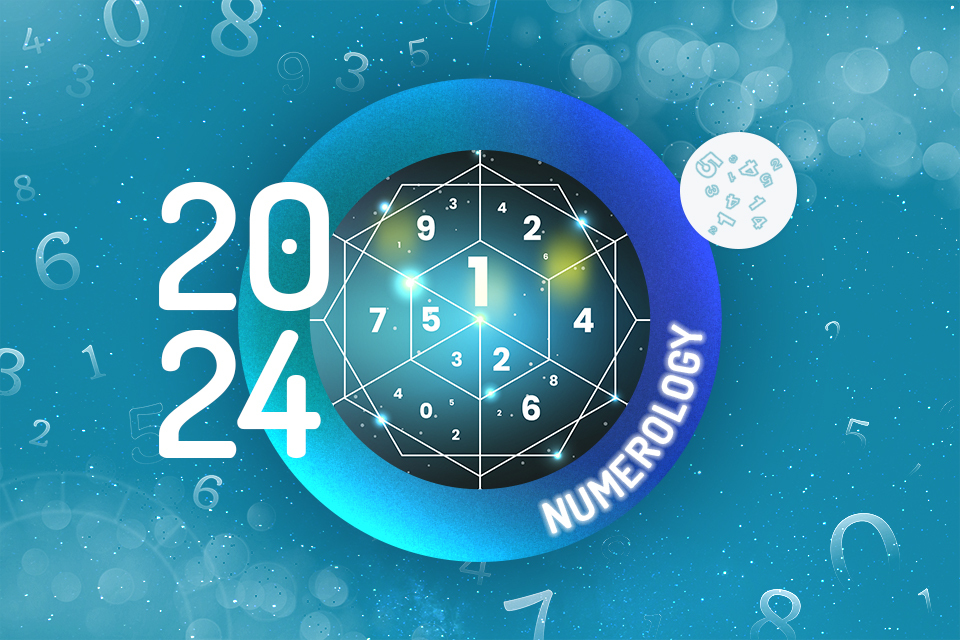 The year 2024 is approaching with a promise of change and growth, bringing with it the influence of the number 8 in numerology, since 2+0+2+4 = 8. Numerologist, tarot reader and astrologer Helena Marques, creator of the self-knowledge portal Dom de Fluir, explains the greatest potential of Numerology 2024 for love, health, work and spirituality.
The number 8 in numerology is synonymous with personal power. It is often associated with prosperity, balance and fulfilment. As we enter this new cycle, it's essential to understand how the energy of the number 8 will shape our journey throughout 2024!
It's time to call on your personal power!
Receive all our tips by email!
Love Astrology? Subscribe Now and Receive Exclusive Content!
What does year 8 in numerology 2024 hold?
The number 8, represented by two intersecting circles, symbolises the link between the material and the spiritual, making 2024 a year of balance. This is a phase in which our actions and decisions will have a direct impact on our lives. Consequently, responsibility and the application of personal power are a central theme of this period.
How can we activate our personal power?
Activating personal power in practice involves recognising and consciously using one's own abilities, resources and inner strengths to achieve one's goals and overcome challenges. It means taking responsible decisions, asserting yourself in pursuit of your goals, maintaining your integrity, building your self-confidence and your ability to set healthy limits.
In essence, activating your personal power means taking control of your own life, directing your energy in a positive way and persevering in the pursuit of success, both personally and professionally. It's the act of empowering yourself, actively influencing the course of your own journey and no longer blaming others for your failures.
Numerology checklist for year 8
#1 Setting clear objectives

Start the year by setting yourself clear and precise goals. Know what you want to achieve in the important areas of your life, such as career, finances, relationships and personal development. Well-defined goals give you direction and purpose.

#2 Take responsibility for your actions

Recognise that you alone are responsible for your choices and actions. Take responsibility for your life and your decisions. This will give you a sense of control over your destiny.

#3 Maintaining integrity

Integrity is fundamental to personal power. Keep your word, be honest with yourself and others and honour your commitments. This will build confidence in your abilities and character.

#4 Developing self-confidence

It's essential to believe in yourself. Work on building your self-confidence by challenging yourself to get out of your comfort zone and overcome obstacles. Remember your past successes to boost your confidence.

#5 Manage your finances wisely

In Year 8, finances can play an important role. Be financially responsible, draw up a budget and be on the lookout for investment opportunities that can contribute to your financial security.

#6 Developing communication skills

Solid communication skills are essential if you are to express your needs, objectives and limits effectively. Learn to communicate with confidence and clarity.

#7 Setting limits

Set healthy limits in your relationships and your professional life. This will help you preserve your personal power and avoid overload or exploitation.

#8 Perseverance and patience

The quest for personal power often requires perseverance and patience. You have to be prepared to overcome obstacles and stay focused on the long term. The results are not always immediate, but the ongoing effort is worth it.

#9 Learning from adversity

Challenges are part of the journey. Instead of letting adversity discourage you, see it as an opportunity for growth. Learn from the obstacles and use them to strengthen your personal power.
Numerology predictions for year 8
In the year 8 in 2024, numerology reveals an energy of balance and manifestation. Discover the revelations that numerology brings to the main areas of your life in 2024
Love and relationships
In love, 2024 promises to be a year of stability and commitment. Relationships will be tested for their solidity and durability, and the love bonds that stand the test will emerge stronger. Singles will feel a deep desire to build meaningful and lasting relationships, and it will be an ideal time to seek out committed partnerships.
Furthermore, given the importance of activating personal power in a Year 8, learn to say no to toxic relationships. Imagine, for example, a couple who want to improve their relationship. They can apply their personal power by openly communicating their needs and expectations, setting clear boundaries to ensure that they both feel respected. In addition, they can show empathy in conflict situations, listening carefully to the other's point of view and seeking mutually beneficial solutions. Integrity is also essential, as mutual trust is based on honesty.
Therefore, by integrating these principles, the couple has the opportunity to strengthen their relationship and promote a healthy environment of support and growth, and if we notice that this quest for improvement in the partnership is not present, we have to say no. Personal power is the key to transforming challenges into opportunities for growth and harmony in relationships.
Work and career
In the professional sphere, 2024 is a time of opportunities for progress. The energy of the number 8 will stimulate ambition and the quest for success. However, responsibility and work ethic will be crucial. This is a time to make thoughtful, strategic decisions that will have a long-term impact on your career. Those who demonstrate dedication and perseverance will reap the rewards of professional fulfilment.
Finance and prosperity
The number 8 is strongly associated with material prosperity. This year promises opportunities to increase wealth and personal finances. However, financial responsibility is also essential. This is the time to manage your finances carefully, invest wisely and plan your financial future with a long-term perspective.
Spirituality and personal development
Spirituality will play an important role in 2024. The number 8 invites introspection and a search for spiritual meaning. Many people will feel called to explore profound questions related to purpose and connection with the universe. Meditation, spiritual study and wellness practices will play an important role in the journey of personal growth.
Health and well-being
Health and well-being deserve special attention in 2024. The energy of the number 8 can be intense and stress can build up. It's essential to take care of your physical and mental health by exercising regularly, eating a balanced diet and managing stress. Taking care of yourself is crucial to maintaining balance throughout the year.
The year 2024, under the influence of the number 8, is an opportunity for growth, fulfilment and prosperity. By demonstrating responsibility, commitment and balance between the material and the spiritual, we can embrace this new cycle and achieve our personal and professional goals. Anchoring the energy of the number 8 in practice takes effort and dedication, but the fruits of this journey are precious. May 2024 be a year of fulfilment and discovery for us all!
Check 2024 Horoscope for all Signs:
You may also like:
---