Numerology of the number nine
---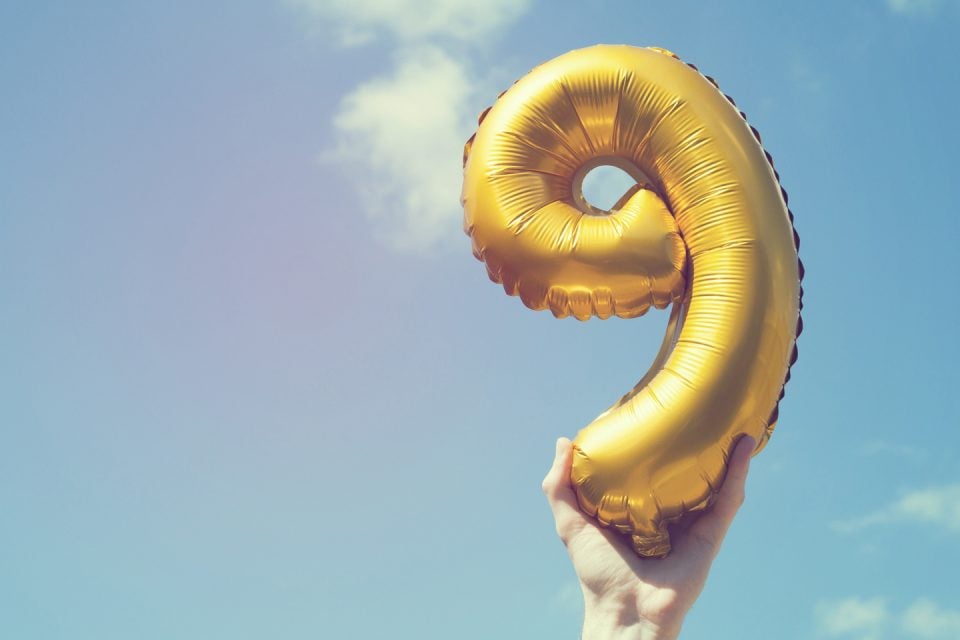 Numerology is the science of studying numbers, but on a level of recognizing the manner in which they influence our lives. It encompasses the reflection of certain aptitudes, while intertwining the understanding that they play a large part in our spiritual journey. Number nine is the most humanitarian of all.
Numerology finds it origin as early as 570 B.C. around the time of Pythagoras, a Greek mathematician and philosopher. But the spiritual significance of numbers was also understood by many other ancient civilizations around that same time. They all knew that the Universe, concept of time, and everything else in existence could be broken down to and analyzed by numbers.
Here we will discuss the powerful vibrational energy of the number nine, the meaning of its shape, and correlations across the astrological zodiac and tarot.
2024 predictions are out
Discover the stars predictions for new year!
The Energetic Frequency of the Number Nine
The number nine possesses the most enlightened energetic vibration of extreme humanitarianism of all of the single-digit cardinal numbers. It represents our soul purpose and mission of service to others, and spreading love and light to make this world a better place than we found it.
It also represents spiritual awakening, Universal Laws, soul enlightenment, self-sacrifice, dharma, and lightworking.
Nine is the last single digit cardinal number, symbolic of achievement and eventually, completion. Completion means building a foundation of which seeds have been planted for the following growth cycle – whether it is within ourselves, or within humanity as a whole.
Number nine emanates an energy of craving universal wisdom, spiritual knowledge, and the liberation of transcending material needs in this physical realm on Earth. Our inspirations and dreams are important, and we must follow them with love-based actions to assist others, without needing much conscious effort. If we live a life based on unconditional love, we will positively influence others, possibly without even noticing.
The most fascinating truth about the number nine is the unique mathematical traits it possesses; there is no number that holds the energetic vibration to remain as constant as number nine does. If you multiply any number by 9, it reduces back to 9. Add any number to a 9, and the final number will always reduce back to the original number.
For example:
9 x 3 = 27 → 27 is reduced to 2 + 7, which equals 9.
9 x 33 = 297 → 297 is reduced to 2 + 9 + 7, or 18. → 18 is reduced to 1 + 8, which equals 9.
6+9 = 15 → 15 is reduced to 1 + 5, or 6.
55 + 9 = 64 → 64 is reduced to 6+4, or 10/1 → 55 is reduced to 5 + 5, or 10/1.
No matter how you try it, this universal truth shapes the science of Numerology as we know it.
Visual Interpretation of the Number Nine
The shape of the 9 is visually the opposite of the 6 – the figure 6 flipped upside down. As we learned in our article about number six, six is symbolic of maternal, nurturing, and compassionate love.
The number nine carries a similar feminine vibration, but also adds an energy that reflects compassion on a larger scale to humanity. Think of it as representing a reservoir of selflessness and giving to others, the 9 being a spout facing downward and out that never empties.
Zodiac Relationships to the Number Nine
The 9th sign of the astrological zodiac is Sagittarius, represented by the Centaur Archer. Sagittarius learns through travel, cultural exposure, experience, and intuition – this learning is more of a soul purpose than a goal formed by the ego.
Sagittarius' independent nature makes it impossible to be held in one spot, and though this may seem reckless at times, it simply represents being bored with anything not holding a passion, and indicate a mission of higher calling.
The essence of the centaur encompasses an energy representative of half animal and half human. This metaphor reflects the capability to balance a connection between the physical (animal instincts + subconscious ego), and the mental (human capacity to look within the superconscious + spirit). It expresses an internal desire and need to increase positive vibrational frequency, raising consciousness and awareness to learn independently (while taking leaps of faith to do so).
The essence of the archer is about pulling the arrow back, and shooting it into the unseen and unknown. This metaphor represents an ultimate goal of spiritual truth-seeking, even if it includes shadow work. Ancient wisdom, conspiracies, deep philosophical contemplation, occultism, and sort of esoteric knowledge is what this fire sign embodies.
Enthusiastic, optimistic, and lively beyond words, Sagittarius also has a tendency to be larger than life and brutally honest. This energy is necessary for the number nine energy of the humanitarian, who hopes to change the world.
Tarot Card Associations with the Number Nine
The 9th card of the Major Arcana in the Tarot deck is "The Hermit". Its energy is of introverted soul searching, knowing thyself, and guidance received from the Higher Self while in seclusion.
The illustration of the Hermit card shows a man alone on top a mountain, holding a staff and only a single lantern to light the way. Metaphorically, mountains always represent the strive for and achievement of growth, while a staff reflects a tough and narrow path taken to get there. The lantern symbolizes spiritual light and wisdom obtained.
The Hermit is a "loner," so to speak, but it is not his intention to shut everyone out. But he understands that standing alone in his abilities to reveal truths about the world around him reaps the most benefits. The Hermit represents the epitome of humanitarianism; he has attained a spiritual peak along his path of isolation, and knows it is his destiny to share his wisdom, higher consciousness, and sense of spiritual enlightenment with the world .
The Number Nine reflects completion, spiritual peak and humanitarianism
Number nine expresses an energy of the spiritual teacher; sympathetic tolerance combined with a mission of wisdom attainment and service to others, it is easily the number most reflective of divine will. Even the mathematical phenomena revolved around the Nine emanate an energy of coming full circle, reflecting the powerful cycle of completion.
---
You may also like: 
---