Opal Fire: a stone for courage and strength
---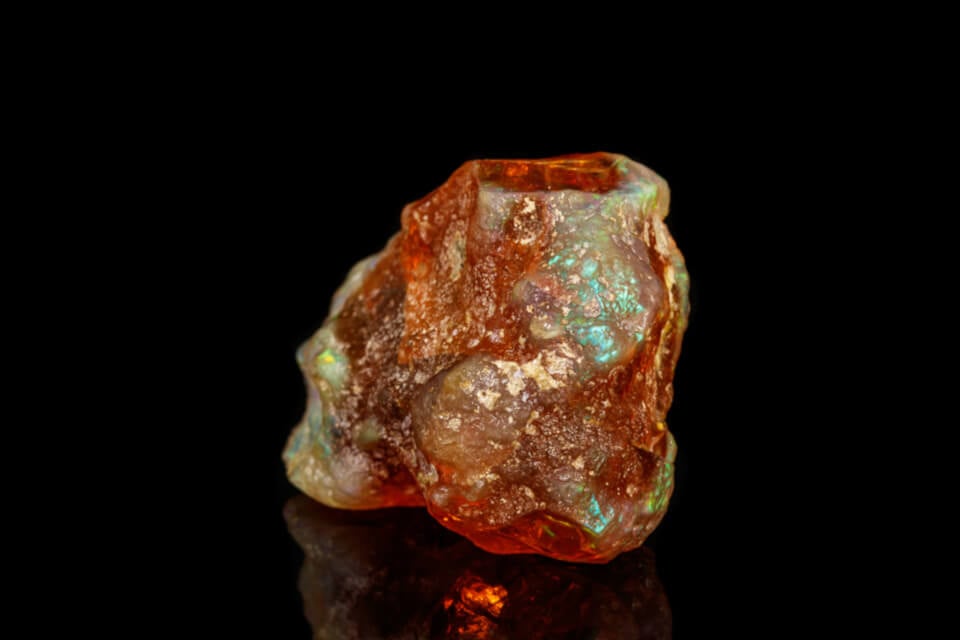 Opal stones are known as a symbol of unconditional love. Their characteristics are beautiful and calm, and for this reason they are said to have been created in the waters of paradise. However, Opal Fire is a different class of opal stones because of its vibrant and unique color. In this article, get to know more about it and its benefits.
Receive all our tips by email!
Love Astrology? Subscribe Now and Receive Exclusive Content!
Opal Fire: know more about it
---
The stone carrying a sunset. This is how we can refer to Opal Fire. Its warm yellow color and its aspects formed from its physical characteristics make it appear that the stone houses a piece of the Universe within itself.
In geology, opals enter the group of minerals. This classification is due to its similarity to minerals but without the presence of crystallinity. That is, the opals do not have a specific geometry or defined three-dimensional pattern. In addition, they also do not have a uniform chemical composition to be considered a specific mineral.
The opals are produced from silica (which is the same material as the beach sand) amorphous hydrate. Yes, an opal can contain up to 20% water in its composition leading, therefore, to its milky appearance.
When it is broken or ruptured, the fracture occurs in the form of splinters. Therefore, this stone was of extreme importance during prehistory in the construction of tools that could cut and drill, such as knives, spears and arrows.
Therapeutic effects of Opal Fire
Let's get to know the therapeutic effects of Opal Fire. It owns a warm and dissipative energy, which promotes general well-being. It is a good stone to eliminate blockages and help feelings flow, in addition to dispersing bad energies and purifying the environment.
Other benefits of this stone can be seen and felt in treatments against stress and eating disorders. Oh, and you can still use this stone to stimulate your creativity.
Opal Fire is associated with the Aries sign because it contains the same aspects of that sign. Strength, courage, endurance and good energy will not be missing if you choose to have such a stone.
How to use Opal Fire
You can use Opal Fire in two ways, for personal or environmental use. If you opt for personal use, the consequences will be to purify your aura and increase your personal brilliance. In this case, use the stone in the form of jewelry. It is important that the stone is in contact with your body, so choose rings, necklaces and earrings that allow this contact.
If your intention is to energize some environment with the strength of Opal Fire, choose a sizeable stone and place it in your living room. The environment will be invigorated and will attract a lot of joy and dynamism.
Before putting the stone into use, it is good to clean all the previous energies that it can carry. To do this, wash your opal fire in running water for a few minutes using sea salt.
Then leave the stone in contact with the Sun light, its greatest source of energy, for at least two hours. When the stone has regained its energy, you can also leave it under the light of the Moon. In this case, your fire opal will have balanced spiritual forces.
---
You may also like:

98.1% (1312)
---