3 powerful prayers for a light-filled new year
---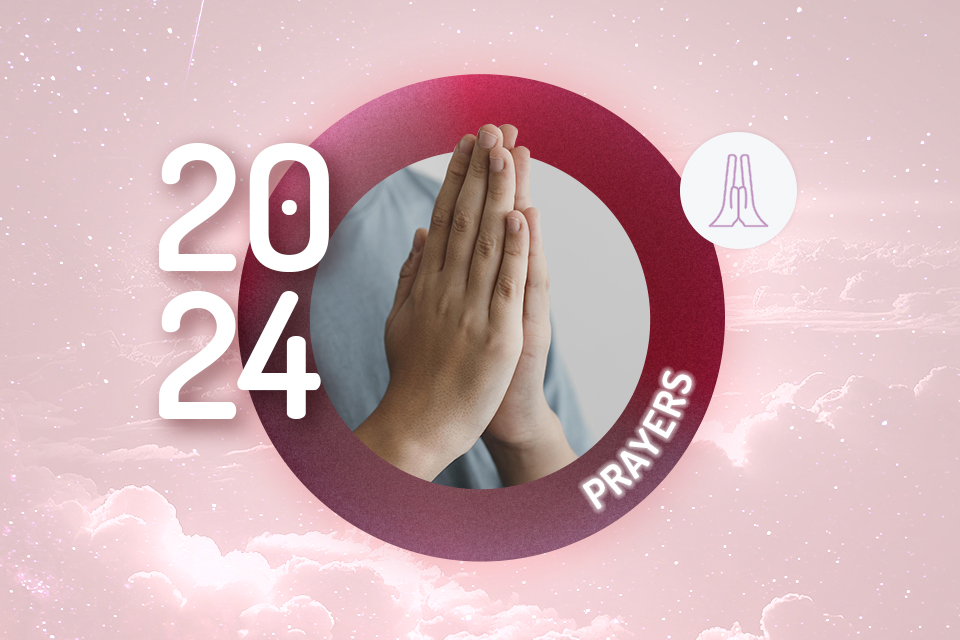 When you think about last year, what has changed in your life? Even if there have been obstacles along the way, who are you today? Despite the festivities, the end of a year is also a time to take stock of everything that has happened or not happened, and to give thanks for life through powerful prayers for 2024.
Now is the time to leave the problems and worries behind, taking from the sadness and suffering only the learning, the strengthening, and the hope for better days.
Receive all our tips by email!
Love Astrology? Subscribe Now and Receive Exclusive Content!
Powerful prayers to ask for a better 2024
With each cycle that ends, it is common to focus only on the unkept promises, the wrong words, and everything that did not work out. But have you ever noticed that you rarely stop to think about how much you have evolved as a human being?
In many cases, the latent desire for better days does not even make room for us to be thankful for the year that ended. However, changing this pattern can provoke incredible reactions on your body, mind, and soul. Give thanks, forgive, ask for forgiveness, trust, and go for it: are you ready for 2024?
Below, we have listed 3 powerful prayers for 2024 to start the year with a clean soul and renewed energy. Remember that you can adapt these prayers or reproduce them in your own words. The important thing is to be true in your feelings and intentions. At the end of each one of them, you can also say an Our Father and a Hail Mary, right?
---
Prayer of gratitude to the Eternal Father
To achieve the much-dreamed-of personal and spiritual evolution, one of the most fundamental lessons is gratitude. Practicing gratitude, especially for the small achievements of life, is an act of humility and a way to motivate oneself to climb higher flights.
"Divine Eternal Father, another year is ending and I have only You to thank for everything I have received from You.
Thank you for life, for your love, for food, for joy, for all the people who are part of my life, for the nights and days and all the accomplishments you have given me this year.

I humbly ask that You grant me a New Year full of peace, love, health, happiness, harmony, and prosperity!
Forgive me for all the bad things I have caused, for the bad things I have said, for the people I have hurt, for the sins I have committed, and for everything that did not please You.

Accompany us each day, steady our steps on the path of goodness. Pour peace and love in our hearts, so that we can build a new world where peace, justice, and fraternity reign!

I ask You, for me, my relatives and friends, peace and joy, health and fortitude, lucidity and wisdom.
Open my paths so that I can conquer everything I have planned, and that I can be with you at all times, because I want you to live in my heart and be the guide of my steps. Amen!"
Prosperity Prayer for 2024
To exercise your faith, all you need is a sincere intention to connect with the divine. This New Year, know a simple prayer that can comfort your heart and attract peace, harmony, and prosperity into your life.
"Lord, at this moment, before you, I set aside the celebration to come closer to your perfection, your unconditional love, the light that illuminates all the things and beings you once created.

I humbly ask you to grant me a New Year full of peace, love, harmony, happiness, and prosperity.
Open my paths so that I can conquer everything I have planned and, more than that, that I can be with you at all times, for I want you to live in my heart and be the guide of my steps. Amen!"
Prayers for 2024 of light and protection to the Guardian Angel
We live in a moment where fear and insecurity are the biggest problems in some people's lives. So how about setting aside a little time on your New Year's Eve and praying to your Guardian Angel, asking for a year with more peace and security? This is one of the most powerful prayers for 2024:
"Holy Guardian Angel, who You have granted me, since the beginning of my life, as my protector and companion, I (speak your full name), in this new year 2024, poor sinner, want to consecrate myself to You today, before my Lord and God, Mary, my heavenly Mother, and all the Angels and Saints.

I want to give You my hand and never again detach it from Yours.
With my hand in Yours, I promise to be always faithful and obedient to my Lord and God and to the Holy Church.
With my hand in Yours, I promise to always confess Mary as my Queen and Mother and to make her life a model of my own.
With my hand in Yours, I promise to confess my Faith in You, my holy protector, and to zealously promote the veneration of the holy Angels, as a special protection and help, particularly in these days of spiritual struggle for the Kingdom of God.

I implore You, holy Angel of the Lord, all the strength of Love, that it may be inflamed, all the vigor of Faith, that it may never again falter.
I beg of You, that Your hand may defend me against the attacks of the enemy.
I beg of You the grace of Our Lady's humility, that I may be preserved from all dangers and, guided by You, reach the heavenly Homeland. Amen!"
See more :
---