Scorpio and Aquarius Compatibility
---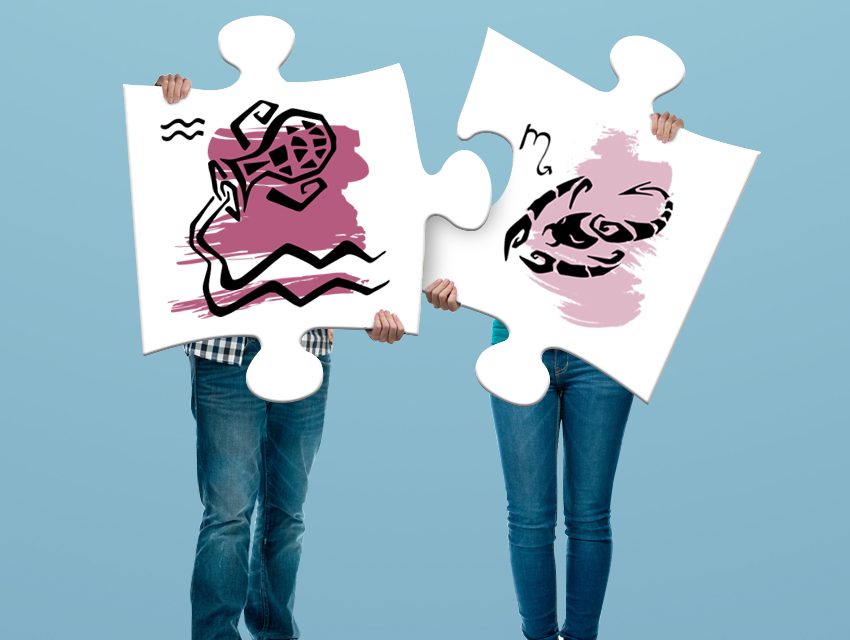 A couple formed by Scorpio and Aquarius has very low levels of compatibility. However, before checking the compatibility, learn a bit more about each of these signs.
Although the Scorpio and Aquarius couple have little compatibility, they can make an effort to be together. If one the partners along their path give in a little to maintain the relationship, they could make it.
Scorpio is a sign that deals with a lot of magnetism and probably his look seduced the friendly Aquarius. The combination of both natures could be an interesting force. Aquarius is a sign of the element Air, and Scorpio is ruled by the Water element.
2024 predictions are out
Discover the stars predictions for new year!
Scorpio and Aquarius: how will the relationship work?
---
The relationship between Scorpio and Aquarius might face some problems. Scorpio is a very possessive sign and will not allow the Aquarius partner to remain an independent soul. Although both elements are fixed and could have a long and stormy relationship, their personalities might make it difficult.
Scorpio has a difficult personality and will not share the affection of Aquarius with his long list of friends. Understanding this will be the basis for maintaining this couple's relationship if they really want to be together.
Although the level of compatibility is low, Scorpio could make an effort and manage his passion. Aquarius could understand his partner and his excessive desire to formalize their relationship, but will not give in to his attempt to have him away from his inseparable friends.
How do they communicate?
Scorpio has a very strong and dominant character. This contrasts with the friendly and communicative personality of Aquarius. The communication between the two natives of Scorpio and Aquarius can be quite interesting.
Scorpio always expresses his personal interests, while Aquarius puts the interests of his community, and even those of humanity above his own.
Scorpio always surrenders to the great causes that move the world, to collaborate with campaigns that appear before his eyes. Scorpio can work on these causes as long as they are accompanied by some mystery and mysticism.
What about sex?
The couple Scorpio and Aquarius have enough strength when they are alone. It means that in what comes to their intimate life, they truly complement each other. This is because Scorpio has high levels of sexuality that makes it quite enjoyable for Aquarius, following it in all their requests in intimacy.
The desires of Aquarius to experience different ways of dealing with sexual pleasures are great, and this makes the nature of Scorpio satisfy him. Both should make an effort to maintain the relationship, although the personality traits are quite different.
---
You may also like:
---