Weekly Horoscope for Aquarius by Christa Westaway
---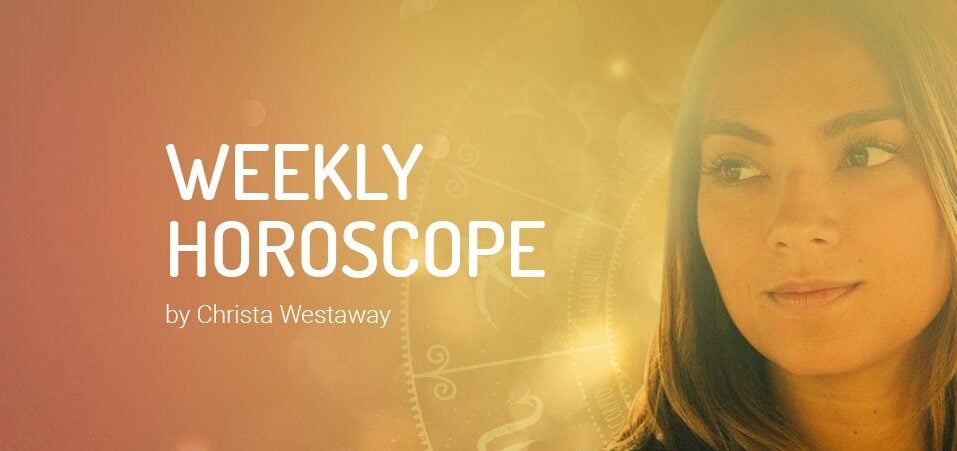 Here, you can find out more about the Weekly Horoscope for Aquarius. Every week, WeMystic will bring you the forecast for Love and Relationships, Health and Money & Career, written by our Guest Astrologer, Christa Westaway.
Weekly Horoscope for Aquarius
---
Weekly Horoscope for aquarius — May 3rd to 9th
This week is all about learning why you're repressing your emotions, Aquarius. With very little effort and a lot of contemplation, you can discover why you've expressed or related to your emotions the way you have throughout your life. This is a good time to connect with family members to learn and talk about how they were taught to deal with the uncertainty of life and their emotional reactions to it.
Through this type of exploration, you'll uncover family patterning that has blocked you from sharing all of your heart and has most likely led to you feeling misunderstood by others. If you choose to connect and heal this week, there's a tremendous amount of positive energy that supports the transformation of how you approach the world and what you allow the world to see in you.
Weekly Horoscope for aquarius — May 10th to 16th
You're charging forward in the area of home and family this week, Aquarius, by making decisions that are guided by intuition and clarity of purpose. If you're considering making a move to a new home space or if you've been thinking about whether you want to start a family, this week gives you the opportunity to focus on the steps to take starting with communication. For others, clarity of mind helps you see the direction you want to take yourself to experience greater love and emotional support. Although you'd like to serve others you love in your life, you're discovering how important it is not to sacrifice your own happiness and sense of security in the process. When communicating your thoughts and plans, let your personality and uniqueness shine. Focus on what's working for you, and let the rest go. You're making your wishes a reality this week.
The Taurus new moon arrives this week, reminding us that with effort comes abundance and supportive relationships, but the work is personal and can't be completed by anyone but ourselves. The new moon cycle lasts for two weeks and is a time that ushers in new beginnings within a particular sign or zodiac energy. The new moon cycle is a great time to set intentions for what you'd like to grow and nurture in your life over the next six months.
Like its symbol, the bull, Taurus energy reminds us to focus on what we want to grow and to not give up until we've manifested it into our lives. For you, Aquarius, the Taurus new moon touches your home life and your family past, giving you the sensitivity and heightened intuition to uncover what needs tending to inside your heart. What is family to you and what would you like to cultivate within your home and family life to feel more secure and bonded? What does home mean to you and where do you feel most at home? What kind of home and family life do you want to manifest?
Weekly Horoscope for aquarius — May 17th to 23rd
This week begins with a boost of positive energy that strengthens your mind and emotional foundation, Aquarius. Insights about the power of your emotions and connection to the past is healing for you and others around you. You're attracting love, play and creativity into your life, and can thrive within mutually respectful relationships. Practice gratitude this week whether it's making lists on paper or in your mind of people, things and experiences you're grateful to have in your life at the moment. There's a tendency with this type of planetary energy to become arrogant and entitled by disregarding the source of your joy. If you're feeling overwhelmed with options or are spoiled for choice, you can be tempted to juggle relationships or opportunities rather than feel secure and involved with what suits you best. Remind yourself that quality is more valuable than quantity.
This week Saturn, the planet of responsibility, consequences and self-control, begins its retrograde journey until early October. All the planets help us evolve by giving us lessons and opportunities to grow and develop aspects of our character and personality. Saturn's role is to show us how to hold ourselves accountable for our choices and to mature in the midst of life's pressure to succeed.
Until October, Saturn will remind you of plans and ideas that you set out to build and complete. Have you been responsible enough with your boundaries? Have you been distracted by what you look like to others? Are you giving away your precious energy rather than saving it for yourself? The Saturn retrograde transit invites you to reflect on the past six months to see where you need to tighten boundaries and focus on yourself.
Weekly Horoscope for aquarius — May 24th to 30th
It's a rollercoaster of a week that begins with insecurities and heightened sensitivity and ends with a good understanding of what you need to feel healthier and more stable and confident, Aquarius. You may be sensitive about your beauty and love interests. Some Aquarians may feel that their love life has gone cold, but consider whether that's because you're unsure how to be soft and vulnerable with people you like. Be open to opportunities to share how you feel and to receive invitations from others who might be interested in you. Don't let petty ideas like the fact that someone likes you based on how you look as opposed to how you make them feel keep you from making a connection.
There's a full moon eclipse in Sagittarius this week, and this sparks big changes and evolutions within each of our lives. Think back to December 2020, and notice the themes you experienced. What was stirring in you? What was happening around you? This upcoming full moon completes something that began for you back in December. The universe gave you an awakening about something in your life that needed changing and healing. The power from the eclipse and the charge of the Sagittarius full moon are here to ensure that those changes are deeply understood, felt and completed.
For you, Aquarius, this week's full moon and eclipse influence your friendships and the groups you feel at home with. While you may feel insecure or unsure about love relationships, you can be sure to feel the power of friendship. Is someone you've been dating meant to be a friend? Or is a friend meant to be a lover? Aquarians are known to make lovers out of friends, so you may be learning to see the line between these two if there is one for you.
Mercury begins its second retrograde transit of 2021 this week, and will stay retrograde until the end of June. While Mercury is retrograde, we'll have the opportunity to slow down our thinking and speaking, to listen and to reflect on decisions we've put into action since February of this year. We can even go as far back as June of 2020 to revisit themes in our lives from the Venus retrograde that may be returning for closure or more insight and healing. During this Mercury retrograde cycle, consider all the facts before proceeding any further. For more details about how Mercury retrograde will affect you personally, be sure to read next week's horoscope.
---