Weekly Horoscope for Sagittarius by Christa Westaway
---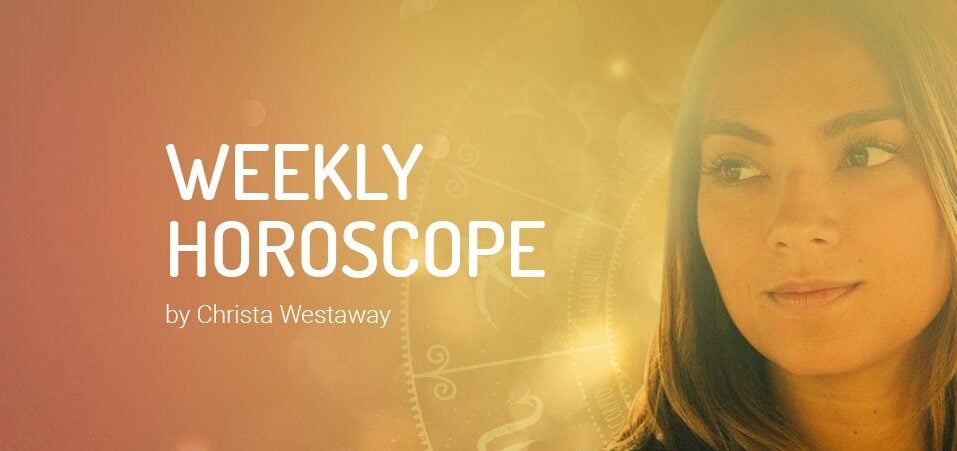 Here, you can find out more about the Weekly Horoscope for Sagittarius. Every week, WeMystic will bring you the forecast for Love and Relationships, Health and Money & Career, written by our Guest Astrologer, Christa Westaway.
Weekly Horoscope for Sagittarius
---
Weekly Horoscope for sagittarius — May 3rd to 9th
The esteem you have for yourself is powerful, Sagittarius, even if you've had painful, humbling experiences that have left you feeling or believing that your value or worth is debatable. The health of your body, mind and heart is directly connected to how well you respect your needs and desires. This week invites you to feel safety and well-being when you care for your body and manage your routines by drawing boundaries that protect you from overworking. You might feel really healthy, strong and positive, which leads you to make social or work commitments.
To avoid feeling taken advantage of, be mindful of the need to fit in or compare yourself to others. What works for someone else may be too much for you and that's ok. Some Sagittarius people can experience this week's energy through having to quickly learn new skills for a work project that you said you already knew how to complete. This is a week to deeply love and accept yourself just as you are and to notice when you have the urge to be or show up as anything other than you.
Weekly Horoscope for sagittarius — May 10th to 16th
Understanding how to remain present for your daily life comes to you this week, Sagittarius. Planetary energy creates opportunities for you to connect with passions and longings that you can channel into your work and health routines. For example, if you're in need of a little tender love and care, you might find yourself in the gym working on your fitness to draw positive attention to you. To harness this week's energy, write or verbalize goals that you'll accomplish. To empower your goals, share them with those closest to you to hold you accountable. Be mindful of the way you feel, as emotions will fuel or diffuse your fire.
The Taurus new moon arrives this week, reminding us that with effort comes abundance and supportive relationships, but the work is personal and can't be completed by anyone but ourselves. The new moon cycle lasts for two weeks and is a time that ushers in new beginnings within a particular sign or zodiac energy. The new moon cycle is a great time to set intentions for what you'd like to grow and nurture in your life over the next six months.
Like its symbol, the bull, Taurus energy reminds us to focus on what we want to grow and to not give up until we've manifested it into our lives. For you, Sagittarius, the Taurus new moon influences your health and work routines. This moon cycle brings your focus to commitments you want to make to maintain a healthy and grounded lifestyle. The choices you make today will affect the reality you create in the coming weeks and months. What boundaries do you need in place to protect your mental and emotional health on a daily basis? What can you do every day to generate inspiration and positivity for mundane routines in your life?
Weekly Horoscope for sagittarius — May 17th to 23rd
You're making money and solidifying committed relationships this week, Sagittarius. Partnerships can be loving and intimate or business-related. You're filled with energy and motivation to create the abundance you know you deserve. If you've been learning a new skill or craft, this week gives you the opportunity to combine or share your knowledge and practice with a partner. It's possible you could feel that you're not only accepted as you are by someone special, but that you are the ideal partner for them. Don't hold yourself back from connecting with others by letting your insecurities create blocks for you. You have a beautiful opportunity to make a commitment from your heart, but first you'll need to find security within yourself.
This week Saturn, the planet of responsibility, consequences and self-control, begins its retrograde journey until early October. All the planets help us evolve by giving us lessons and opportunities to grow and develop aspects of our character and personality. Saturn's role is to show us how to hold ourselves accountable for our choices and to mature in the midst of life's pressure to succeed.
Until October, Saturn guides you to reflect on the ways you communicate and learn. Over the past six months, you've had opportunities to focus on learning something new, and some Sagittarians are discovering new sources for information and different ways to share what they've learned through writing or speaking. Saturn's retrograde transit asks you to make adjustments with the way you're listening and sharing your thoughts with others. Pay attention to the way you talk about others, speak to yourself and your relationship to social media platforms as you're becoming more responsible in these areas of life.
Weekly Horoscope for sagittarius — May 24th to 30th
Do you feel secure enough to make a commitment, Sagittarius? Are you worried that you can't rely on another person if you make a commitment? Whether it's a romantic partnership or a contractual business relationship, this week is all about leaning into commitments by putting your money where your mouth is. If you're hesitant to make a big step in your relationship or to end a commitment, this week supports communicating your thoughts and feelings in order to compromise, gain closure or bring things to a new level. Be mindful that your feelings around partnership could be affected by your past experiences. You may not want to recreate a past pattern, so trust your intuition and decision-making process to feel at ease knowing that you can make commitments that are good for you.
There's a full moon eclipse in Sagittarius this week, and this sparks big changes and evolutions within each of our lives. Think back to December 2020, and notice the themes you experienced. What was stirring in you? What was happening around you? This upcoming full moon completes something that began for you back in December. The universe gave you an awakening about something in your life that needed changing and healing. The power from the eclipse and the charge of the Sagittarius full moon are here to ensure that those changes are deeply understood, felt and completed.
For you, Sagittarius, this week's full moon and eclipse affects your style, influence and presentation to the public. You're known for your confidence, warmth and style. You can be outspoken about your beliefs and you don't follow the mainstream if it doesn't suit you. Not conforming to others' expectations for the way you should look or act has supported your path, and this moon cycle gives you a boost to change anything that feels outdated about the way you present yourself. You may have more boundaries or restrictions set internally with who you choose to spend time and energy with or how you speak and act. Your whole look including your wardrobe can be updated over the next six months as you evolve into the more mature version of yourself.
Mercury begins its second retrograde transit of 2021 this week, and will stay retrograde until the end of June. While Mercury is retrograde, we'll have the opportunity to slow down our thinking and speaking, to listen and to reflect on decisions we've put into action since February of this year. We can even go as far back as June of 2020 to revisit themes in our lives from the Venus retrograde that may be returning for closure or more insight and healing. During this Mercury retrograde cycle, consider all the facts before proceeding any further. For more details about how Mercury retrograde will affect you personally, be sure to read next week's horoscope.
---