Weekly Horoscope for Libra by Christa Westaway
---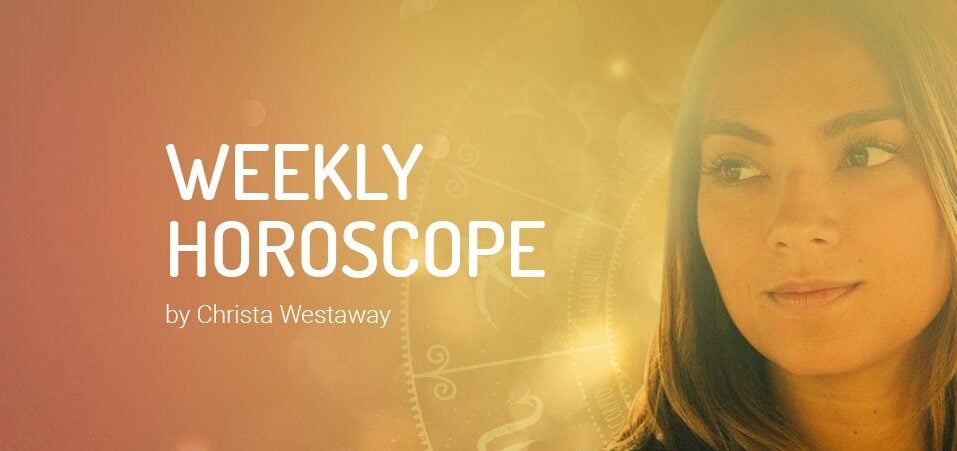 Here, you can find out more about the Weekly Horoscope for Libra. Every week, WeMystic will bring you the forecast for Love and Relationships, Health and Money & Career, written by our Guest Astrologer, Christa Westaway.
Weekly Horoscope for Libra
---
Weekly Horoscope for libra — April 5th to 11th
Relationships are the main focus of your week, Libra. You're considering what types of relationships or partners can go the distance with you and can help create a future of love, romance and happiness. Commitments that don't support your overall wellness or that distract you from focusing on your needs and routines don't carry the energy that you need. You're seeking a deeper connection and commitment from partners, and it's important that you hold tightly to that value this week so that the universe can provide you with what you're asking for. Partnered Libras can benefit from noticing how their relationship is making them feel rather than remaining paired just because they've been committed to it. Are you feeling emotionally supported by your partner? Do you wish for more sensitivity, beauty or sweetness in your relationship? For Libras who are open to the possibility of starting a family, this week supports positive communication, so let your wishes be known.
Weekly Horoscope for libra — April 12th to 18th
Happiness and evolution in committed partnerships is the theme for you this week, Libra, whether you're in one, open to new relationships or just deeply introspective about long-term love. The new moon in Aries brings a reset to your house of committed relationships in the early part of the week and takes you on a journey of discovering family patterns or emotional patterns that have needed healing in order for you to be in better, healthier relationships. This week, your partner or relationships can trigger buried feelings that still need to be healed. On the other hand, the beauty that the planets provide for you is present in your willingness to see the bigger picture, to remain optimistic about love and partnerships and to stand strong in supporting your own happiness and worthiness to be yourself and to honor your life as its own perfect love story.
Weekly Horoscope for libra — April 19th to 24th
You're considering your personal relationships and your intimate relationship to yourself this week, Libra. This is an excellent time to think deeply about your toxic attachments to others and your beliefs around trusting yourself and others. Clarity comes to you when you spend time with yourself and journal for yourself or communicate openly with your partner or potential partners. Some Libras may share their personal experience with others as a way to connect and heal, particularly if you're a writer, life coach, teacher or healer. You might have an attraction to someone new or have an intense connection with a partner this week that surprises you. Partnered Libras should prepare for an unexpected expense having to do with in-laws or partners in case the energy of this week manifests itself that way. On the other hand, you might be given an money you didn't expect to receive. Be open to sharing your thoughts and concerns with others, especially if you're having repeated thoughts that are causing you anxiety.
Weekly Horoscope for libra — April 25th to May 1st
You may feel lonely or disappointed about the romance or lack of it in your life as core desires about intimate and lasting partnership come to the surface this week, Libra. You want to trust and be deeply felt by another person, but aren't thrilled with your options for love. The answer is to love yourself as only you can this week.
The full moon in Scorpio invites you to go within and connect to your self-worth as it needs your love and attention. It's time to take responsibility for giving yourself the validation and appreciation you need rather than relying on others to do it for you. Build trust with yourself by showing up with a mindful presence when you need it. This type of energy can create conflict, but will most likely be an internal one, so you can prepare yourself by staying close to home and using outlets like writing, music, self-care rituals like baths and other types of gentle approaches to heated emotions.
Pluto begins its 6-month retrograde journey this week, and for you, it's an opportunity to recognize an unhealthy attachment to the past or a family pattern that disempowers you from living your life fully. You'll find that giving your power over to family dynamics might look like blaming your family for the way your life is lived, continuing to exist in toxic or unequal relationships, or looking at the past ways that make you a victim. Set yourself free! Pluto asks us to examine the power dynamics we're involved in, and encourages us to end a cycle of victimhood or survival mechanisms that drain us of our power to choose ourselves.
Forgiveness is possible and likely for you, Libra. You want deeper relationships at this juncture in your life, and it begins with finding your power within to love yourself like you've never been loved before.
---