Waning Moon in 2024: reflection, self-knowledge and wisdom
---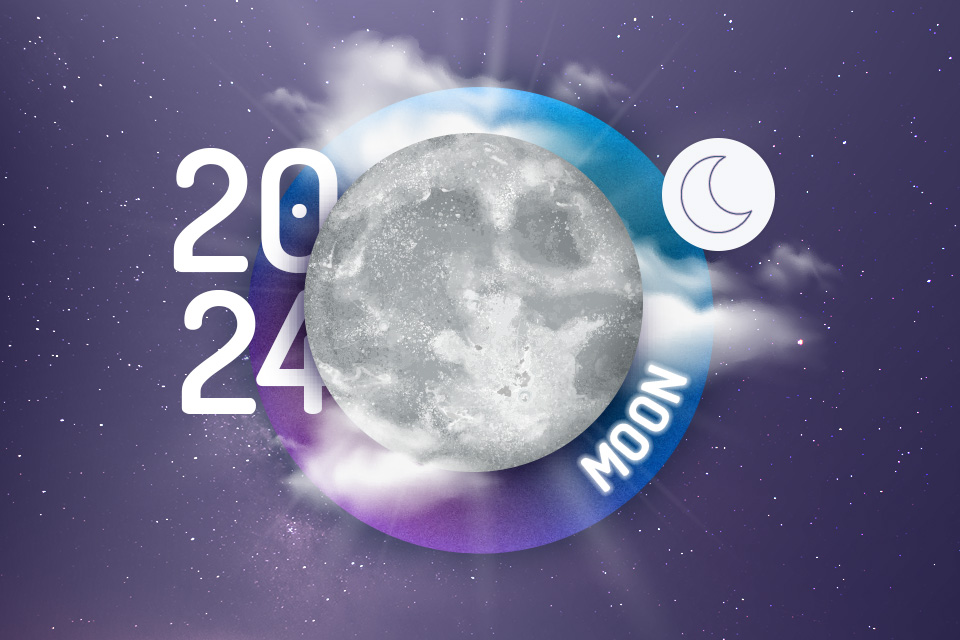 Eastern Time Zone | GMT -5 Standard; GMT -4 Daylihgt
We have reached the final cycle. The Waning Moon in 2024, bringing with it the need for reflection and recollection, has much to teach us while it is present in the sky. It is time to leave behind everything that no longer adds anything, making room for a rebirth.
Check below what are the general characteristics of this lunar phase and what you can expect from it during the year 2024.
Receive all our tips by email!
Love Astrology? Subscribe Now and Receive Exclusive Content!
Waning Moon in 2024: cycles and concepts
As in life, the Moon is also represented by phases.
The New Moon is like a child, full of ideas, willingness, germinating its own personality; when Crescent, it behaves like a stubborn and daring young woman in pursuit of her goals. The Full Moon, in its fullness, bears the comparative of a mother, while overflowing with emotions. Here, either your life goals have been achieved, or you learn to deal with frustrations and move on. Finally, the Waning Moon appears in the form of an elder. You no longer care about some old ideas you used to harbor, nor so much about the opinions of others. During this phase, wisdom and moments of reflection reign supreme. It is common for people to feel more introspective and even depressed – especially women in their pre-menstrual period.
The Waning Moon in 2024 will be a period of great teachings and self-knowledge. You will be invited to reflect on your own life, your achievements, and to make decisions that have been postponed but still remain necessary.
During Waning Moon periods, it is recommended that you focus on finishing processes, whether they are related to work, projects, relationships, or situations. This is a cycle of endings, farewells, and even creative solutions to some past problems.
And don't forget that three days before the New Moon begins, you will have the opportunity to accomplish everything you have been thinking and orchestrating in secret. If you want to do or say something that you don't want anyone else to know about, now is the time!
Through reflection, the Moon will show you what needs to be done. Check below the dates when the Waning Moon will occur in 2024, and prepare yourself.
January 3rd / February 2nd / March 3rd / April 1st / May 1st / May 30th / June 28th / July 27th / August 26th / September 24th / October 24th / November 22nd / December 22nd.
Career
You may even think that nothing happens on the Waning Moon, but that is where you are wrong. This is a very important cycle for revisions, filing, and planning. Take care of details, finalize unfinished projects, and reorganize those that cannot be finished yet.
When you reflect on recent events in your career, which choices have resulted in success? And which ones had the opposite effect? Analyze your lived experiences and document each one. This will clear the way for you to establish a new plan, correcting the mistakes of the past.
The time is also very favorable for terminations, such as the resignation of an employee or your own resignation. Closings of companies and changes of address are positive. But remember: openings only at the New Moon, as well as job interviews or new activities.
In finances, the period is favorable for interest and loan negotiations. Balance sheets of expenses and spending control are strengthened in this phase, because it prevents miscalculations and reveals mistakes that have been going unnoticed.
Anyone who knew how to save, preserve, and invest during the previous phases, will have the chance to multiply their resources now. The Waning Moon is the best phase for wealthy people with a more restrained and economical profile.
Your health under the Waning Moon
A period of reduced energy and less motivation, which does not mean that your health should be neglected. The Waning Moon is a very magnetic period for those who want to get rid of vices and habits that have been compromising their well-being.
Diets aimed at weight loss and detoxification show good results during this lunar phase. Your body will be open to accept this cleansing more easily. Take advantage of this and go to the doctor; have all those routine exams that you have been putting off for a long time.
This cleansing process can also extend to your home, objects, people, and physical illnesses. Rituals for this purpose are very welcome and are enhanced by this energy.
Despite the introspection of the moment, the Waning Moon is a great supplier of sexual energy, preparing the uterus for the moment of conception. Surgeries, treatments, and more invasive exams can also be scheduled for this Moon. The problem has a better chance of being settled, but the healing period and edemas should extend longer.
Body and beauty
Even though the Waning Moon is a time of introspection, beauty and self-esteem can be worked on intensively. More radical changes in your look, like a short haircut or chemical procedures, have excellent results and fill you with energy for the beginning of the next cycle.
If you want to reduce the volume of your hair, or keep it long, you can use scissors during this Moon. Waxing is also recommended, because the Waning Moon has the power to delay hair growth.
Modeling massages, drainages, and weight loss treatments have good effects. Skin cleansings and dental treatments enter the list of aesthetic and maintenance possibilities in this phase.
Waning Moon and love
During the Full Moon you probably made the necessary moves to open paths and attract love into your life. However, the Waning Moon invites us into a period of relaxation, release, and, of course, self-love.
It is time to get rid of that (or the one) that is not doing you any good. Certain people and places may not be the best for us, and this lunar phase can help you in the breakup process. Difficult conversations also tend to be less emotionally intense at this time.
Even though there is an energy of renewal, the Waning Moon embraces breakups and problem solving. So if you still have doubts about a relationship, now will be the ideal time to clear them up.
Now, if you are in an abusive or broken relationship for some reason, you can make use of this lunar energy to put an end to that relationship. Spells to forget an unrequited love also work well here.
Avoid first dates, dating, and especially weddings during this lunar phase. But if the date is already set, try to have a small ceremony, even secretive, and with few guests.
Moon Calendar 2024: Waning Moon
Below, check the complete lunar calendar with all the appearances of the Waning Moon in 2024, also containing the times when it will actually be in the sky.
| | | |
| --- | --- | --- |
| Dat3 | 2024 Moon Phase | Hour |
| January 03 | Last Quarter 🌒 | 10:32 PM |
| February 02 | Last Quarter 🌒 | 06:20 PM |
| March 03 | Last Quarter 🌒 | 10:25 AM |
| April 01 | Last Quarter 🌒 | 11:15 AM |
| May 01 | Last Quarter 🌒 | 07:27 AM |
| May 30 | Last Quarter 🌒 | 01:13 PM |
| June 28 | Last Quarter 🌒 | 5:55 PM |
| July 27 | Last Quarter 🌒 | 10:54 PM |
| August 26 | Last Quarter 🌒 | 05:28 AM |
| September 24 | Last Quarter 🌒 | 02:52 PM |
| October 24 | Last Quarter 🌒 | 04:05 AM |
| November 22 | Last Quarter 🌒 | 08:29 PM |
| December 22 | Last Quarter 🌒 | 5:19 PM |
* Eastern Time Zone.
Prepare Yourself for This Month!
You may also like:
---