Angelite: the most esoteric crystal
---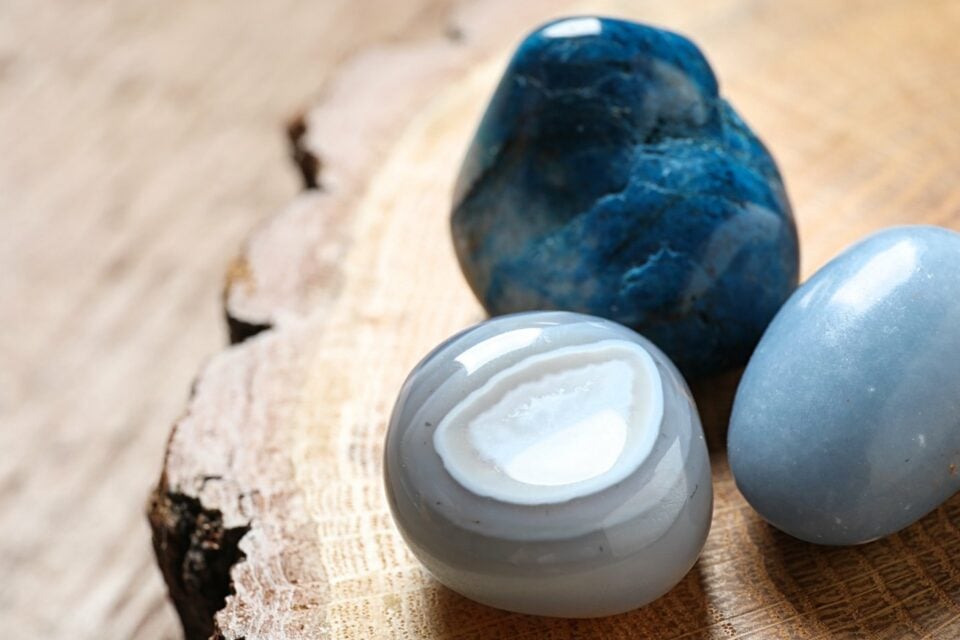 Angelite, although probably in existence for thousands of years, was properly exploited and identified during the 1980s in Peru. Composed of calcium sulphate, there are also records of the stone in countries such as Egypt, Germany, Mexico or Libya.
Opaque in appearance and very light blue in color, it is now considered one of the New Age consciousness stones. Angelite is also believed to have a strong connection with Lemurian civilization.
As its name suggests, Angelite is closely connected to heavenly powers and communication with angels and spirit guides. This aspect allows its bearer to be able to develop greater sensitivity, making it much easier to connect with other planes, past lives, revealing visions and dreams.
2024 predictions are out
Discover the stars predictions for new year!
Angelite: properties and benefits
---
Angelite is one of the leading gems of angelic connection, stimulating one's memory, connection, and spiritual communication to heavenly beings throughout the universe. It is also very useful also to protect the environment against negative energies.
This stone has the power to activate and stimulate the tenth chakra (associated with polarity in the third dimension when male and female energies are in full balance), the frontal, coronary chakra and soothes the laryngeal when hyperactive or misaligned, which ability thoughts of peace, harmony, and brotherhood.
It transforms pain and disorder into wholeness and healing, paving the way for spiritual inspiration.
The stone is very useful for obtaining the guidance of angels and spiritually aligned beings. It also functions as a calming meditation tool, allowing the wearer to open more easily.
Its use also has mental effects such as stimulating memory. Angelite is an excellent speech aid, leading the carrier to communicate in a clear, concise and balanced manner. It calms down and can be an ally when the use of higher diplomacy or cooperation is required.
This is a powerful healing stone as it deepens and elevates the power of perception. It also offers protection for the body and environment in which it finds itself, helping the individual to be more honest, compassionate and to accept situations that we cannot change.
In the physical body it significantly improves thyroid problems and is very useful in weight control, regulating fluids and acting as a diuretic. It can also be used in treatments related to sore throats, infectious diseases and to prevent insect bites.
Angelite's mineral composition is related to the skeletal system, especially regarding the energy support of bone density and growth, as well as problems such as arthritis and osteoporosis.
It energetically helps achieve great mobility and helps to dissolve joint calcification. Angelite also works on the vibrational process, providing increased fracture self-healing and the maintenance of healthy bones in aging.
It is also helpful in regulating appetite and digestive functions – especially when emotional issues play a role in obesity.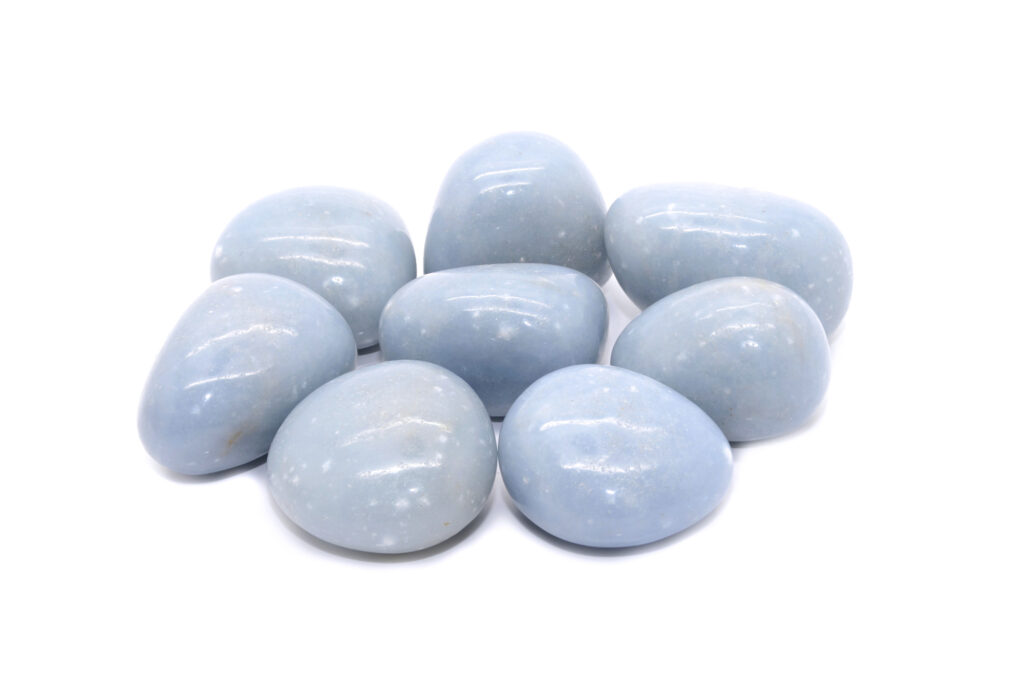 How to clean Angelite
Like most of stones and crystals, Angelite should be cleaned under running water and a little salt. However, you should be extra careful with it, as excessive contact with salt can damage both its texture and brightness and color. Wash it for about 3 minutes and then dry it so that no residue is left.
You can also use methods such as rain bathing, water from a waterfall, rivers, seas or even a storm. When in contact with a natural source you are doing both physical and energetic cleansing.
It is even possible to enhance this energetic and spiritual connectivity by placing Angelita in the sunlight (preferably in the early hours of the morning) for a maximum of 1 hour. Under moonlight you can expose for up to 4 hours.
How to use Angelite
There are various means of use for Angelite. You can, for example, wear an accessory with it, such as a necklace, ring, bracelet or even a keychain. This item will bring balance and spiritual harmony to your daily life.
In the environment, the stone purifies the energies and protects both the place and the people in it. Then bet on a good-sized Angelite to be part of the decoration.
Another option is to meditate with this crystal/stone. When placed on the throat or heart you can get feelings of calm, tranquility and peace. It also protects the environment and body when taken in elixir form.
Angelite is very connected to Scorpio, however can be used throughout the zodiac due to the angelic protection it offers. The stone also connects very well with the energy of Light for its purity.
Its action is mainly related to the throat chakra, but it also covers the frontal and coronary chakras. Of all minerals, Angelite has the power to renew energies and connect them to a greater good, which are angels and archangels.
---
You may also like:
---