Feng Shui Bagua basics: know them and improve your life
---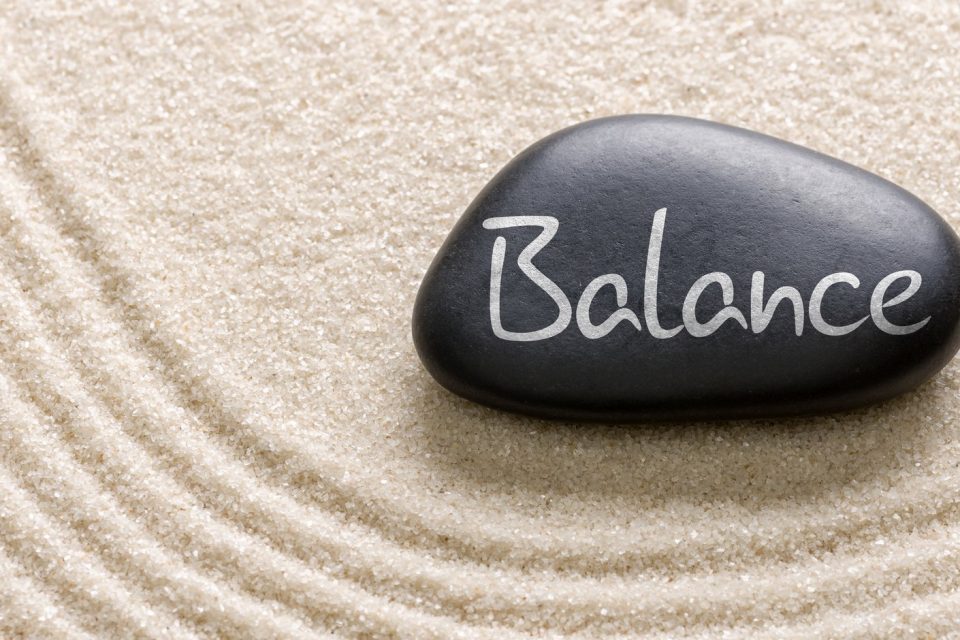 Have you heard about the Bagua map related to Feng Shui? Do you know what it means? In order to successfully apply Feng Shui in your home or office, the first thing to know is which areas you need to work on to improve your energy.
In this sense, Feng Shui Bagua is an energy map used to analyze the Chi energy in any given space. Translated from Chinese, bagua literally means "8 areas."
These specific areas of your home or office (for example) are directly connected to specific areas of your life. This is, the areas that matter the most for your health and happiness. And which areas are those?
Receive all our tips by email!
Love Astrology? Subscribe Now and Receive Exclusive Content!
Bagua: the main areas of this energy map
---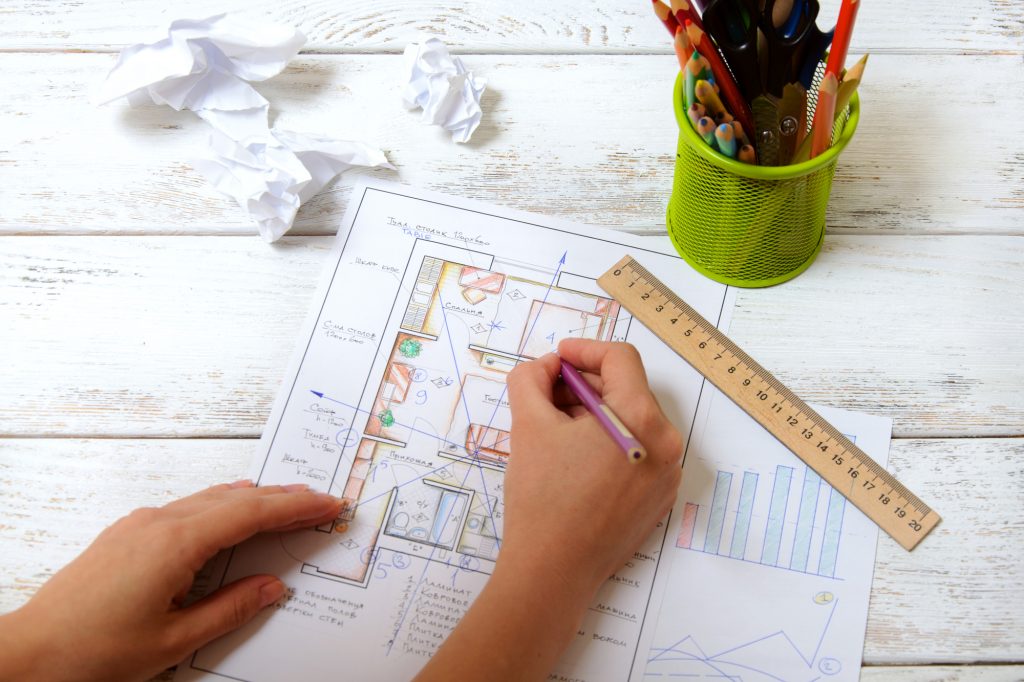 Feng Shui masters defined the most important areas of the Bagua map and they are:
Health & Family (Health & Well-Being + Family and Community);
Wealth & Abundance;
Fame & Reputation;
Love & Marriage;
Creativity & Children;
Friendship and Travel;
Career & Path in Life;
Spiritual Growth & Cultivation.
Basically, when you have defined the Bagua of your home or office, you know the location of your Love area, Career area, and so on. In this sense, Bagua is a tool that allows you to apply specific Feng Shui tips to balance and strengthen these areas (or the ones that need help).
How to understand and apply your Bagua map?
First of all, is important to understand that there are two different ways, or Feng Shui school styles, to define the Bagua of any space. There is the Classical, or Traditional Feng Shui School Bagua, and then there is the BTB, or Western Feng Fhui School Bagua.
Both share some basic principles: the way energy flows, Yin and Yang, the five elements (fire, earth, metal, water, and wood) and the eight trigrams.
The specialists say it is best not to apply both styles at the same time, as this will create a lot of confusion and frustration in trying to define your Bagua. So, it is importante to choose one Bagua style, the one you feel more confortable with, and stick to it in your Feng Shui work.
The Classical Bagua style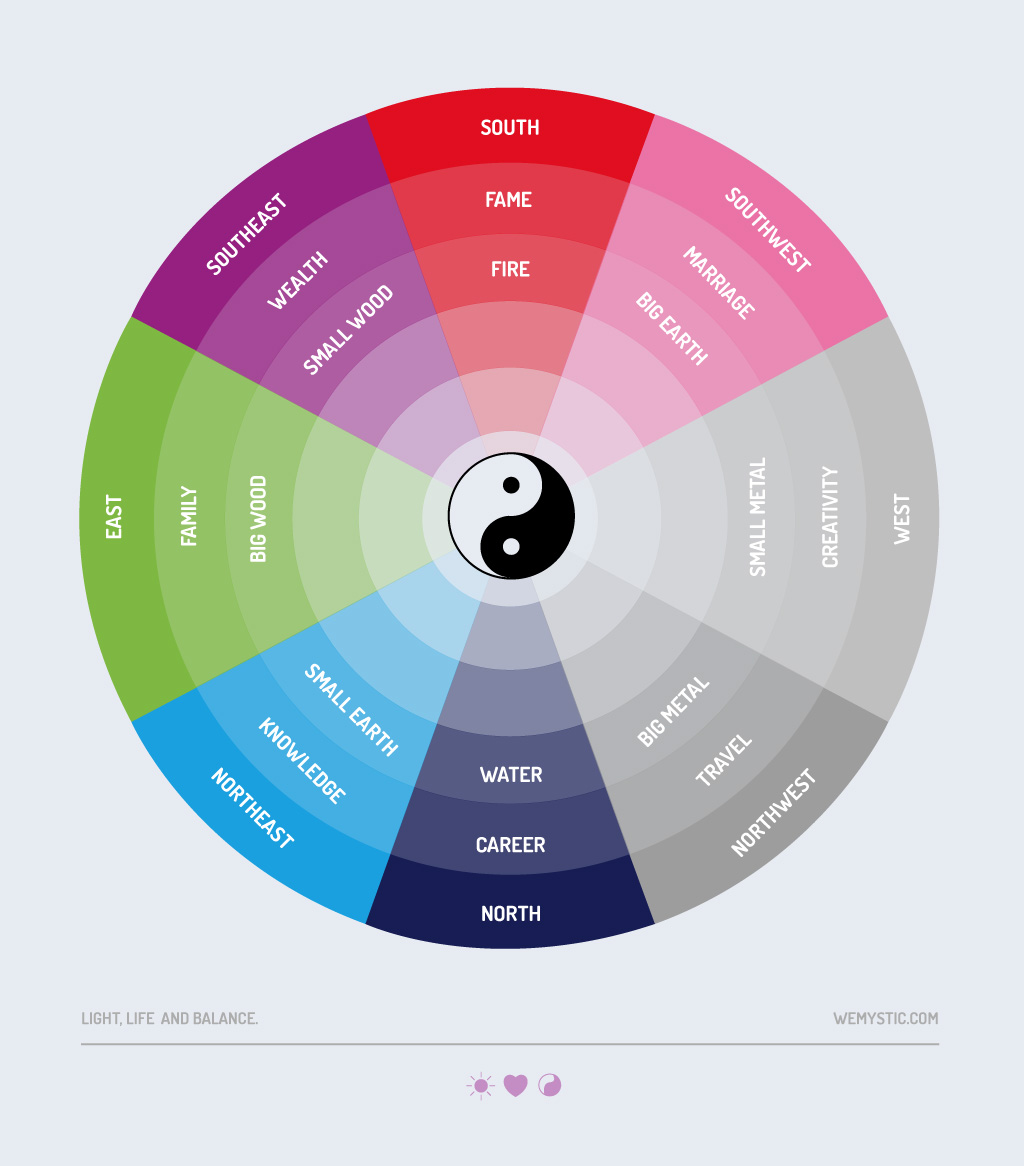 This bagua style is based on the energy of the compass directions, so you need to take an accurate compass reading of your front door in order to correctly define the Bagua map of your home or office.
This map – with nine areas, each corresponding to different aspects of life, symbolized by a trigram – should be applied over the general plan of your house or over one of the compartments, placing the career sector on the wall where the main entrance door (North) is located.
The BTB style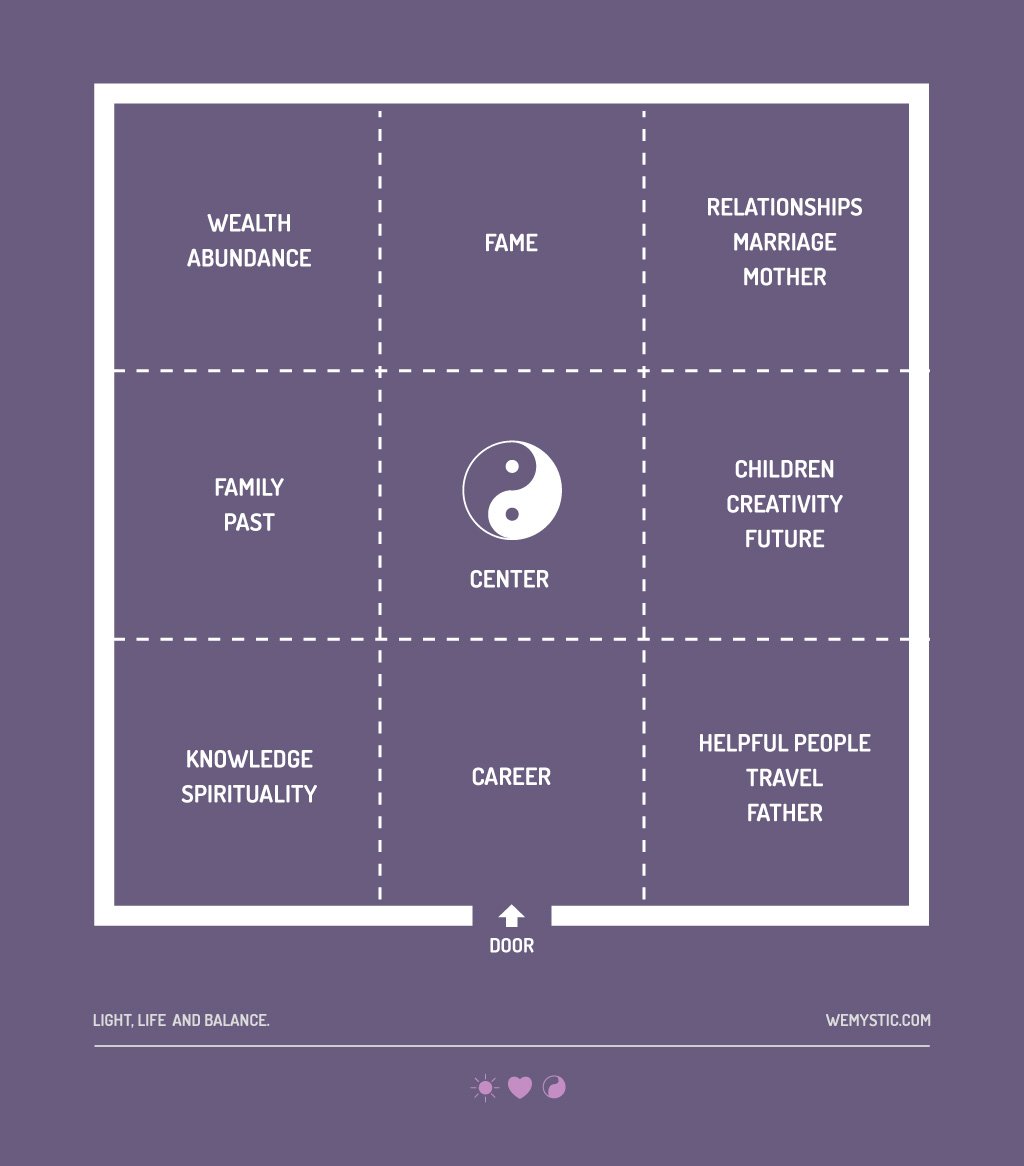 The Western Feng Shui School Bagua consists of the same nine areas as the Classical Feng Shui School Bagua. However, in the BTB, the compass directions are not taken into consideration. Instead, the bagua is defined is by aligning the lower end of the basic bagua map with the wall of the front door of your home or office.
Feng Shui tips for each area
---
Health & Family: the Center area
Bagua center coincides with the center of the house and it's a very special place. This area is related to health, sense of life and family unity. There is no trigram for the Center. Earth is represented by yellow or earth color, such as ocher or brown.
In Bagua terms it is essential to maintain the center of the house empty (free), that is, in a way that people can move without difficulty. Square or rectangular shapes, vessels, stones, are solutions to "bring" earth to this space.
Family and Community Area (East)
It refers to the ancestors – parents, grandparents – and you should put in this space your photographs. Here the trigram is Thunder and the color is green.
In this sector too, clutter and accumulation can cause problems with superiors, parents, authority figures, as well as finding our own place in the family and community.
To improve family relationships, you can add photos of family and friends in wooden frames. Slender rectangular shapes (furniture and objects) in wood and plants are also advisable for this area.
Wealth & Abundance area (Southeast)
It has a powerful influence and should be clean, tidy and well maintained – broken or broken objects, fix or remove them. The trigram is Wind and the color is light blue.
Disorder and accumulation in this area tend to cause financial problems, making prosperity difficult. To attract abundance, you can place expensive objects, plants or wind chimes.
Fame & Reputation area (South)
It is related to your reputation, passion and recognition of your work. Here the trigram is Fire and the color is red.
In this area place diplomas or awards, especially framed with red color. Candles or plants (palm trees, for example) are excellent options for activating the Fame area. Around here there should be no toilets – Fire energy is in conflict with Water energy .
Love & Marriage area (Southwest)
It has to do with the feminine side, with marriage and also love. The trigram is Earth and the color is brown and pink.
It will be beneficial decoration objects in pairs (pictures, frames with photos of the couple). If the area matches a bathroom or if it is untidy, it may create relationship problems. Avoid plants with thorns here and do not leave the kitchen knives in sight.
Creativity and Children area (West)
Here the creativity, the relationship with the children develops and rests. The trigram is the Lake and the colors are copper and rich metals.
If you do not have children, this area is for your creativity and projects. In a untidy zone, problems may arise – sibling rivalry, poor communication with parents, for example.
Metallic objects and round shapes will be appropriate to properly activate this area.
Friendship and Travel area (Northwest)
This area is related to male energy, with the father of the family. The trigram is Heaven and the colors are neutral: grey, white, and silver.
Also linked to friends and helpful people – who help us at the right time. If you want to travel, keep this area well maintained. If a bathroom matches in this area and if there it's cluttered there may be difficulties in organizing and planning.
The element associated with this area is Metal, so metal objects are quite appropriate.
Career & Path in Life area (North)
Sometimes considered as the area of ​​the "Path in Life", this trigram is related to the element Water and the color is very dark blue or black.
It is very important to make sure this area is not cluttered – what prevents Chi energy from flowing easily. Placing elements such as an aquarium, a glass jar with flowers, or a water symbol (such as a painting of a river, an image of a beach), mirrors, may enhance the Career Area.
Spiritual Growth & Cultivation area (Northeast)
Wisdom, Meditation, and Knowledge are other designations for this area. The trigram is the Mountain and the color is brown.
Clutter, accumulation and a bathroom in this area limit our ability to learn, make decisions and block the path of self-knowledge. Books and other learning elements are appropriate for this area, including computers.
---
You may also like:
---