Gemini and Aquarius Compatibility
---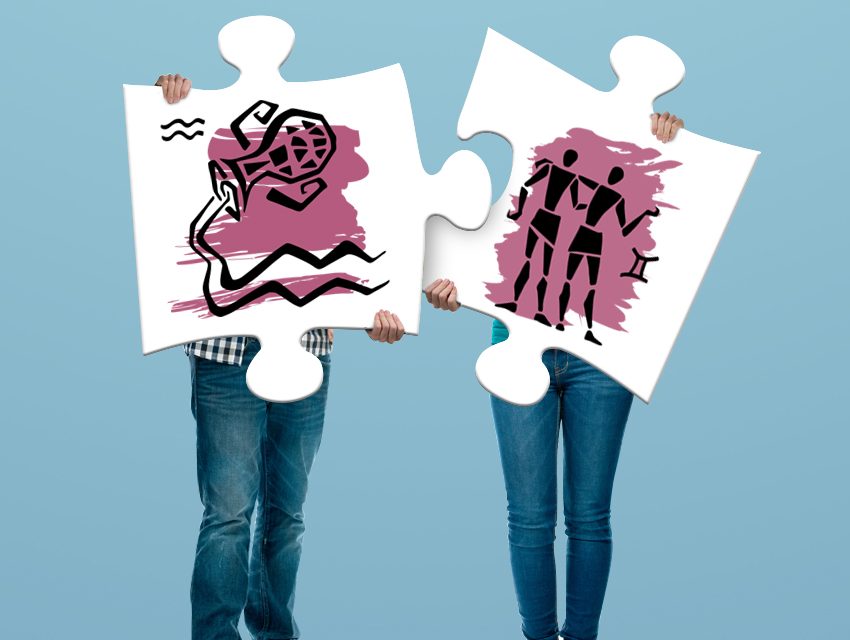 A couple formed by Gemini and Aquarius has very good levels of compatibility. But before checking the compatibility, learn a bit more about each of these signs.
The nature of these two Air signs makes them very compatible. Sharing the same interests gives them the harmony and stability a couple needs. The relationship established between Gemini and Aquarius grows like an uncontrollable hurricane.
Aquarius is a sign that needs to live its independence, in which it is deeply ingrained. The Gemini partner has a rather restless temperament that makes him meet and keep many friends. Both of the signs need freedom to enjoy other types of relationships.
Receive all our tips by email!
Love Astrology? Subscribe Now and Receive Exclusive Content!
Gemini and Aquarius Compatibility: how will the relationship work?
---
The couple formed by Aquarius and Gemini is defined by a sense of deep affinity.
Aquarius has a constant concern for integrating and supporting ongoing awareness campaigns, and Gemini will gladly accompany him on this goal. The genius of Aquarius is complements the great thinker of Gemini, who is ruled by Mercury, the messenger of the gods that is very skilled with words.
Both signs have in common the brightness of mind. A marriage between a Gemini and Aquarius couple makes them to complement their feelings of happiness with the achievement of common goals.
How do they communicate?
Sharing similar interests helps the couple formed by Gemini and Aquarius to strengthen their bonds. This couple will be enduring and feel that they are living in complete freedom, to remain united.
Gemini feels no discomfort with Aquarius's freedom because he is so busy with his own goals and friends that he understands that the Aquarius partner needs space to share his life with his own group of acquaintances.
This couple can maintain a very fraternal union. If the relationship did not work, eventually they can be good friends.
What about sex?
The sex of this couple is quite unique because Aquarius needs to develop new experiences and Gemini always wants to renew themselves and have a constant change in all aspects of their life.
So, the intimate life of the couple Gemini and Aquarius will be a very fruitful experience if both share the same goals. The communication between the two signs shines when it comes to joining through any experience.
---
You may also like:
---