Mercury in our birth chart: how you use your mind
---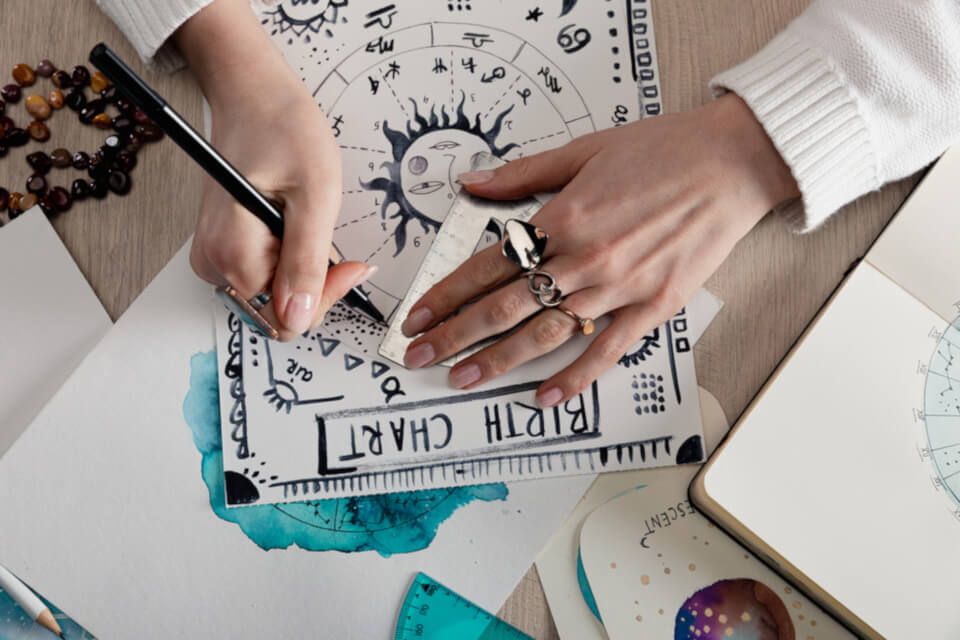 As you may already know, we are much more than our Sun sign. Our birth chart is a complex system of stars and planets that shape our personality. Therefore, it is always interesting to know the position of each of them at the moment we are born. Mercury, for example, plays a key role in our thinking. Let's know more?
Receive all our tips by email!
Love Astrology? Subscribe Now and Receive Exclusive Content!
Mercury: the messenger planet
---
In Roman mythology, this planet is called Mercury and represents trade and travel. In Greek, they associate the planet with the god Hermes, the messenger. Moving quickly through the sky, it is responsible for bridging the mind of men with the Divine.
Mercury's role is to decode our thoughts and turn them into words. This planet greatly affects all our communication, especially when it is retrograde. Have you noticed that at this time, we have more misunderstandings and problems with electronic devices? Yes, those connections get hampered.
Mercury predicts all our way of speaking and writing. Our gestures, manual/mental skills and modes of expression as well. It is as if the energy of this planet takes over our body when we activate our brain. And in the human body, it is really responsible for our nervous system and our hands.
The function of this planet is also to capture the sensory experiences and turn them into brain stimuli. It's associated with the air element (by Gemini) and earth (by Virgo). On the air side, thinking is agile and communication is clear. On the earth side, it allows a more precise, accurate and calculating thought.
According to their position in the birth chart, we can catalog the different types of people in this sense. Because it is the closest planet to the Sun, your Mercury will always be the same as your Sun sign, the anterior or posterior.
A good positioning will give the individual facility to express themselves and convince others through words. In the other hand, a bad positioning means that the person will face difficulties in the field of communication.
The good and bad side
Mercury's high energy gives good mood early on. When this planet is well positioned, children tend to start speaking early. Cognitive skills allow them to do well in school. In addition to making them popular, since they can easily make friends because of their exceptional communication skills.
The planet brings agility and good brain storage capacity. Our brain is a machine, as science explains. And with the influence of this planet, it becomes unbeatable. People will function as itinerant encyclopedias, full of knowledge.
Mercury's negative energy represents nervousness and a bit of a lack of control. It is a fast, agile planet that does not like to wait much. So it will not be uncommon to have to deal with too much stress and panic attacks if the energy is not balanced.
People may also be those who talk too much, but do not say anything good. Or they can have a hard time expressing what they feel. They may also invent word traps to deceive others.  The bad side of this planet also associates with the words superficiality and frivolity.
Mercury guide
Keywords: Reasoning, intellect, communication;
Domicile: Gemini and Virgo;
Exaltation: Aquarius;
Detriment: Sagittarius and Pisces;
Fall: Leo.
---
You may also like:
---