Kyanite stone: all its properties and benefits
---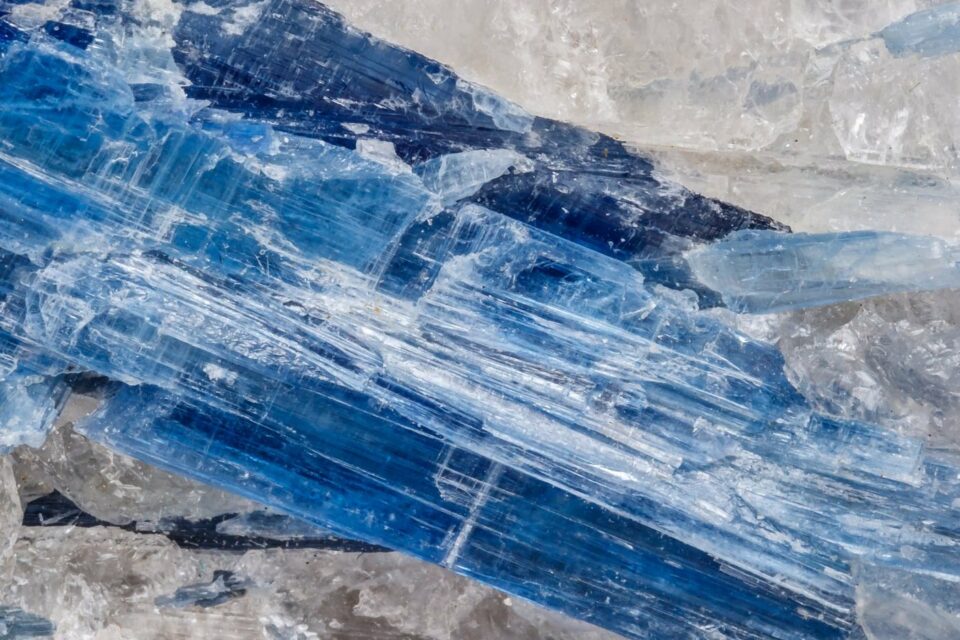 Kyanite is recommended for shy, introverted and complexed people because it will soothe their anxieties. It is a stone of relationship, and very useful for negotiations. It is the stone of self-knowledge. Also, it helps overcome indecision and hesitation. It balances the mood. As it stimulates the energy of the chakra of the 3rd eye, it is useful for meditation. Furthermore, it activates the innate ability to communicate by telepathy.
In ancient times, it was believed that a kyanite hanging on the end of a wire could act like a compass and react to the Earth's magnetic field.
Here are a few facts that you need to know about this stone:
Color and transparency: light blue to dark, opaque to transparent depending on the size and quality, composed of streaks, almost metallic reflection.
Family: silicates.
Origin: Brazil mainly, but also Canada, France, Nepal, Italy, Austria, Burma, United States, Kenya, Switzerland, Zimbabwe.
Associated chakra: all (but more particularly the throat and 3rd eye chakras).
Associated zodiac: Pisces, Sagittarius, Virgo.
Polarity: male.
Associated item: air.
Energy type: projective.
Keywords: truth, appeasement, meditation.
2024 predictions are out
Discover the stars predictions for new year!
The many meanings of the Kyanite stone
---
Before the various purposes of kyanite were discovered, the stone was widely used as a protective amulet for sailors, against the dangers of the seas. It was believed that the Greek god of the waters, Poseidon (Neptune, for the Romans), came personally to earth through this stone to help these men.
For the physical body, the stone is capable of promoting improvement in areas such as larynx, voice and speech, since it contributes to better communication of its wearer. People with speech problems, such as anxious stuttering, can see good results through the energy of that stone.
This stone, in general, provides calmness – of nerves and thoughts -, concentration and a better locution. In these cases, it is indicated mainly to professionals who have speech as their most important work tool, such as salesmen, teachers, singers, lawyers, diplomats, counselors and others. People with professions related to the arts also find results in terms of artistic expression, which is more emphasized through this stone.
Blue Kyanite Stone: the Sword of the Archangel Michael
One of the most famous meanings attributed to this stone is related to the more classical variation of the stone, which presents a pleasant blue coloration, neither so clear nor so dark. This type is considered one of the most special in mystical terms, functioning as a kind of celestial sword, capable of cutting negative energetic strings, driving out any negative pattern of a particular person or environment.
Related to the fifth and sixth chakras, the blue variety brings its bearer back to reality after cutting off the most energies. The stone is also attached to the planet Venus, as well as to the element Water. But beyond all these attributions, the most latent of all is related to its aspect of divine protection, associated with angels – especially St. Michael the Archangel. It is popular for favoring mental communication with angelic beings, especially with the archangel who represents it.
To begin its use, simply wield it while tuning your thoughts to Michael, feeling the vibration of energy about to happen. Remember, however, that the strength of this connection will depend solely and exclusively on how powerful your intention is. Once you reach it, feel the energy running parallel to your body as you mentalise the breakdown of all the negativity and energy cleansing you need.
Black Kyanite Stone, the witch's broom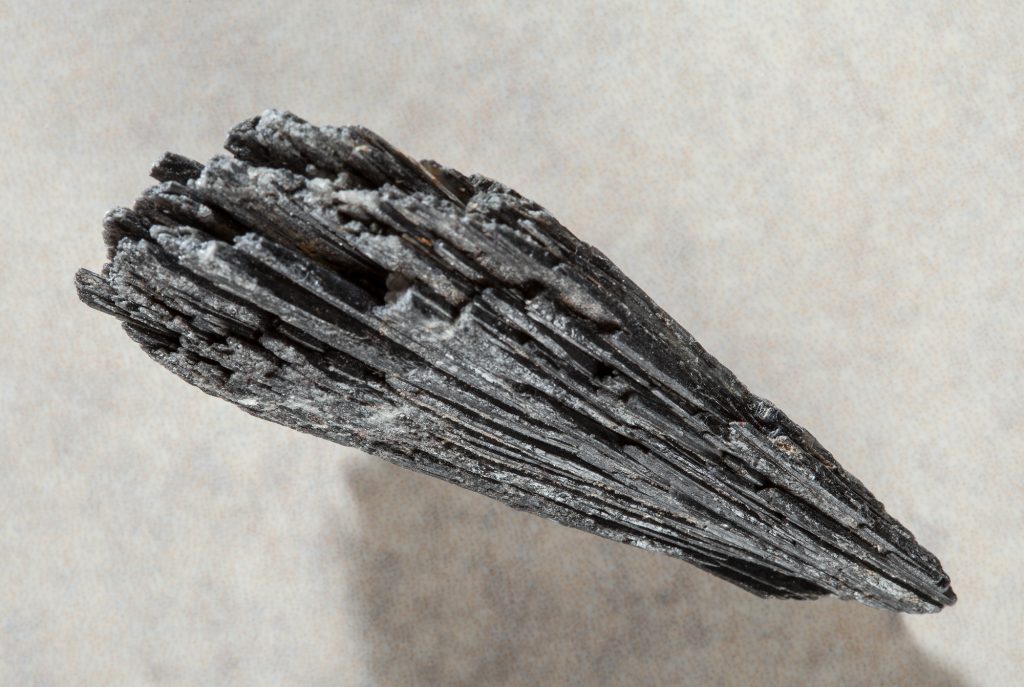 We call the black one a broom. It is aimed more specifically at energy protection and cleanliness. In addition to the black color, the stone looks like a duster; we use it to get energy-efficient results on both the aura and environments that need it. Here's how it works in each case:
1. To clear the aura
Take your stone and, as if sweeping, pass it all over your body. As you "sweep," imagine that all the negative energy is dissipating, leaving your body. This process calls for much of your intuition to work, since it is the stone bearer who must analyze if it is "clean" or if it is necessary to pass the black kyanite again through the body.
Another method is to mix a handful of coarse salt into a glass of water, gulping it up while you sweep your body with your black stone – something like you blessed yourself or someone else.
2. To clean environments
To clean your home, office, or other environment that you think is "loaded", begin the process by doing a conventional cleaning of the site; with a broom, start cleaning products, cloths, and all the usual materials. Then, take a glass of water and mix in it a spoonful of coarse salt.
The next step is to take that glass of salt water with one hand and the black stone with the other, starting a walk through the environment in question. While walking, soak the tip of the stone in the water and then make motions of it as if you were blessing the place. Once finished, leave the glass with whatever remains of water behind the main entrance door until the next day.
Green Kyanite Stone and the Inner Truth
More rare to find, we call the green variety of this stone the stone of truth, helping its bearer to discern when some information is true or not – this includes even news of the media or politicians. For many, it is also associated with the angelic connection, especially to the Archangel Raphael, protector of healing and truth, and also of Michael, the supreme protector of humanity.
In addition to its relation to the truth, green kyanite has a strong connection with the spirits present in nature, and is often useful for people who practice outdoor sports such as hiking, trails and other activities in contact with green.
Kyanite stone properties
This  precious stone symbolizes the commitment we carry to the evolution of our own conscience. Here are its properties in lithotherapy:
Energy properties
Etheric plane: gives verticality, facilitates connection to the information contained in the memories, allows to release impurities and other parasitic entities.
Emotional plane: provides moral strength and courage to take on any situation, allows you to stay yourself in difficult times, cleans up communication networks, frees up intuitive antennas.
Mental plane: allows us to distinguish the ideas which are ours and those which do not belong to us directly; it also allows us to relate to our own source and to become our own personal guide.
Spiritual properties
Harmonizes the throat chakra.
Reduces stress and recurring thoughts.
Encourages rationality.
In addition, it treats psychological problems.
Help you get to know yourself better.
Stimulates intuition.
Balance Yin and Yang.
Also, it helps remembering dreams.
Finally, it is beneficial to meditation.
Physical properties
For starters, it helps treat fevers.
Beneficial to the throat.
Regulates blood pressure.
Strengthens and harmonizes the voice.
Beneficial to muscles and brain.
Finally, it brings calm and soothing.
Uses in magic
Kyanite is a powerful energetic and spiritual amplifier. In this sense, it will be very useful within a circle when it comes to coming into contact with intangible entities (guides, ancestors, etc.). It can thus be used during pivotal periods such as Beltane or Samhain. Also, it has the ability to purify and align the subtle bodies as well as the chakras and to remove negativity and helps to clear impurities.
Furthermore, it promotes premonitory dreams and, by its link with introspection; it is also very useful when discovering our past lives.
In the end, in short, it is a very good stone of meditation.
---
You may also like:
---