Namaste: more than a greeting
---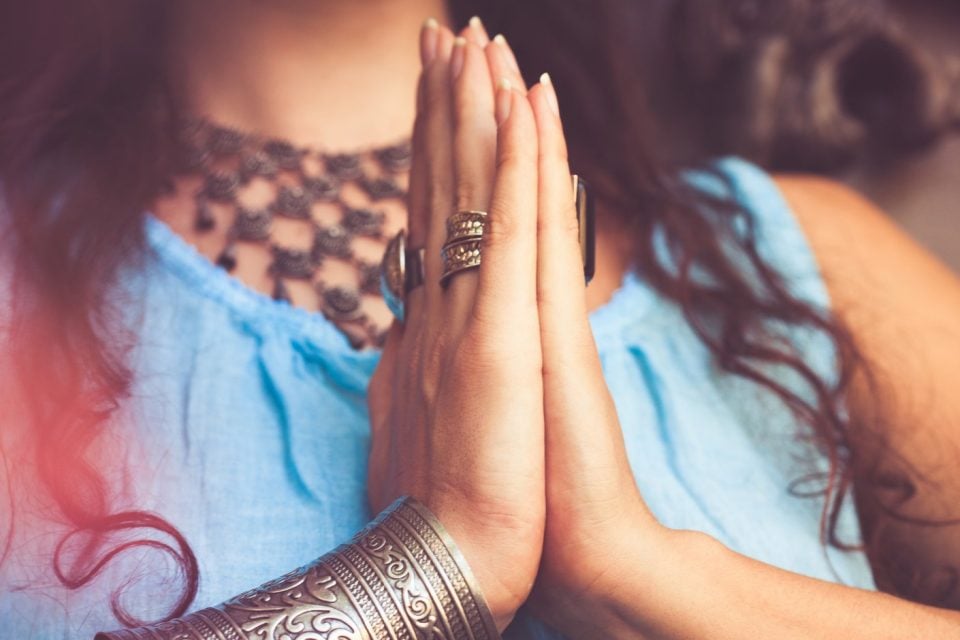 Namaste will often be heard at the end of a yoga class. But what does it actually mean? Namaste means " I see God in you". It is a sign of gratitude and is performed by putting the hands in prayer position in front of the chest and the heart chakra.
This physical gesture is called a namaskar. Namaste is a way of thanking your yogi for the class and is more generally a greeting in India.
Namaste is a Sanskrit word, when broken down, Nama means, "to bow" and Te means "to you". " I bow to the Divine in you" could be another translation of the word. The word originates from Hindu scriptures and can be traced to the famous poem called the Mahabharata.
Receive all our tips by email!
Love Astrology? Subscribe Now and Receive Exclusive Content!
Why Namaste at the end of a yoga class?
---
Namaste is a way of thanking our yoga teacher and a chance to bring a close to the session in a positive way. It allows one to reflect and feel thankful for what the yogi or guru has shared with them and is a poignant reminder that the Divine flows in all of us and we are all made in the image of the Divine.
Namaste is about gratitude, reflection and kindness. It's a call to be the best version of you at all times and to see the best in others. Yoga brings us closer to our Divine selves so what better gesture to close on than Namaste?
Why is Namaste performed with a Namaskar?
The hands are brought towards the heart chakra in prayer position (namaskar) for various reasons, but the main one is to help release the flow of love from your heart to the person you are greeting.
Practitioners may often also close their eyes and this signifies a submission to the Divine. A moment of humility. By accessing the heart chakra, one may break free of the shackles of body and ego and connect purely with the recipient on a spiritual, much purer level. It is a reminder that ultimately we are One.
Finding a meaning for you
There are a plethora of meanings and interpretations of Namaste. This is the beauty of ancient Sanskrit. It is hard to find exact translations of many words, which means you, are sent on your own journey of realization to understand what it is that speaks to you.
Here are four other translations to ponder:
When you and I connect to our true nature, we are One;
My soul accepts your soul;
I submit to the place in you that is love, light, and joy;
The Divine in me, bows to the Divine in you.
Incorporate Namaste into your day
Spend a few minutes incorporating Namaste into your day.
If you are not attending a daily yoga class, try saying it to yourself in the morning or to those you love.
It will bring a deep feeling of connection and calmness to your mind, unlocking the deep love that runs in your body and spirit.
---
You may also like:
---